This post is brought to you by America's Farmers.
Ah, the big, bustling city can be exciting but slow down the pace, and you might just find yourself in My Town, a place with plenty of character.
Martinsville is relaxed. It's nestled in the foothills of Virginia a stone's throw from the Blue Ridge Parkway.
During one weekend in April and October, you'll hear the engines roar at NASCAR's only race track that has been on the NASCAR circuit from its beginning in 1948. It's also the only NASCAR oval track on the entire NASCAR track circuit to have asphalt surfaces on the straightaways, then concrete to cover the turns.
One of the last engagements of the Civil War in Virginia took place here on April 8, 1865, when Union Col. William J. Palmer' brigade of Gen. George Stoneman's command swept through Henry County.
Even George Washington's been to My Town. He visited Fort Trial in 1756 one of a chain of forts in the French and Indian War. These forts were used as a place of refuge during Indian attacks.
Rural communities are places that people are proud to be from and live in. The Monsanto Fund celebrates these communities and invests in making them even more vibrant for future generations through the American's Farmers Community Outreach programs. A new campaign sponsored by the programs called My Town will continue this celebration of the people, places, and stories that make small towns great. You can visit AmericasFarmers.com to learn more.
Afternoons can be spent biking or walking along the Dick and Willie Trail with views of the city and farmlands.
The roads wind through acres of farmlands, wineries with friendly people around every bend.
One person who is making our community great is Greg Hackenberg. Attend any event and chances are he will find you.
Originally from Eerie, Pennsylvania, Hackenberg, and his fiance at the time knew that they "wanted to go South. The idea of the laid-back life, things a little bit slower, which turned out to be true in a lot of ways, appealed to us."
It's a humorous story of how he found his way to Martinsville.
"I went to a job fair with one of my room mates who was an art education major. He said it was a West Virginia job fair and it turned out to be a western Virginia job fair."
That job fair paid off.
"I got a got call from Albert Harris; I was working at a Summer Camp at the time. I was on top of rocks, at the highest point I could so I had service. I didn't realize it was the actual interview. They said they could use me. That they were a really high poverty school, under privileged neighborhood."
Hackenberg responded with, "That's great!" He then adds, "I always felt a calling to work with the kids who needed it the most. I was happy to come to Martinsville."
Since moving here, he has found the small town charm. "For how small Martinsville is, it has a big appreciation for the arts. There are concerts at the Rives Theater, Coffee Shops, Music Festivals. There are a lot of community events like Octoberfest and Rooster Walk."
I hear about events and happenings through the people. If the whispers are slow, I have learned to check Hackenberg's Facebook page. He shares what's happening in the community. Last March we went to Mr. Martinsville, a high school fund raiser where young men compete for the title of Mr. Martinsville. It's a parody of beauty pageants. Hackenberg was the Emcee, making it a very good time!
He was a Robotics Coach, whose team went to State Competition. Part of their success was they were having fun and they were cheering for every team competing against them.
He also felt the pressure the children felt and lined up with them waiting for final scores to post to the competition board.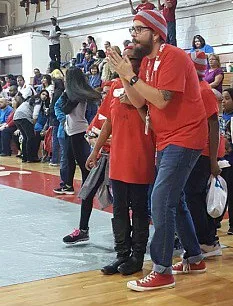 Hackenberg's childhood motivated him to serve his community.
"My parents always made us do things like go to nursing home, help with community events, be involved relationally with people in our church, in our community, with different races, different economic statuses. They taught me to cherish every one. That everyone is made in the image of God. That everyone should be treated fairly and treated well."

"At the time I didn't like going to nursing homes. They smell, and there are zombies coming out of the walls, but they taught me the value through that. We sang Christmas Carols, visited with people. It opened my eyes, and as a child, I didn't appreciate it, but it impacted me."
He squirms a little at the recognition.
"I'm just part of the community. I think everyone should be registered to vote. I think everyone should participate in the cookouts that are in the community."
His passion shines for education. Especially when it has to do with arts and creativity."
"Being a good citizen means not just looking out for yourself. Caring for the least of these. It all comes back to my faith. In James 1:27 it says, "to look after orphans and widows in their distress." I do my best to follow His lead."
We came to know Hackenberg when our son had him as a teacher.
He is an incredible teacher, who made my son love learning.
He challenged my son to seek more information, to pursue different topics.
It turns out Hackenberg became a teacher because "I hated school. I did not like school. Sitting still and doing everything exactly the way they want. The model of school is not good, but miserable for kids."
One of the highlights of being in Hackenberg's class is the costumes he wears. One of the highlights of our year was St. Patrick's Day. There was an announcement that Hackenberg's cousin, Seamus McGregor, from Ireland would be substituting that day.
St. Patrick's Day arrives and the class is greeted by Seamus McGregor, decked out in green Irish attire.
I laughed when I learned that my son asked Seamus, "If you're Irish, why is your surname Scottish?"
Hackenberg (McGregor) didn't miss a beat, "the bloodline moved."
My son's favorite character of Hackenburg's is Captain Hackenslash.
He substituted on National Pirate Day, complete with a pirate hat, Seinfeld pirate shirt, eyeliner, an eye patch.
He talked Pirate Talk all day!
He shares that "in college, I had some wacky roommate and we would do silly stuff. We'd sometimes dress up for a class together. I remember in third grade what was very by the book, friendly, but proper. On Halloween, we came to school and she had green skin and we would call her by her name and she would say, 'No. My name is not Mrs. Mumford; it's Wanda Witch.' It added a bit of fun to the day."
Hackenberg and his wife also are Foster parents.
"My wife and I when we were dating talked about the kid thing and what does that look like and so many kids that don't have stable homes. We talked about adopting and prayed about it and it looked like fostering to adopt or just fostering is something that is needed, for siblings to stay together and for them to have stability in their lives. The first kids we got were teenagers. It was fun. We had them for about two years. They were going to school regularly and their, grades came up a lot. It was encouraging to see. We have done a few short-term fostering. Very short term. In March we got a 2-year-old and the very next day we got 3 and 4-year-old sisters. We went from teenage boys 16, 17 almost 18 when they left. and then nobody within a month or two and then within 24 hours we went from nothing to a 2-year-old and the very next day a 3 and4-year-old."
Hackenberg sites his mom and both his parents as the people who have influenced him the most.
"My dad was really good about my friends from church, my friends from cub scouts. If I had a friend whose dad was incarcerated my dad made sure those kids would go to the beach with us, or come hiking with us. He was a father figure to those who didn't have that. My parents were involved in an inner city, high poverty, multi-racial church. Where they would pick up kids for church and they made sure they had all their supplies for summer camp. They went out of their way to love those people. People with horrible, horrible, unstable lives. Lives that dealt with abuse and neglect. Seeing the way my mom and dad took care of people made an impact."
The advice Hackenberg has ever received is, "Treat other people you want to be treated. It's the Golden Rule. As a teacher I want to be the teacher I would want to have, or I would want my children to have."
As a teacher, he says he has "to be entertaining. You're competing with Snap Chat, vines, instant text messaging, and video games."
Small towns have a spirit, they preserve the nature of the communities, Hackenberg elevates Martinsville. He encourages everyone, regardless of the community, to attend local festivals, neighborhood bbq, and be #MyTownProud.
"I can't go to the store without running into a bunch of people you know. Especially as a teacher."
He adds, "Small towns are the salt of the earth."