The Cost of a Costume Doesn't have to be Scary Wholesale Costume Club Review.
Starting in September, my time becomes dedicated to creating and sewing Halloween Costumes. It's hours behind a sketch tablet and sewing machine creating Sesame Street, Muppets, Looney Tunes, and more. The one thing I have discovered is that I run out of time before Halloween arrives, and kiddos' costumes aren't all together. We LOVE Halloween and the festivities, and therefore the perfect Halloween costume is essential.
I'm not a big fan of the costumes at the stores. They are cheap and flimsy and don't hold up to the Trick or Treat, much less the year of playing dress-up. Dressing up is all of my children's favorite activities. Allowing their creativity to flow and giving them a new identity in the world of make-believe.
I've been disappointed at the cost and what you actually get when I've purchased costumes. I'm particular, and I usually end up spending too much to get the quality I insist upon. Along comes Wholesale Costume Club, and suddenly I'm feeling really good about this upcoming Halloween.
Wholesale Costume Club has a HUGE selection. It took Li'l Man three days to decide what costume he wanted to receive for our review. I was impressed by the categories and how many costumes there were available, not only in the category of Boy's Halloween Costumes but also in girls, toddlers, and adults.
When the costume arrived, I scoured over it, seeing if it met my standards. It exceeded them. There are plenty of details, and the craftsmanship was well above my standards.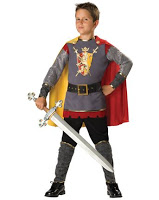 Li'l Man is on a Robin Hood kick at the moment, so he chose the Boy's Loyal Knight Costume. It includes a tunic with attached sleeves, cape, shin guards, belt, and pants. The material is perfect for portraying the look and feel of armor, and the cape is well surged to prevent those nasty runs that tend to plague costumes.
Since receiving the costume, Li'l Man has worn it nearly every day. He has played outside on the slide, fighting and conquering Kingdoms. The costume shows little wear and is still in great shape for Halloween.
The only thing I can complain about is that the belt is far too big for the costume size. Li'l Man doesn't seem to mind, so I've chalked it up to being really an unimportant part of the costume.
The Boys Loyal Knight Costume has a retail price of $69.99, but with a membership, the costume is drastically reduced to $47.99.
As I was browsing through the costumes, I also saw the Captain America and Wonder Woman costumes my children wore last year for Halloween and was stunned at the cost difference. Through Wholesale Costume Club, I would have saved nearly $50 on just those TWO costumes. They are the EXACT costumes I purchased. That's a huge saving for any budget.
Start planning for Halloween and check out Wholesale Costume Club for a great selection and some excellent prices for quality costumes.
Disclosure: I received no monetary compensation for this post. . I received the product mentioned in this post in order to facilitate an honest review. The opinions are my own and were in no way influenced by the sponsor. Other experiences may vary.
We appreciate your subscription to Mommy's Memorandum