GoGo squeeZ An On-the-Go Healthy Treat
In April, I posted about Li'l Man's first experience with GoGo squeeZ.
That post was selected as a winner in the GoGo squeeZ Happy Snacking Contest!
The reward EIGHT Boxes of GoGo squeeZ.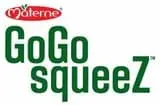 My intention was to share half with my readers; however, my children are crafty and discovered the stash.
Li'l Man is truly an Apple Sauce Addict.
The kiddo LOVES the stuff! Without any apprehension, he has devoured more than his share of GoGo squeeZ.
He isn't shy about it either.
He exclaims, "This Apple Peach Sauce is tasty stuff, Mom!"
As I'm yelling at him that he really needs to pick up his own empty pouches and dispose of them properly, he looks at me wide-eyed.
He says, "That reminds me, my tummy has a hankering for Apple Strawberry Sauce" and off he goes to my his hidden stash of GoGo squeeZ to retrieve his flavor cravin'!
The Divine Miss M is a little more discreet.
Her tactic is to tattle on Li'l Man simply.
"Mom! Buddy's eating an Apple Banana GoGo squeeZ before dinner!"
Seriously?
I'm too tired to fly into a tizzy, so I simply say, "Stop being a snitch and get one for yourself."
Her favorite is the tried and true Apple Apple.
My Beauty Queen just quietly helps herself and makes sure to dispose of any evidence.
She's a GoGo squeeZ Stealth Ninja!
Even Zac, my seventeen-year-old, loves the stuff.
It was the clever pouch with twist top lid that swooned him.
"What is this?" He nonchalantly asked as he browsed the pantry, looking for something to nourish his growing man's sides.
These events are true.
They occurred in the hours of ONE day.
It was then I realized I needed to react.
I needed to salvage what I could and that, Dear Readers, is ONE box.
Fear not, for I have it exiled in the Nutritious Snack Witness Protection Program.
It's secretly hidden.
Know what else is hidden?
Every pouch my children consume is all-natural and contains the equivalent of ONE fruit serving!
At just 60 calories per pouch, I feel good that they are so passionate about this no spoon, no mess, squeezable applesauce.
As a mom on the go, I love the convenience of the pouch.
They're compact and perfect for keeping in the ice chest in the car for a quick pick me up or tide me over just till we reach home snack.
I love the reclosable cap.
Sometimes, my kiddos just want a taste and then to savor the deliciousness.
Usually, though, it's a gobble it gone moment!
GoGo squeeZ is available in flavors that are fun and taste tantalizing: Apple Apple, Apple Strawberry, Apple Banana, Apple Peach, and Apple Cinnamon.
It's smooth textured applesauce that's fun to eat and one you can be proud to give your kiddos.
You can find GoGo squeeZ at a retailer near you or purchase online at Amazon.com
Disclosure: No monetary compensation was offered or accepted for this post. I received a product from the sponsor as a reward for winning their Happy Snacking Contest. The opinions are my own and in no way influenced by the sponsor. Other experiences may vary.
We appreciate your subscription to Mommy's Memorandum