GoGo squeeZ Helps Kids Stay Fit on the Go-Go!
We're busy.
We spend a lot of time on the go.
In the car, walking along the river, camping, fishing various school activities.
On the go is the core of our family's schedule.
I will be the first to admit that it has been difficult to plan healthy snacks to accompany us.
Like so many, I find it easy to stop at a drive-thru and grab something or snatch up whatever the store we are at is promoting at the check-out.
Fresh fruit sometimes makes it to the car, but it's only later that someone yells, "Oh. That's SOooo GROSS! MooooooooooM!" and I discover the half-eaten apple or banana is shriveled, black and, at times, home to some pretty disgusting bacteria.
As the mom I want my children to eat healthily.
I want them to be able to find nutrition in their picnics under the table, or at the playground.
We've tried a variety of methods, hiding zucchini in meatloaf, buying baked chips instead of regular potato chips, limiting television until they finish their squash.
It sometimes is a lot more work than I am prepared to invest.
Li'l Man and I were grocery shopping and he pointed out these clever fruit pouches that contained applesauce.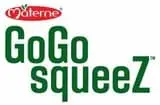 We looked them over at the store and I discovered they were 100% natural applesauce in squeezable pouches.
That's clever.
They are even resealable!
I was really impressed when I read the pouch to learn that one pouch contains one serving of fruit.
I let Li'l Man get the Go-Go SqueeZ and didn't think anything of it.
When we pulled into the garage I asked, "How was that applesauce, Li'l Man."
From the backseat came a belch and then the pouch, deflated and flat, landed in my lap.
An obvious hit!
While GoGo squeeZ is convenient, healthy and contains just 60 calories per serving, I feel it fair to warn you…they are so incredibly tasty that it's impossible to stock up on!
If you are looking for a healthy snack that gives your child energy and you don't have to bust out the creativity to get them to eat it, try GoGo squeeZ.
They've already done the creative work.
My kiddos love them and I appreciate not having to find half-eaten fruit!
Disclosure: I received no monetary compensation for this post. GoGo squeeZ is a product we use and by posting I am hoping to win an 8-pack of this tastey stuff from the sponsor.
We appreciate your subscription to Mommy's Memorandum