Quality Announcements and Invitations with Creative Flair
While my childbearing moments are over, there are some baby showers in the final planning stages across America.
I know this because the most common birthday is fast approaching.
More babies are born on October 5 than any other day on the calendar.
Just for trivia purposes, May 22 is the LEAST common day of birth.
This being said, Baby Birth Announcements is a great place to start planning.
With Baby Birth Announcements you're covered from the invitations to birth announcements and everything in between.
One of my favorite announcements is the Driver's License.
They are clever and creative! Here's one from my home state of Utah!
You can see it really does look like our State License if you read my nightmare of a time getting mine renewed!
Back in my tween days I loved Dr. Hook and browsing Baby Birth Announcements, my memories grew fond when I saw the Magazine Announcements.
Remember those great lyrics Dr. Hook sang?
But the thrill we've never known
Is the thrill that'll gitcha when you get your picture
On the cover of the rollin stone
(Rollin stone…..) Wanna see my picture on the cover
(Stone…..)Wanna buy five copies for my mother….. (yes)
(Stone…..)Wanna see my smilin face
On the cover of the rollin stone…. (that's a very very good idea)
Select the Magazine Announcements and get their picture on a custom-designed magazine's cover!
Shopping at Baby Birth Announcements is fun and they have a great selection.
I especially loved the 99 cent invitations!
They are cute as a button and affordable.
Don't let the name Baby Birth Announcements fool you.
This shop has invitations and favors for just about any event.
There are some fun photo invitations that are ideal for birthday parties…
I especially love the Thank You cards.
They are partially written so a child can just fill in the blanks.
What a great way to instill gratitude!
You can also coordinate with your party or announcements!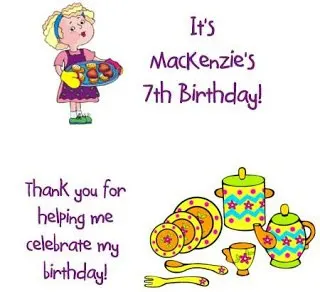 Baby Birth Announcements offers Return Address Labels that coordinate with your invitation or announcement to add a personal touch that livens up the envelope!
We were allowed to review an item from Baby Birth Announcements.
The Divine Miss M selected the Candy Wrapper.
We LOVE these.
Her birthday falls on New Year's Eve and so she is out of school for her birthday.
This is a BIG deal because she misses the opportunity to celebrate in the classroom with her friends.
This year she's excited to be taking a personalized treat.
Candy bars wrapped in personalized Candy Wrappers!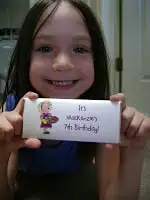 The Divine Miss M looks forward to the easy assembly and the opportunity to share some original with her classmate pals.
I love that they are only $1.25 each (candy bar not included) and make her smile!
Whether planning a baby shower, announcing the birth of a precious baby or celebrating a moment you treasure, Baby Birth Announcements is the perfect place to start!
Once you make your selection, a proof will be sent to you within two business days for you to preview.
The next step is approving the proof and then waiting for your order to arrive.
From start to finish we had a great experience.
I am impressed by the quality of the paper, the ink and the vibrant color on our Baby Birth Announcements Candy Wrapper.
I received the item mentioned in this post to facilitate an honest review. No other compensation was received. The opinions are my own and were in no way influenced by the sponsor. Others experience may vary.
We appreciate your subscription to Mommy's Memorandum