We received entrance into the Genghis Khan Exhibit at Discovery Place Science in exchange for this post.
A few months back, my kiddos heard the name, Genghis Khan.
Maybe they heard it before, but this time it meant more.
My Genghis Khan
I received my results back from Genes For Good.
As we looked at the genetic makeup of each of my chromosomes, my son asked, "What's the orange?"
His sister read the graph and said, "Asian."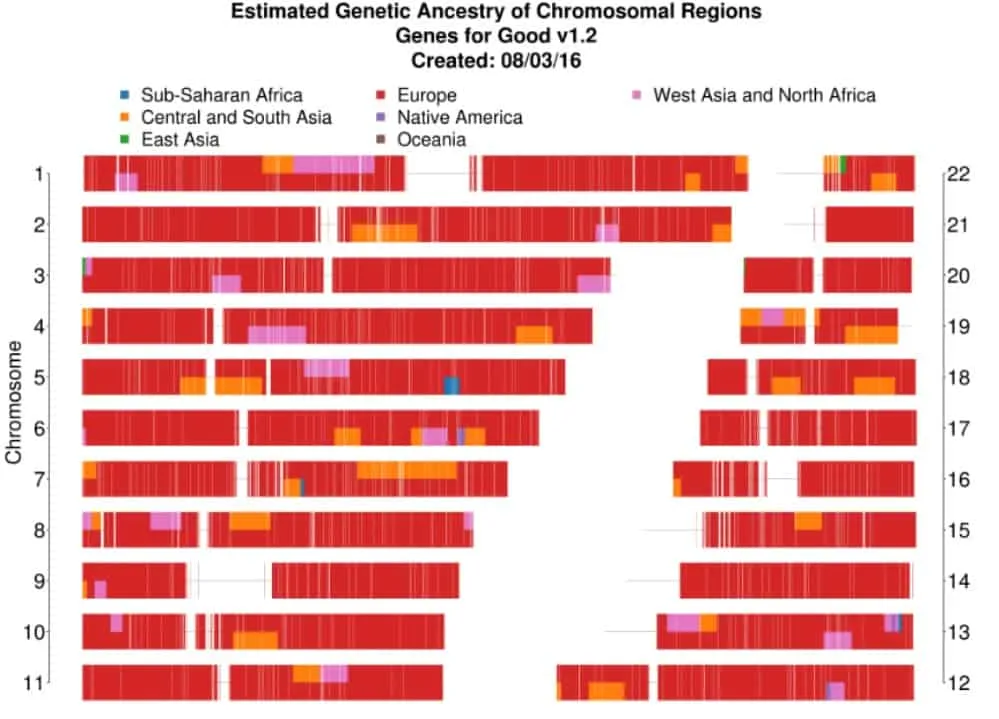 My son instantly said, "Mom is not Asian!"
"That's my Genghis Khan!" I declared.
"Genghis Khan?" was their only word.
My husband was eager to share with them his love for the Netflix Original series, Marco Polo, particularly the scene with Hundred Eyes.
Suddenly there was an interest in who Genghis Khan was, and our dinner discussion revolved around the legend.
My son was hooked as soon as he read that Genghis Khan was a world conqueror.
Wars led in his name killed almost 10-percent of the world's population at the time (some 40-million people)!
They were in awe when they learned pants, forks, passports & paper money started with Genghis Khan.
The Genghis Khan Exhibit
We learned that there is a Genghis Khan Exhibit in Charlotte at the Discovery Place Science.
It was an excellent place for the kids to explore the culture, conquests, and heritage of perhaps the world's greatest conqueror and learn if the legend is true!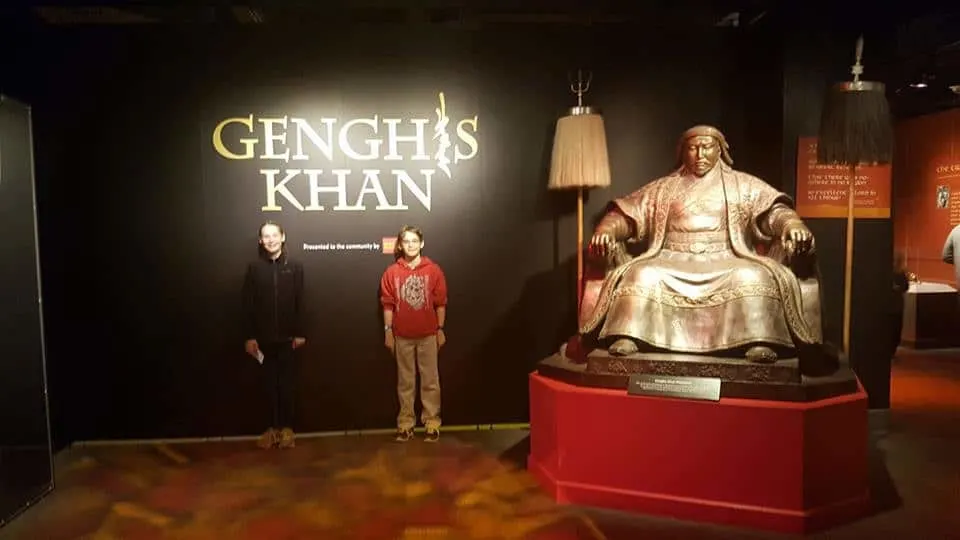 As you step into the 13th-century Mongolian empire, you are face to face with one of the many monuments to Mongolia's revered leader, Genghis Khan.
The original Bronze statue sits at the entrance to the Mongolia parliament building, overlooking the city square.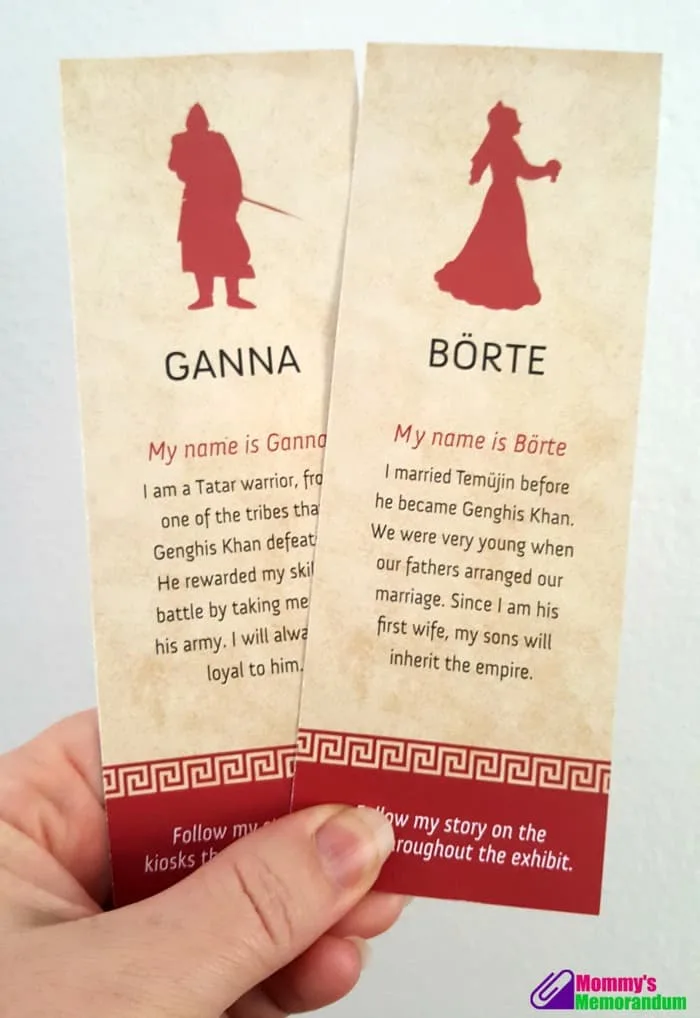 One of the kiddos' favorite parts of the exhibit was the interaction.
When we received our tickets, they each selected one of many cards.
This card depicts a character from Genghis' time.
Throughout the exhibit, there are kiosks where you can follow the life path of a historical figure that may lead to tragedy or triumph.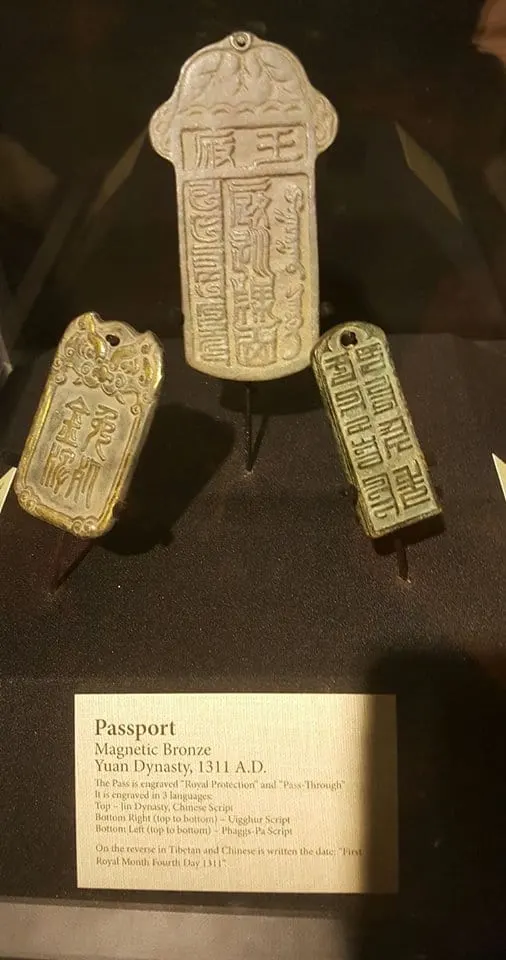 We saw most likely the first passports.
These gave merchants and required travel with permission of the Khan to travel along the silk road or other designated areas of the empire.
Think of it like traveling the Pony Express with relay stations.
The passport would enable you access to the resources needed.
Without it, being caught would be certain death.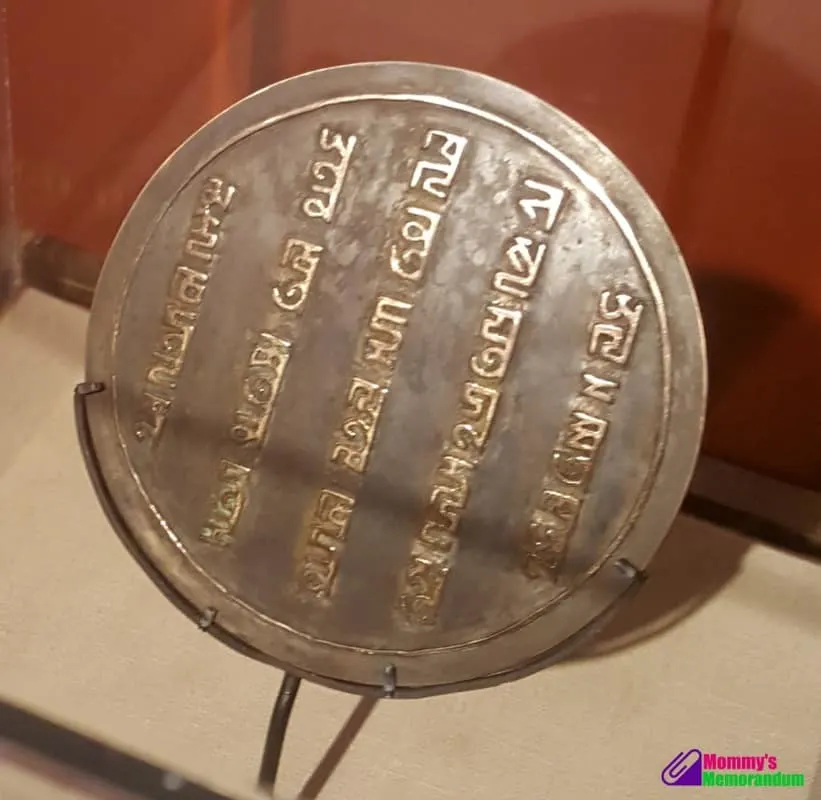 The most impressive artifact was an imperial passport from an ambassador of Kublai Khan.
Being one of two remaining in the world (c. 1240 AD), it states, "I am the emissary of the Khan. If you defy me, you die."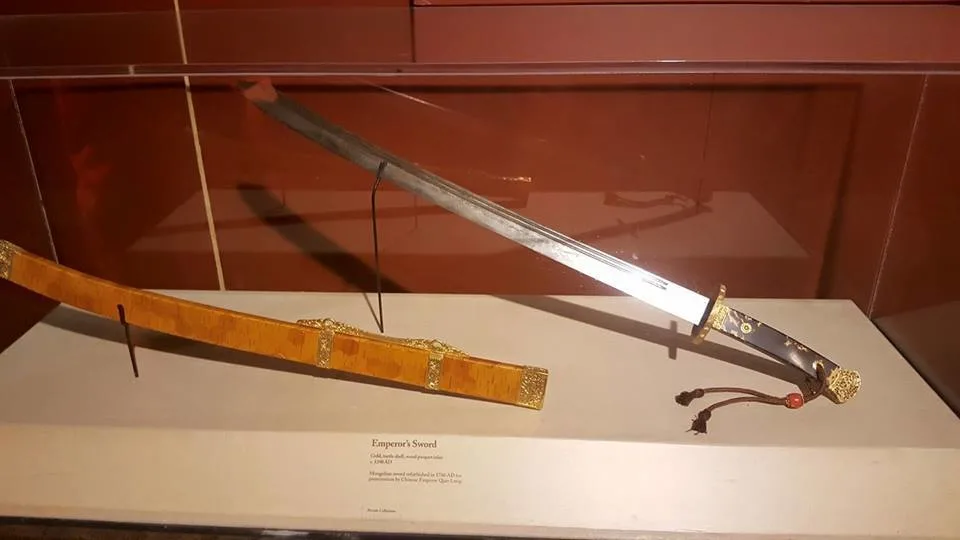 It wasn't just my kids who were taking it all to heart.
Two rooms into the exhibit, I made friends with a 10-year-old boy.
We looked at chain mail surrounded by various shaped arrowheads.
We picked one we thought would bring a horrible death.
Then my new buddy shared that Genghis Khan's "real sword" was at the entrance.
I had to ask my husband if it was?
My husband went back to the sword and told me, "It is an Emporer's sword, circa 1290 BC. I guess it is possible. It was refurbished in the 17th century and given to a Chinese Emporer."
Think about that.
Our country was coming up, and a sword from centuries before was being refurbished.
Admittedly, it is an incredible work of art.
It has a handle of Leopard Turtle shell and has authentic gold pieces.
I didn't tell my new friend that maybe it isn't the sword of the great Genghis because he was so fulfilled at that moment being so close to THE sword of Genghis.
I hope he always believes.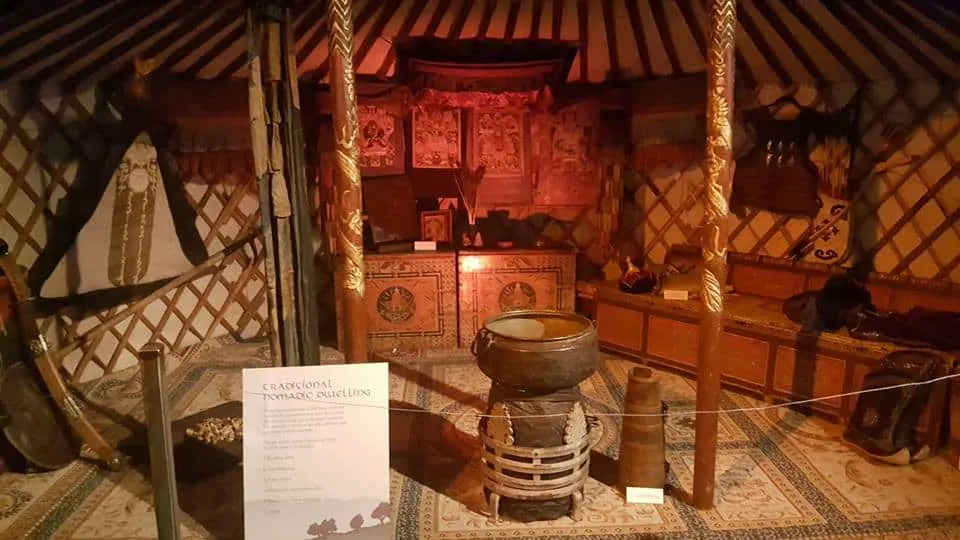 The Genghis Khan Exhibit is divided into rooms, each depicting a part of the Khan timeline.
The first room is Grasslands, where the journey begins.
Here we learned about the daily life of a nomad on the high plateaus of Central Asia.
You meet Genghis Khan's earliest influencers.
It's where we meet Temüjin, the boy the world would eventually know as Genghis Khan, and learn how his harsh childhood and nomadic life helped shape his destiny.
The centerpiece of this room is the ger–the traditional Mongolian dwelling of the time.
It looks so warm and inviting.
As a family who looks forward to family game night, my children thought it was awesome that board games existed in 1200 BC.
They especially loved the dominoes.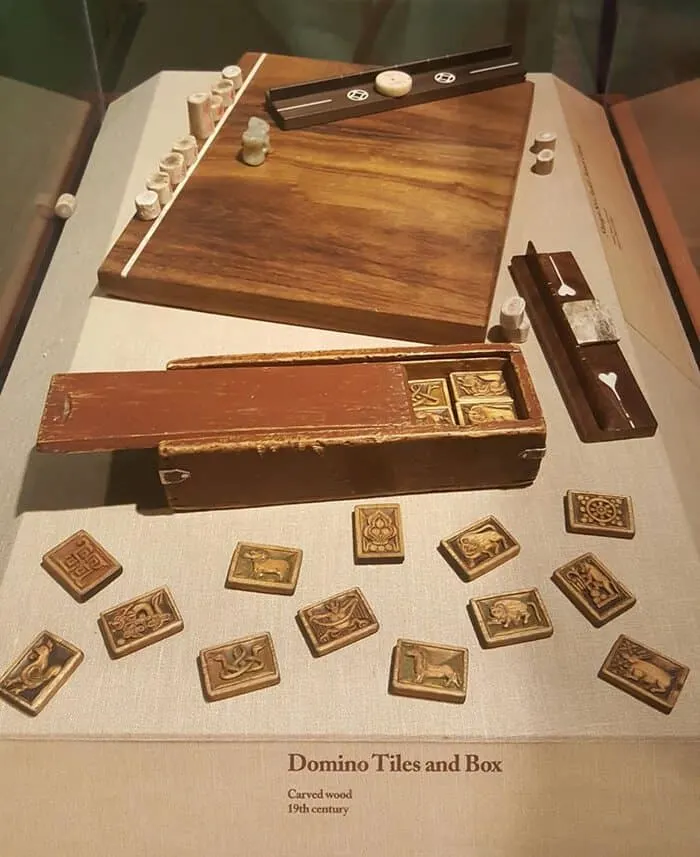 We wound our way into the Rise of Mongols Room from the Grasslands.
Here we walked through the rise to leadership.
We followed the young, charismatic leader who united warring Mongol tribes and formed an unrivaled calvary.
This room had weaponry that was rich in detail.
Everything from a recurve bow, arrowheads, chainmail, helmets, a chair, and various swords.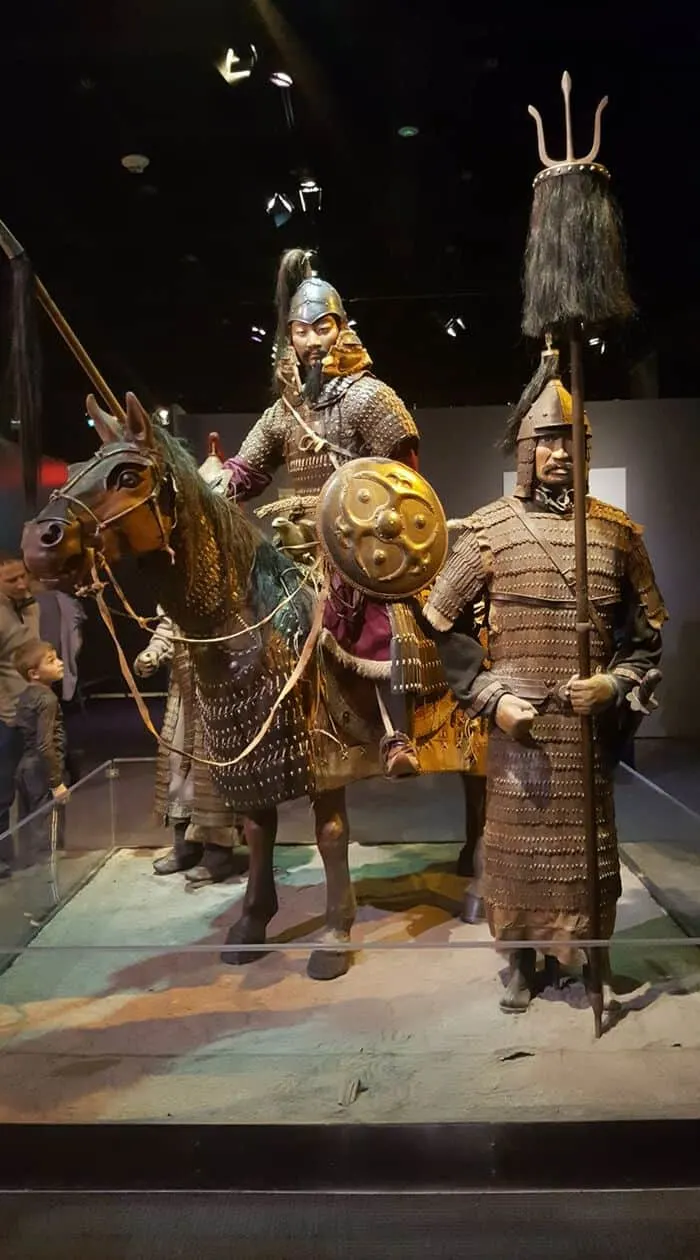 In the photo above, the detail of the armor is incredible.
All the "dots" are holding in place a piece of thick leather.
The detail work is impressive, and the weight had to be an incredible burden to a soldier.
This room taught us how horsemanship gave Mongol warriors an essential edge over their enemies.
The man on his feet is holding a black spirit banner.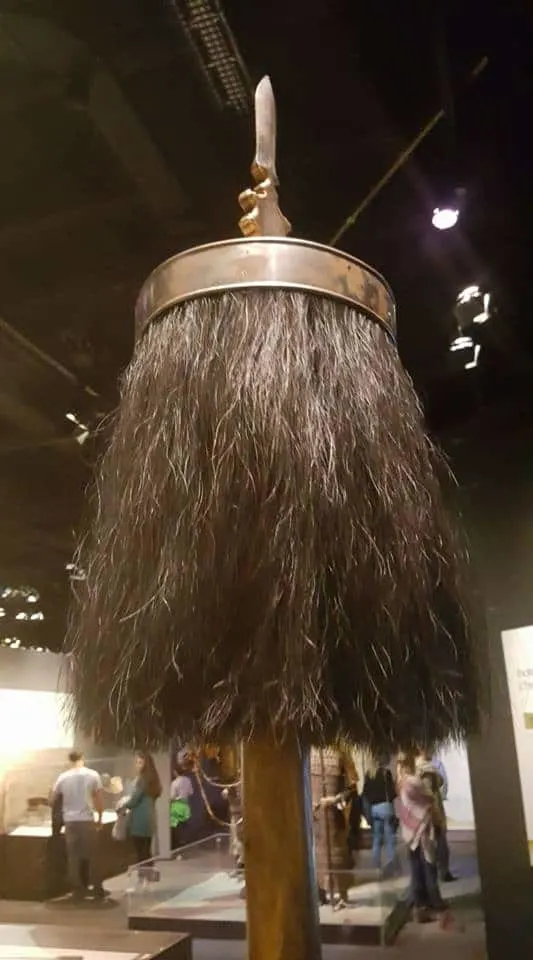 Spirit Banners, also called sulde, are made by tying hair strands from the best horses to the shaft of a spear.
A warrior places a Spirit Banner Outside the entrance of where they rest as a permanent guardian.
As the strands blew in the breeze, they were said to capture the power of the sky, the wind, and the sun and give this power from nature to the warrior.
Legend says that the warrior and his spirit banner are so entwined that his spirit banner carries his soul when the warrior dies.
Genghis Khan had two Spirit Banners.
One made from white horses to use in peacetime and one made from black horses for guidance in war.
The white one disappeared early in history, but it is said, the black one survived.
For centuries after his death, the Mongol people honored the banner.
In the sixteenth century, one of his descendants, the lama Zanabazar, built the monastery with a special mission to fly and protect his banner.
More than one thousand monks of the Yellow Hat sect of Tibetan Buddhism guarded the great banner.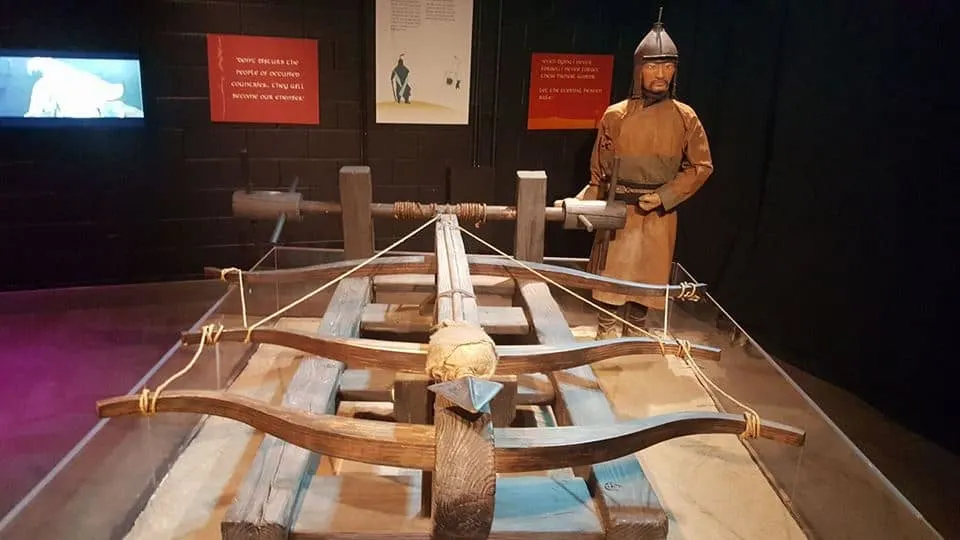 There are two formidable weapons in the Genghis Khan Exhibit.
A full-scale replica of a trebuchet (catapult) and a giant siege crossbow—devices of mass destruction that reduced city walls to ruins.
It was an impressive display of battle tactics Genghis Khan used to conquer China, Russia, and other nations, creating the largest contiguous land empire in history.
There is a room dedicated to the methods Genghis Khan used to manage his Mongol Empire, his many innovations, including messenger service, a system of laws, paper money, an early example of Mongolian writing, and more.
Perhaps my favorite room was where we learned about the death of Genghis Khan.
The traditional narrative says he died in 1227 from injuries sustained in a fall from a horse, but other sources list everything from malaria to an arrow wound in the knee.
There are even claims he was murdered by an angry mother while trying to force himself on a Chinese princess.
His final resting place, however, is shrouded in more mystery.
According to legend, his funeral procession slaughtered everyone they encountered during their journey and then repeatedly rode horses over his grave to help conceal it.
There is also a pregnant camel in this story, but I'm not going to ruin the reason with disclosure.
Each room has a banner that shares a summary of what awaits.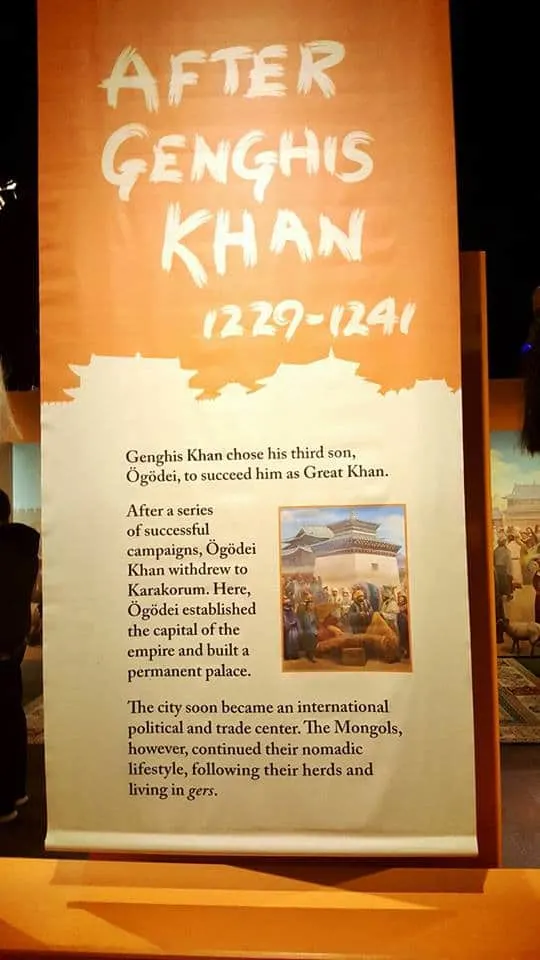 The Genghis Khan exhibit leads to the Silk Road.
A symbol of his reign as a savvy statesman.
A man who created a universal written language within his empire.
Khan was A man who was a ruthless warrior but led a sophisticated society with fair taxation, religious freedom, open trade, a stable government, and an appreciation of the arts.
These are the best part of the exhibit.
My family left in awe.
Scientists estimate that 16-million people alive today are genetic descendants of Genghis Khan.
Thanks to a Genes for Good DNA test, and a curious ten-year-old, my claim to be one, found us in the middle of Khan's incredible empire.
Few westerners will find themselves this close to artifacts from the Mongolian Empire; check out the Genghis Khan Exhibit before April 30th, 2017, and experience the legend for yourself.