Wine. It's one of the most diverse beverages. Its history dates back thousands of years; the earliest production occurred in 6000 BC in the country, of Georgia. It lasted that age, reaching the Balkans by 4500 BC. It's used in religion, has claimed health benefits, and is collected, aged, and drank.
Legend says Ernest and Julio Gallo were the pioneers of American Winemakers, introducing wine they called "Hearty Burgundy" to the American population. A great-tasting American red blend with big generous flavors was value for the money and put wine on America's dinner tables.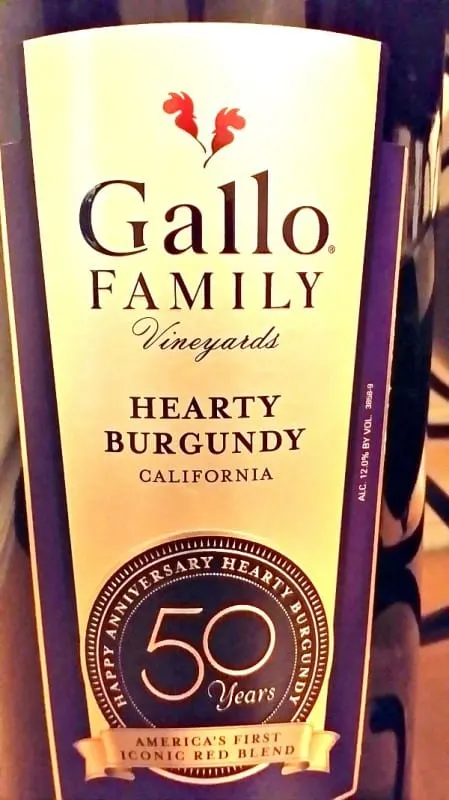 Gallo Family "Hearty Burgundy" America's Wine
That was fifty years ago. Today, Gallo Family Vineyards is sharing their "Hearty Burgundy" with a limited edition bottle that pays homage to the original profile that brought wine to Americans in the 1960s and 1970s.
Hearty Burgundy was the favorite wine of the Winery's founders Ernest and Julio Gallo. The brothers originally made it as an ode to the wines they enjoyed in Italy gathered around the dinner table with family and friends sharing great food and conversation.
Food has long been my symbol of love. Gathering with family and friends and sharing a meal prepared with love is one of my most favorite things. I love that Ernest and Julio Gallo shared in this tradition and added to our meals wine. It's entertaining in a casual sense or romantic sense. They pioneered the way during an era when spirits dominated consumption.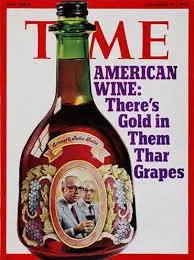 Gallo Family Hearty Burgundy is a celebrity. It made the cover of TIME magazine in 1972. The spotlight of an article about the booming California wine industry. Wine critic, Robert Balzer, called the wine "….the best wine value in the country today" as it outscored more expensive California and French reds for the TIME board of Oenologists.
For me, this wine has an appealing taste. The exact blend of grapes in Hearty Burgundy has remained a trade secret largely, and I'm sure there's a company policy in place to keep it that way. In press releases in 2006 reported that the wine was a blend of Zinfandel, Tempranillo, Syrah, Petite Verdot, Grenache, and Cabernet Sauvignon. It's technically not a "burgundy."
The wine itself is dark red to purple in the glass. It is highly aromatic–oak, coffee, vanilla, and blackberry jam. It's enough to get those taste buds revved. Take a sip and discover a silky smooth taste with flavors of blackberry, black currant, vanilla, and oak. It's slightly sweet. Hearty but not brute.
I drank some with Salami Buffalo Mozzarella Pizza.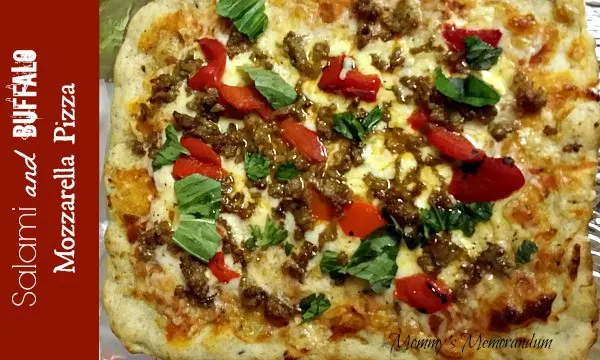 Then Spring changed back into Winter with a snowstorm, so I made my favorite hardy minestrone and used the Gallo Family Hearty Burgundy in the broth for an outstanding flavor.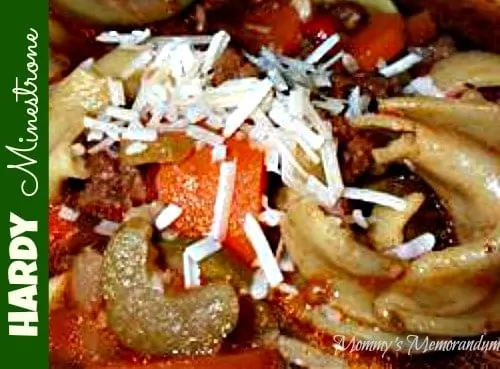 This wine would be the perfect companion to barbecue, pizza, or Jake's favorite, Stuffed Meatloaf!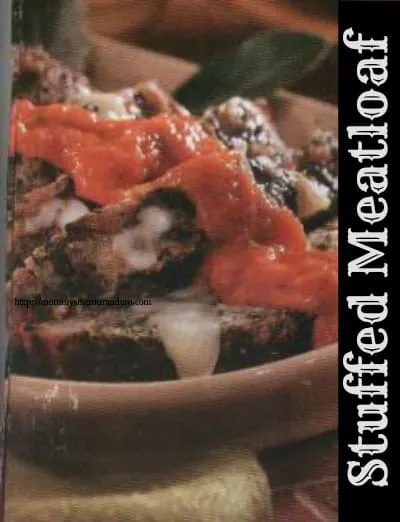 It pairs well with hard cheeses like Parmesan and Romano. Try it with Feta for a great combination.
The limited edition bottling of Gallo Family Vineyards Hearty Burgundy is available for a suggested retail price of $9 for a 1.5-liter bottle.
In addition to being in the original wine style, it will also feature a special gold label, as a nod to the wine's "golden anniversary" and bear a 50thanniversary seal.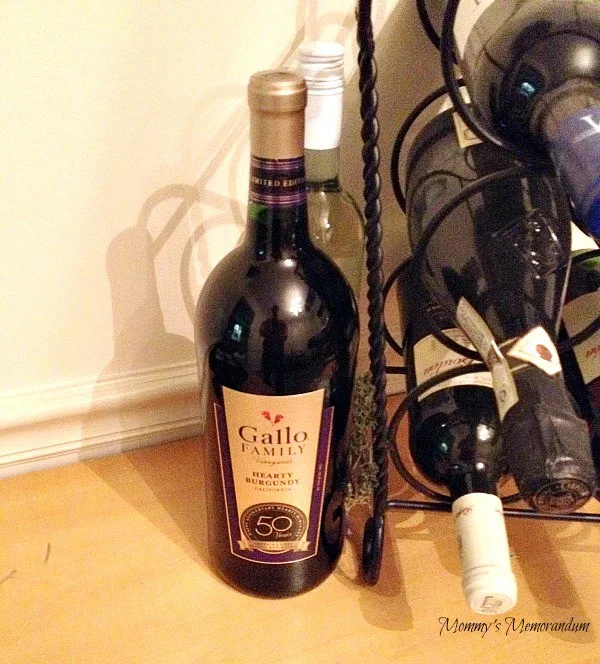 About Gallo Family Vineyards
Since 1933, Gallo Family Vineyards has been family owned and operated. As a result, family values are essential to the Gallo Family, which is why every wine they craft is sealed with a Best Taste Promise, certifying the highest of quality in each bottle. For 80 years, the Gallo Family has sought to make wine accessible – easy to find and easy to enjoy. Today, the family considers it a great honor to be part of family gatherings across the country and across the world.
The Gallo Family Vineyards collection of wines offers a variety of fruit-forward, approachable styles at affordable prices, including Moscato, Chardonnay, Cabernet Sauvignon, Merlot, White Zinfandel, Sauvignon Blanc, Pinot Grigio, Pinot Noir, White Merlot, Sweet Red, Hearty Burgundy, Sweet White Blend, and sangria. (Suggested retail price: $4.99 for 750-ml bottles, $8.99 for 1.5-liter bottles, $5.99 for 187-mL four-pack.) For more information visit www.GalloFamily.com