I received Masi Mascianco in order to facilitate an honest review.
Looking for a lighter fare of food and some delicious wine?
Masi Agricola
, a leading Venetian producer of quality wines from Northeast Italy, offers wine that can be enjoyed this Valentine's Day or any day.
With Bonacosta(13.99), a light summer red wine, those who typically enjoy a white or rosé may find they would rather indulge in this zesty departure. It is one of the classics of the great Veronese tradition, made by Masi in a contemporary style. It's the light, dry red wine praised by Hemingway (The Globe and Mail) as "friendly as the house of a favorite brother." It's simple and fresh.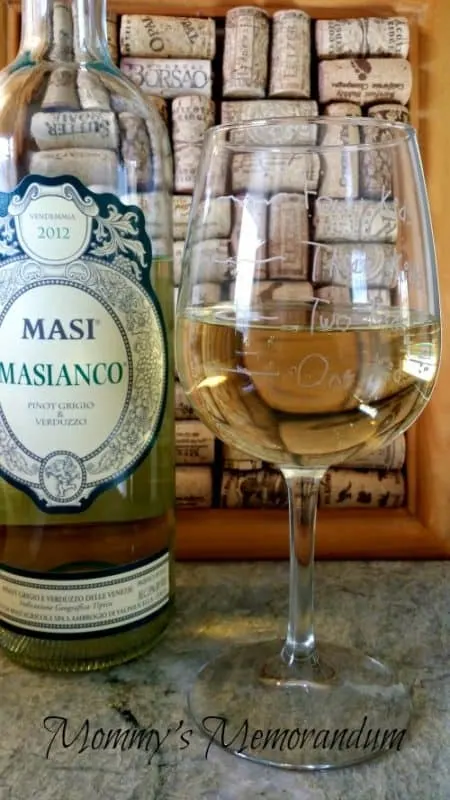 Perhaps you have heard of the "Hemingway Cure"? Originally founded In Venice: scampi and Valpolicella. The novelist famously prescribed himself a steady diet of the seafood-and-red-wine pairing in 1954 during an extended stay at the Gritti Palace hotel on the Grand Canal. He had checked in to convalesce in high style following injuries suffered during a jarring period in Africa, having survived a fire and two plane crashes, one of five times the writer cheated death (Time).
Made in the Valpolicella Classica region from a blend using the traditional Veronese grapes: Corvina, Rondinella and Molinara.
GRAPE VARIETIES Corvina, Rondinella, Molinara
With Masianco($17.95), a unique and exclusive blend of Pinot Grigio and native Verduzzo grapes, imbibers experience a fun twist on the traditional Pinot Grigio. This wine is my favorite with its aromatic and fruity flavors. It's a Masi specialty and a "brother" to the famous red wine, Campofiorin.
GRAPE VARIETIES Pinot Grigio, Verduzzo
The Masicanco is a pale lemon color and offers a complex aroma. Lemon citrus with hints of nectarine and apricot for a supple and long taste on the palate. It's tried and the fruit notes offer ripe sweetness after the plain lemon citrus.
Pour it into a
wine glass
, share it with a friend, or drink it straight from the bottle. No matter how you drink it, Masi is good wine.