MacKenzie has a thing for mermaids. She loves all things beach and ocean and thinks being a mermaid would be absolutely the best. And, if we are honest, we all are part mermaid on the inside. This is where Fin Fun apparel comes in, helping bring out our inner mermaid.
MacKenzie went crazy over their stylish selection of mermaid apparel. Fin Fun offers an amazing assortment of mermaid-designed gear for big and little fans alike; you'll find a colorful, enchanting style that suits your mermaid alter-ego.
It doesn't matter if you're looking for mermaid clothes for adults, tweens, teens, or little ones, Fin Fun has all the mesmerizing mermaid clothing you need to get your fin flapping.
MacKenzie celebrates her inner mermaid with a great outfit from Fin Fun that is comfortable, well-made and so much fun.
She gets all kinds of compliments when she wears it.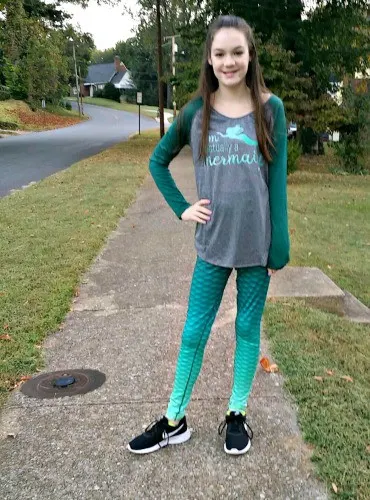 We were sent the Fin Fun Mermaid Deep Sea Green Mermaid Leggings by FinFun for review.
These sporty mermaid scale leggings feature a gorgeous pattern of tranquil sea green ombre mermaid scales.
They are incredibly soft, and MacKenzie says they are the ultimate in comfort.
I purchased the I'm Actually a Mermaid Ragland Top to pair with the mermaid leggings.
It's a perfect match.
Fin Fun's soft long-sleeved raglan top, is well crafted with high-quality stitching.
The graphic is sparkling.
Both pieces of apparel have been washed over and over (it's MacKenzie's absolute favorite outfit), and both still look new with no pilling, fade, or flaking.
Fin Fun offers a large selection of mermaid apparel, fins, and tails to transform any human into the mermaid they dream of being.
It's fun clothing for your inner mermaid!
Celebrate the season with Fin Fun!
---
We received the Mermaid scale leggings from Fin Fun in exchange for this post. I purchased the I am a Mermaid Ragland Top from the Fin Fun website on my own. All opinions and my daughter's love for mermaids remain our own.