The minivan is pretty much the ideal road trip vehicle when you think about it. It is roomy, with enough seats for seven or eight beloved family members, there is plenty of cargo space for your luggage, cases of bottled water, and bags of snacks, and it probably gets decent gas mileage.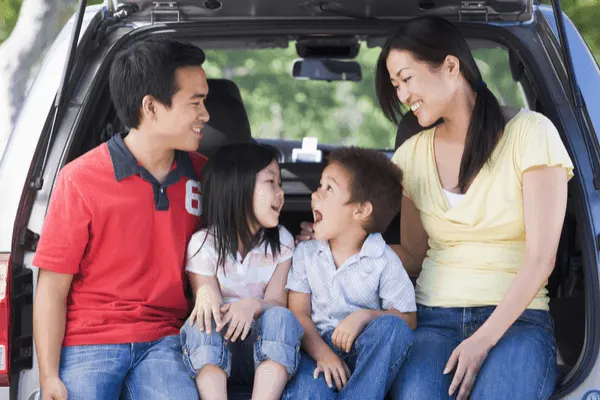 Of course, to get a minivan truly road trip ready, you have to do more than buckle up your kids and hit the road — that is, if you want to prevent hours of listening to bored kids whine. If you have a road trip coming up soon, the following DIY hacks will help your trusty mom machine to be ready for the action:
Organize Your Gadgets
Handheld electronic gadgets can be a godsend on long road trips. To be sure everyone can see and enjoy movies and games on the road, purchase a couple of mounts that will allow you to attach tablets to the backs of your van's headrests. Amazon sells a nice variety of mounts for different tablets; for example, the TFY Car Headrest Mount Holder for $23 holds all editions of the Kindle Fire in place.
If your minivan comes with built-in screens — for example, motortrenc.com says the Chrysler Pacifica has this kid-friendly feature — download some apps and games onto the system before leaving on your journey. The Pacifica features the Uconnect Theater entertainment system with two 10-inch touchscreens. Some of the fun apps that you can download ahead of time for the Uconnect Theater include the License Plate Game, Backseat Bingo, and Tic-Tac-Toe, allowing the whole family to get in on the fun.
Add Some Trash Bags
If your minivan comes equipped with an onboard vacuum — and really, isn't this the most brilliant idea ever for any family car? — Then, you can certainly use it to clean up crumbs and spills. However, vacuums will not tackle most road trip debris — think Kleenex, napkins, granola bar wrappers, and empty Capri Sun pouches. To get your minivan ready for the road trip, purchase some Command hooks at a local big box store and attach them throughout the van on the backs and sides of seats. Then hook plastic bags that you get at the grocery store to the hooks, and stash a bunch more in the glove box so you can replace them once they get full.
Stash Your Snacks
To make it through a road trip of any length, you've got to have plenty of snacks. Many minivans have a console between the front seats with cup holders and a lot of space beneath. Measure this area and find the largest and tallest box that you can with a lid and fill it with a kid and adult-friendly snacks, including cheese and wheat crackers, protein bars, dried fruit, and the like. Add in a few ice packs, and you can include cheese sticks, pre-cut bags of apples, and carrots with tiny cups of Ranch for dipping.
Hide Some Dryer Sheets
Minivans can develop a certain funk by the end of the road trip. Maybe your son gets a tad car sick, or your daughter dropped a piece of string cheese under her seat and then forgot to tell you. To keep your van smelling too fresh, hide a few dryer sheets underneath the seats. If brand new dryer sheets are too intense for you, use those that have already gone through the dryer; they help keep the van smelling good.
The longer you own your minivan, the more road trip-friendly hacks you will learn. Starting with these four will make your upcoming trip a lot more fun and stress-free for you and your family.