Celebrate the newest Blue's Clues & You! DVD with this tasty traditional Filipino lumpia recipe!
Blue's Clues & You! Blue's Big Baking Show is now available on DVD (see our Blue's Big Baking Show review).
If you aren't familiar with lumpia, it's a Filipino eggroll filling generally pork, beef, chicken, or even shrimp.
We're so excited to share this festive Filipino lumpia recipe inspired by the dish Josh & his Lola (grandmother) make together in one of Blue's Big Baking Show DVD episodes!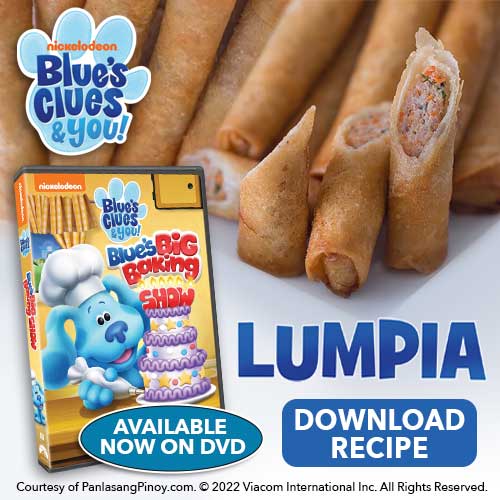 Lumpia Ingredients:
30 pieces spring roll wrappers
2 cups cooking oil
Filling:
1 pound ground pork
1 small onion, minced
1 large carrot, minced
1 large egg
1 teaspoon garlic powder
¼ teaspoon ground black pepper
2 tablespoons parsley, chopped
1 tablespoon sesame oil
1 ½ teaspoon salt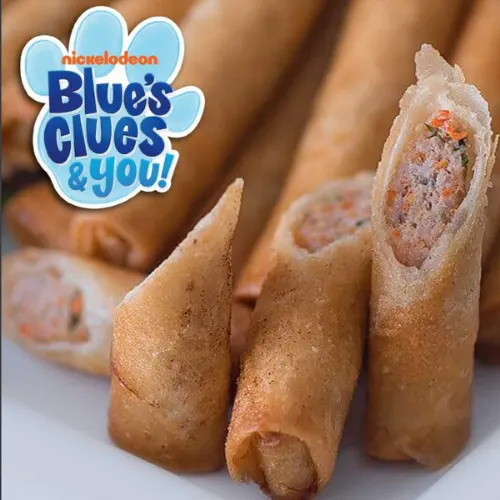 How to Make Lumpia:
In a large bowl, combine all of the filling ingredients and mix well.
Place 1 ½ tablespoon of the filling in a diagonal manner on one corner of the spring roll wrapper. Fold the sides and tuck in both ends. Moisten the edge with water or an egg wash and then roll tightly.
Heat oil in a cooking pot. It should be 350 degrees for frying.
Deep fry lumpia using between low to medium heat for 8 to 10-minutes.
Remove from the pot.
Rest on a paper towel.
Serve lumpia with sweet and sour sauce for dipping.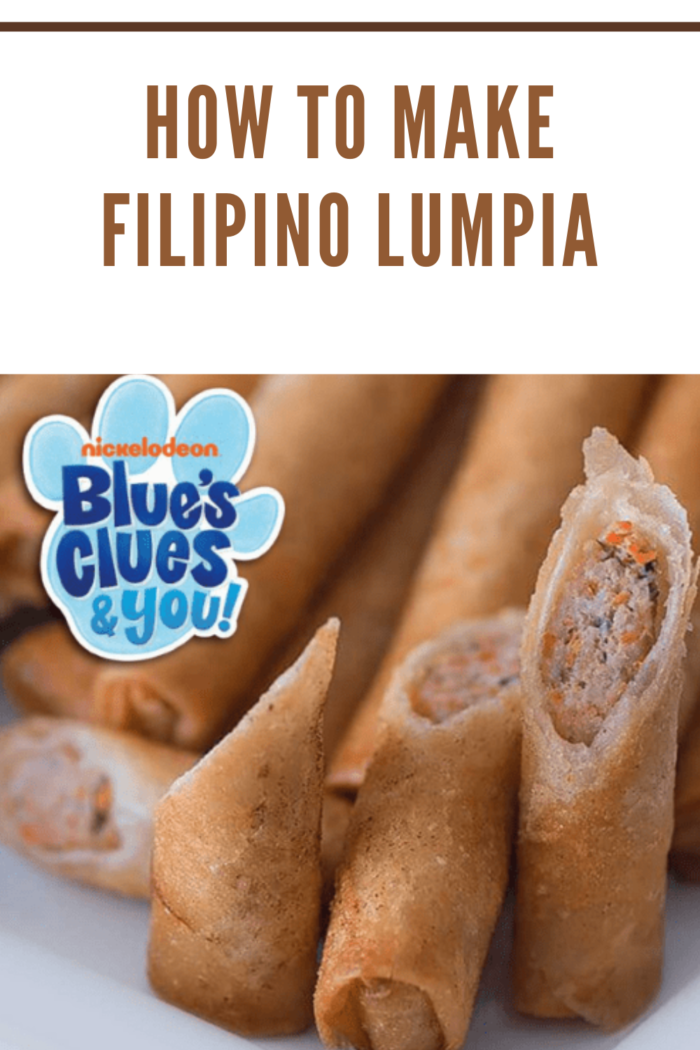 Tips for Folding the Lumpia:
Lay one spring roll wrapper in front of you.
Add the filling about one inch from the bottom center of the wrapper.
Fold up the bottom of the wrapper, over the filling, and then roll the filling tightly into a long, thin log (think of a cigar shape).
Roll your wrapper tightly with the filling to prevent air pockets.
If the wrapper tears, do your best to cover it as you roll.
Continue rolling the wrapper until you are three-quarters of the way up, then fold the side edges towards the middle and continue rolling the wrapper up.
You can dab an egg wash over the edge when you get about 1/2 inch from the top of the wrapper. Once the egg wash is added, continue rolling the lumpia and seal the edge.
Learn how to make an egg wash.
Tip for Cutting the Lumpia:
If you wish to cut the lumpia before serving, use kitchen scissors rather than a knife. This will give it a clean-cut, but won't smush the lumpia.
BCY Baking Lumpia Instructions

——
Recipe courtesy of PanlasangPinoy.com