Introducing the Ultimate Air Fryer Egg Rolls: Crispy, Delicious, and Homemade!
Are you craving the mouthwatering flavors of egg rolls without the greasy guilt? Look no further! Our revolutionary air fryer egg rolls will satisfy your cravings and take your taste buds on a journey they won't soon forget.
Indulge in the perfect balance of crispy, golden-brown exteriors and tantalizingly tender fillings, all made right in the comfort of your own kitchen. With our easy-to-use air fryer, you can enjoy the delightful crunch of egg rolls without any of the hassle or excess oil.
Why Choose AirFryer Egg Eolls?
Healthy Delights: Say goodbye to greasy takeout options and hello to guilt-free indulgence. Air fryer egg rolls are cooked to perfection using minimal oil, making them a healthier alternative for you and your loved ones.
Endless Varieties: The possibilities are endless, from classic vegetable and chicken egg rolls to bold and creative combinations like BBQ pork or spicy shrimp. Unleash your culinary creativity and craft unique egg roll creations to suit your cravings.
Quick and Easy: No need to wait for delivery or spend hours in the kitchen. With our air fryer, you can have homemade egg rolls ready in a fraction of the time. Simply assemble your rolls, pop them into the air fryer, and let it work its magic.
Crispy Goodness: Experience the joy of biting into perfectly crispy egg rolls with every single bite. The hot air circulation in our air fryer ensures even browning and a satisfying crunch that will have you coming back for more.
Family-Friendly: Our air fryer egg rolls are a hit with everyone in the family! Whether you're planning a game night, hosting a party, or simply enjoying a cozy dinner, these delightful treats will have your loved ones raving about your culinary skills.
Don't miss out on this game-changing kitchen appliance that will revolutionize the way you enjoy egg rolls at home. Say goodbye to the greasy takeout boxes and hello to healthier, homemade deliciousness.
Order your very own air fryer today and embark on an egg roll adventure that will leave your taste buds dancing with joy. Your cravings deserve the best, and our air fryer egg rolls are here to deliver!
(Note: Remember to include necessary safety precautions and cooking instructions in your ad.)
Egg Rolls are so easy in the air fryer. Eliminate the stress of hot oil and tuck your ingredients in the egg roll wrappers and let the Air Fryer do its magic!
Serves: 4
Cooking time: 8 minutes
Ingredients Checklist:
1 clove garlic, minced
1 teaspoon sesame oil
1 teaspoon olive oil
1/2 cup chopped celery
1/2 cup grated carrots
2 green onions, chopped
2 ounces mushrooms, chopped
2 cups shredded Napa cabbage
1 pound cooked chicken, shredded (optional)
1 teaspoon low-sodium soy sauce
1 teaspoon cornstarch
1/2 teaspoon salt
1 egg
1 Tablespoon water
4 egg roll wraps
nonstick cooking spray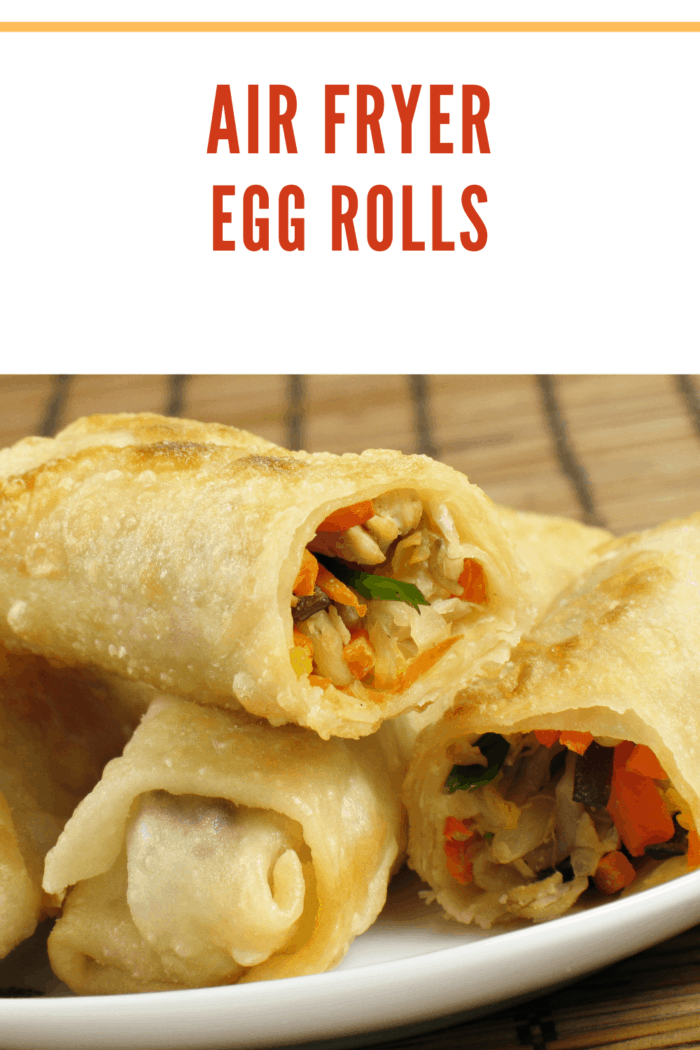 How to Make Air Fryer Egg Rolls:
In a large skillet, saute garlic in sesame and olive oils over medium heat for 1-minute.
Add celery, carrots, onions, and mushrooms to skillet. Cook for one minute, stirring.
Stir in the cabbage and chicken if using, cover the pan and cook for one minute or just until the cabbage slightly wilts.
In a small bowl, combine the soy sauce and the cornstarch and whisk to make a slurry.
Pour slurry into the vegetables and stir to coat over medium heat until slurry thickens. Add more salt and pepper to taste.
Beat together egg and water in a small bowl.
Divide the filling into four portions and roll up in egg roll wraps. Brush the eggs wash all over to seal.
Lightly mist the egg rolls very lightly with nonstick cooking spray and place in an air fryer basket.
Cook at 390-degrees F. for four minutes.
Turn egg rolls over and cook another 4-minutes, until golden brown and crispy.
How to Store Leftover Air Fryer Egg Rolls
To properly store leftover air fryer egg rolls, follow these simple steps:
Allow them to cool: Let the cooked egg rolls cool at room temperature for 15-20 minutes. This will prevent condensation and sogginess when storing them.
Wrap individually: Wrap each egg roll individually in plastic wrap or aluminum foil. This helps maintain their shape and prevents them from sticking together.
Place in an airtight container: Transfer the wrapped egg rolls to an airtight container. Alternatively, you can use a resealable plastic bag. Make sure to squeeze out any excess air before sealing the container or bag.
Refrigerate promptly: Put the container or bag of egg rolls in the refrigerator within two hours of cooking them. The cooler temperature of the fridge helps slow down bacterial growth and keeps the egg rolls fresh.
Label and date: If you anticipate having the leftover egg rolls for more than a day, it's a good idea to label the container or bag with the date. This way, you can keep track of their freshness and consume them within a recommended time frame.
Reheating: When you're ready to enjoy the leftover egg rolls, preheat your air fryer to around 350°F (175°C). Remove the plastic wrap or foil and place the egg rolls directly in the air fryer basket. Heat them for 3-4 minutes or until they are heated through and crispy.
Remember, refrigerated egg rolls are best consumed within 2-3 days for optimal flavor and texture. If you have a large batch of leftovers, you can also freeze them for longer storage. Simply follow the wrapping and airtight container steps mentioned above, and they can be frozen for up to 2-3 months.