Egg Rolls are so easy in the air fryer. Eliminate the stress of hot oil and tuck your ingredients in the egg roll wrappers and let the Air Fryer do its magic!
Serves: 4
Cooking time: 8 minutes
Ingredients Checklist:
1 clove garlic, minced
1 teaspoon sesame oil
1 teaspoon olive oil
1/2 cup chopped celery
1/2 cup grated carrots
2 green onions, chopped
2 ounces mushrooms, chopped
2 cups shredded Napa cabbage
1 pound cooked chicken, shredded (optional)
1 teaspoon low-sodium soy sauce
1 teaspoon cornstarch
1/2 teaspoon salt
1 egg
1 Tablespoon water
4 egg roll wraps
nonstick cooking spray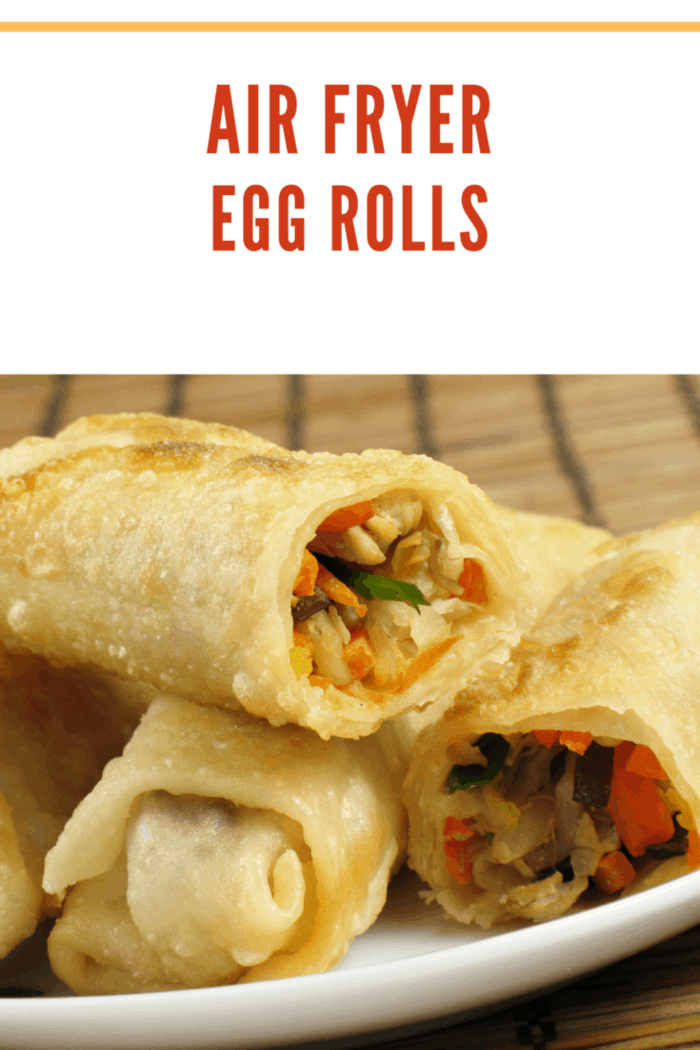 How to Make Air Fryer Egg Rolls:
In a large skillet, saute garlic in sesame and olive oils over medium heat for 1-minute.
Add celery, carrots, onions, and mushrooms to skillet. Cook for one minute, stirring.
Stir in the cabbage and chicken if using, cover the pan and cook for one minute or just until the cabbage slightly wilts.
In a small bowl, combine the soy sauce and the cornstarch and whisk to make a slurry.
Pour slurry into the vegetables and stir to coat over medium heat until slurry thickens. Add more salt and pepper to taste.
Beat together egg and water in a small bowl.
Divide the filling into four portions and roll up in egg roll wraps. Brush the eggs wash all over to seal.
Lightly mist the egg rolls very lightly with nonstick cooking spray and place in an air fryer basket.
Cook at 390-degrees F. for four minutes.
Turn egg rolls over and cook another 4-minutes, until golden brown and crispy.