We received Festive Chickpeas in order to facilitate an honest review. All opinions remain our own.
Festive Chickpeas.
Hey, have you tried them yet?
You know, the new Festive Chickpea Snacks!!
What is a Chickpea?
A Chickpea is a legume with a crunchy, buttery, nutty flavor.
It is kinda like a peanut, but you don't have the allergens that come with the peanut.
It's like a no-nut peanut!
Chickpeas taste great and are good for you!
These Chickpeas are packed with protein and fiber.
It has soooo. Much. Crunch!!!
Festive Chickpeas are Crunchy flavored chickpeas that are Great for snacking.
A hold-you-over-in-between-meals snack, or just as a pick me up to a low energy day.
They are good whenever you need a little snack to get you through the day.
The Festive Chickpeas come in Six Amazing Flavors!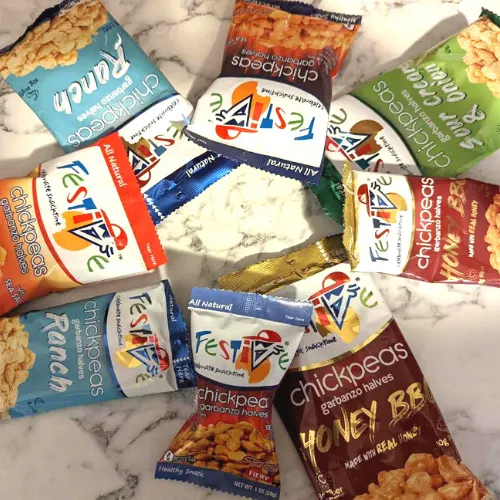 There is a flavor for every taste bud:
Sea Salt
Ranch
Sour Crean and Onion
Honey BBQ
Mild Spicy
Fiery Spicy
The Festive Chickpeas come in 1-ounce snack size, perfect for one or 20-ounce meal size, to share with a friend.
Because of the packaging size of Festive Chickpeas can take them anywhere with you.
Just toss a few packs in your purse so you or your family will have them when you are on the go.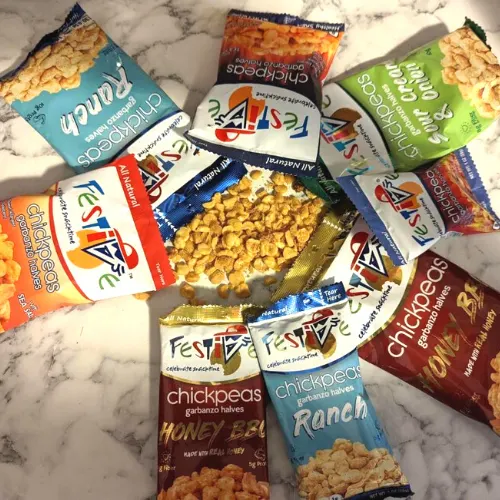 The Flavors of Festive Chickpeas
Sea Salt-
This is simple with an amazing light Sea Salt flavor and a crunch that doesn't stop!
Ranch-
Everyone's favorite with all the tangy spices of the ranch flavors and a Big crunch.
Sour Cream & Onion-
The chickpeas have the smooth creamy flavors of the sour cream and the tangy-sweet punch of the onions adds to the crunchy nutty flavor of the chickpea.
It's a Flavorful combination
Honey BBQ-
These chickpeas have the sweet and sour tanginess of the BBQ sauce.
Then the Honey kicks in and sweetens the Tanginess.
yumm, yumm, Good!
Mild Spicy-
You will love this flavor of chickpeas if you like things with mild heat.
You just get a little bit of a warm heat with these.
Fiery Spicy-
This flavor is for the people that live on the Hot and Spicy side.
You will feel the slow warmth until it has ignited a fire of heat inside your mouth!!
Final Thoughts:
Festive Chickpeas are a great choice for a snack!
Festive Chickpeas are a healthier choice for a snack!
The chickpeas are packed with Protein and Fiber!!
Unlike other snacks, Festive Chickpeas have no grease in them or on them.
There is no greasy residue left on your hands after eating them!
They don't taste healthy, they taste like Fun!!
A snack of the Festive Chickpeas will give you the energy to get you over the hump to the finish line.
About Festive Food Brands:
Did you know that Festive Food Brands is the only company that takes special care to de-husk and split the Chickpeas.
Festive Food Brands is the only company on the market that takes the time to do this process.
Gluten Free, Nut Free, Dairy Free, Soy Free, and Corn Syrup Free, that's the Festive Food Brands Festive Chickpeas promise.
Festive Food Brands is a family-owned & operated business in Miami, Florida.
The Chickpea and the flavors are so good it might just become your new addiction!!
Grab a bag or two today!
Visit Festive and start snacking.