This chickpea and roasted vegetables recipe reminds me of dinner at my grandparents.
We'd arrive at their house, leap from the car and burst through the backyard gate.
In a full run, we'd rush to the very back of the yard, through the gate, and almost always my grandparents were on their knees in their garden.
They'd scoop up their harvest of vegetables and we'd trot inside eager to see what the basket would make.
It always yielded something delicious and the colors were vibrant.
This dish offers the vegetable harvest with the addition of garbanzo beans.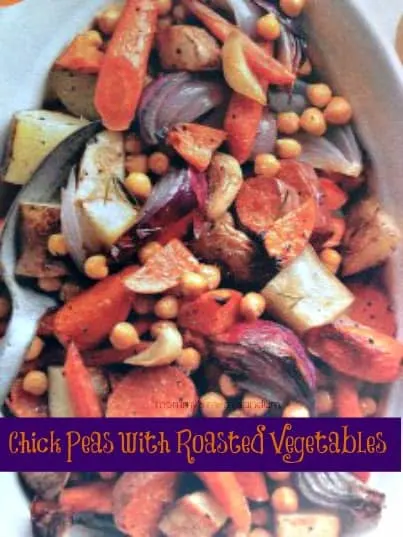 ChickPea and Roasted Vegetables Recipe Ingredients:
1 pound carrots, peeled and cut in 2-inch pieces
1 pound sweet potatoes, peeled and cut in chunks
1 large red onion, peeled, halved, and cut in 1-inch wedges
1 pound red or russet potatoes, cut in cubes
6 cloves garlic, minced
1 (16 ounces) can garbanzo beans, rinsed and drained
2 Tablespoons vegetable oil or olive oil
1 teaspoon dried rosemary, crushed
1 teaspoon packed brown sugar
1/2 teaspoon salt
1/2 teaspoon pepper
ChickPea and Roasted Vegetables Recipe Directions:
Preheat oven to 425 degrees F.
Spray lightly with non-stick spray a large shallow roasting pan.
Place all vegetables, garlic, and chickpeas in the pan.
In a small bowl combine the oil, rosemary, brown sugar, salt, and pepper.
Drizzle over vegetables; toss well to coat.
Roast, uncovered, about 45 minutes or until vegetables are lightly browned and tender, stirring twice.