Tamalitoz by Sugarox provided their product in exchange for this review.
Tamalitoz by Sugarox
is a striped hard candy with a fruity outside like you'd find in your mom's candy dish, but these hard candies have a tangy chile-lime kick inside.
These are bite-sized fruit-flavored hard candy filled with chili lime and a touch of sea salt center.
It's the Adult candy that kids will love too!!
Tamalitoz by Sugarox Review
From the Name to Packaging:
Austin, Texas-based couple Jack Bessudo and Declan Simmons created Tamalitoz.'
The name originated when Sugarox made their tasty watermelon with chili candies, and a customer commented that the candies looked like tiny candy tamales.
In Spanish, it is "Tamalitos".
Bessudo and Simmons swapped the /s/, and added a /z/, and that's how they became "Tamalitoz."
During the pandemic, Bessudo learned how to paint.
Watercolor, to be exact.
That lesson carried over to Tamalitoz.
He designed and created the packaging for Gorgeous Green Apple, and Cherry It's a Fire, Bite Me Blood Orange, Cranberry Fantasy and Peach Slapped.
Each fruit flavor of Tamalitoz hard candy comes in a resealable 4oz bag.
Each bag displays a beautiful watercolor portrait painted by co-owner Jack Bessudo.
It is the perfect size to take anywhere.
It will fit in your purse, car console, glove box, lunch box, etc.
Flavors range from those typical to an American candy shelf — cherry and green apple — to some inspired by classic Mexican confections.
Tamalitoz offers popular flavors like Cherry, Green Apple, and Watermelon, and some south-of-the-border flavors like Blood Orange and Tamarind.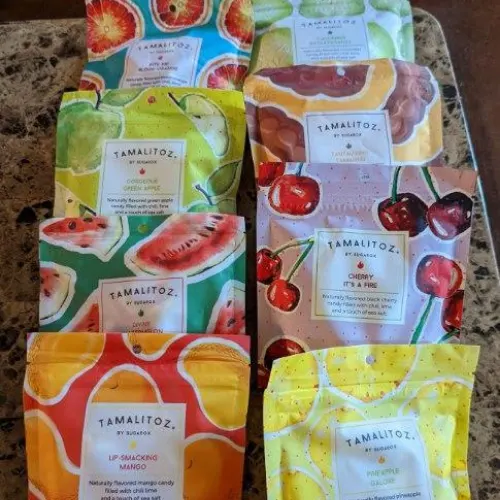 Tamalitoz has 8 Amazing Fruit flavors:
Gorgeous Green Apple
Divine Watermelon
Tantalizing Tamarind
Lip Smacking Mango
Pineapple Galore
Cherry, It's A Fire
Cucumber Extravaganza
We received all eight flavors, and we did some taste testing!
We found this from each fruity flavor with the chili, lime, and sea salt middle.
*Bite Me Blood Orange-
Nice orange punch, sweet but tangy smooth.
The Chili lime middle comes on slow, then packs a punch!
The chili is warm, not hot.
The Lime and sea salt are cool and fizzy.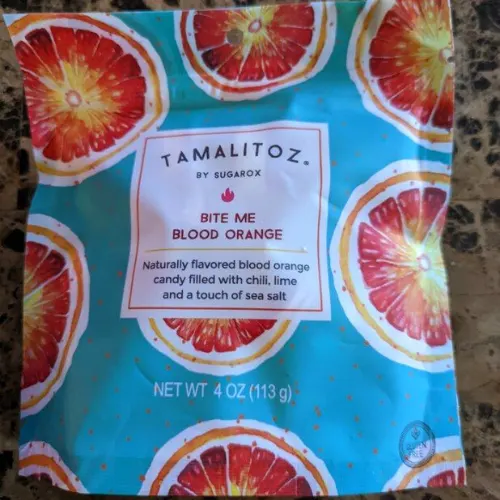 *Lip Smacking Mango-
The smooth, sweet flavor intensifies when the Chili and Lime merge with the Mango.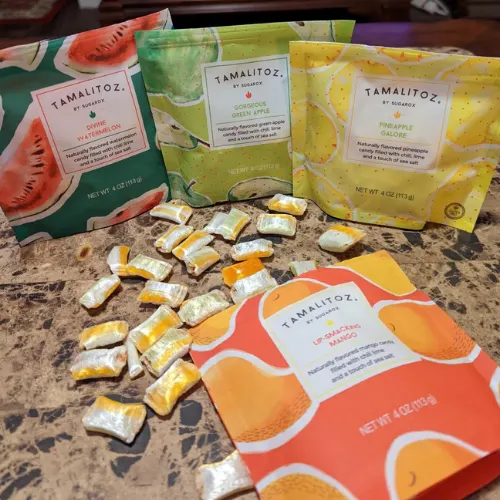 *Gorgeous Green Apple-
Sour and tangy Green Apple flavor.
The Chili Lime and sea salt flavors surge with the Green Apple flavors to kick up the intensity of this flavor!
*Pineapple Galore-
Nice, sweet, crisp pineapple flavor.
The flavors Pop when the Chili Lime and Sea Salt flavor oozes out and combines with the Pineapple.
It's an explosion in your mouth!
*Divine Watermelon-
Cool, crisp watermelon flavor.
When the Chili Lime flavor mixes with the Watermelon, it adds a little spice!
It now is Crisp, Clean, slightly spicy.
The Lime and Sea Salt helps cool the flavor of the chili.
*Cucumber Extravaganza-
Nice, smooth, crisp, refreshing Cucumber flavor.
Just a hint of the Chili Lime flavor turns this smooth, crisp flavor into a very intense smooth, crisp, and warm flavor.
*Tantalizing Tamarind-
Sweet and tangy, slightly tart flavor.
The Chili and Lime mix with this flavor gives it a more intense burst of flavor.
*Cherry It's a Fire-
Intense cool and tart Cherry flavor.
When the Chili and Lime hit your taste buds, it's like all three flavors exploding and the same time!
Very intense and satisfying flavors.
This one seems to have a more intense chili flavor.
It makes it a tart but spicy flavor!
Final Thoughts:
These Tamalitoz by Sugarox hard candies have enough flavors for everyone in your crew, and everyone is someone else's crew.
These candies won't let you down; they are packed with intense flavor.
Enjoy them anytime, day or night, at home or on the go.
Try Popping a couple of the different flavors in your mouth to see how the different flavors mix and taste.
These flavorful Tamalitoz by Sugarox hard candies are flavorful, and the Chili, Lime & Sea Salt center pack a punch of intense flavor in your mouth!
The one drawback is the candies are not individually wrapped, but maybe that means it's your destiny to consume them all!
Fun Fact: Business Journalism wrote an article about LGBTBE businesses making up less than one percent of small businesses in the U.S.
How cool is it that Tamalitoz is part of that one percent?
Where to Find Tamlitoz by Sugarox
Go to tamalitoz.com/store-locator to find a store near you that sells the candy.
Individual bags have a manufacturer's suggested retail price of $3.99, and you can purchase packs of five for $17.95.