Since 1990, I have maintained my subscription to Disney's Family Fun magazine. It has values that are important to me and offers great activities and ideas for spending time with my family. This summer, in celebration of the magazine's 20th birthday, they're challenging families to earn "Badges of Fun".
Starting with the June/July issue of Disney Family Fun magazine, there's a unique mission that will create lasting memories and moments of giddy hysteria.
"Badges of Fun" isn't just for summer, it's a year-long, multi-faceted sponsorship series that perfectly combines the elements of family fun and spending more quality time together.
Let's talk about the program. Anyone who's been around Boy Scouts will recognize the scouting-style badges, which were designed by prominent arts and craft bloggers.
These badges can be earned together monthly, as a family, by completing themed activities.
"Every family wants to have more fun," said Jon Adolph, editor-in-chief, Disney Family Fun. "So for our 20th anniversary, we wanted to give our families a new reason every month to have a great time together. It's like a year-long birthday party–and thanks to our great sponsor, we've got excellent goodie bags to give out!"
And what great sponsors they are, the program is kicking off with REI as the exclusive sponsor of the June/July issue's "Backyard Fun" badge, designed by LeafCutterDesigns.com's Lea Redmond.
In true Disney Family Fun fashion, the campaign includes print editorial features, a downloadable badge-holder poster (also available as a magazine insert), an interactive microsite to share stories, sponsored prizes, and promotions via FamilyFun's Facebook and Twitter channels.
There are projects for everyone like "Eat Dinner Together", "Learn Something New Together" and "Hit the Road".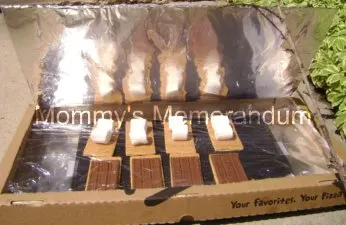 We have already started.
This month's badge, Backyard Fun the kiddos chose to do Solar S'mores.
We had a blast making the solar oven together.
They shared how they had seen something like this on Curious George.
It inspired their curiosity.
They wanted to know how it works; would it work in the rain?
A thousand questions as we measured, cut, and foiled our box.
They helped with the plastic, which isn't as tight as I would have liked, but this was about us as a team and not about Mom's crazy obsessive need to make it pretty.
The kiddos are out in the front yard, hovering around the "magic box" and waiting for their dessert.
If you're ready to start, check out the June/July birthday issue of FamilyFun, pages 69-70, or visit online at Badges of Fun.
Once you've completed one of the three activities, share your experience on the Badges of Fun microsite and print your display poster.
Most of all, enjoy the program and the time spent with family.