This Easy Instant Pot Creamy Chicken Alfredo Recipe is dinner in 30-minutes. It's the perfect recipe for a busy weeknight. Serve with a side of sliced Italian Bread, or crusty bread, and salad for a complete one-pot meal. Serve over fettuccine noodles for Instant Pot fettuccine alfredo.
If you are looking for some easy dinner inspiration for tonight's meal, I recommend this Easy Instant Pot Creamy Chicken Alfredo. It's a one-pot wonder, making easy prep and quick clean up, giving you more what you want to do outside the kitchen! It's one of my family's favorite instant pot recipes.
Looking for some dinner conversation?
Modern fettuccine Alfredo was invented by Alfredo di Lelio in Rome.
The original dish was an extra-buttery version of an Italian standard, fettuccine al burro with butter and Parmigiano-Reggiano cheese.
According to family legend, in 1892, Alfredo di Lelio began to work in a restaurant located in piazza Rosa and run by his mother, Angelina.
He made the classic pasta dish the first time for his wife, Ines, who was pregnant at the time.
Alfredo's dish didn't gain attention until 1920, when two famous American actors, Douglas Fairbanks and Mary Pickford (the first woman to earn $1 million in Hollywood), visited the restaurant while on their honeymoon who asked for the great recipe. That day it was made with fettuccine noodles.
Of course, every hero needs a rival, and for Alfredo, it's the self-claiming inventor of Fettuccine Alfredo, the Restaurant Alfredo alla Scrofa.
It should be noted that Fettuccine Alfredo is an American creation.
What is Alfredo?
Like this delicious recipe, Alfredo is a very rich and creamy sauce with a cheese flavor and a hint of garlic.
In cooking terms, it's a heavy cream reduction with a little bit of fresh garlic and parmesan cheese (Use freshly grated parmesan, not that powdered stuff in a jar–you can thank me later) to help thicken it and give it its unique flavor.
Cooking Tip:
Have all ingredients out and ready as this recipe goes quickly!
If you prefer, scroll to the bottom for the recipe card.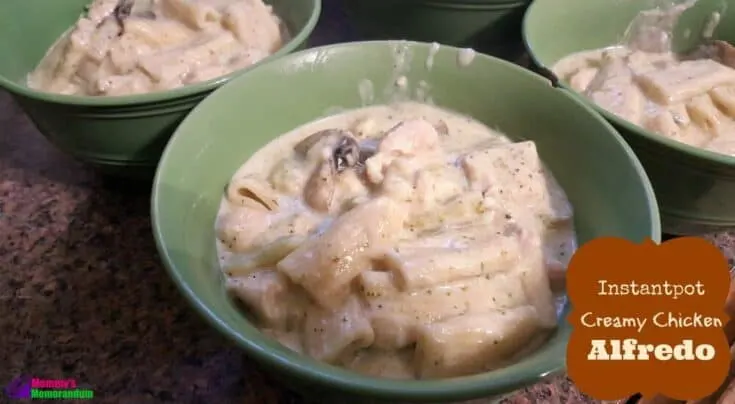 Chicken Alfredo Pasta Recipe Ingredients:
16 ounces pasta (Rigatoni, Fettuccine, linguine, and pasta shell noodles actually cook significantly better in the Instant Pot than spaghetti noodles)
16 ounces Asiago Cheese
1 pint of Heavy Cream
1 cup white wine
2 cups water (try chicken broth or chicken stock for the best flavor)
2 cloves garlic
1 Tablespoon olive oil
8 ounces sliced mushrooms
1 Tablespoon flour
16 ounces frozen broccoli
1 pound skinless, boneless chicken breasts, cut into cubes
1/2 cup Parmesan cheese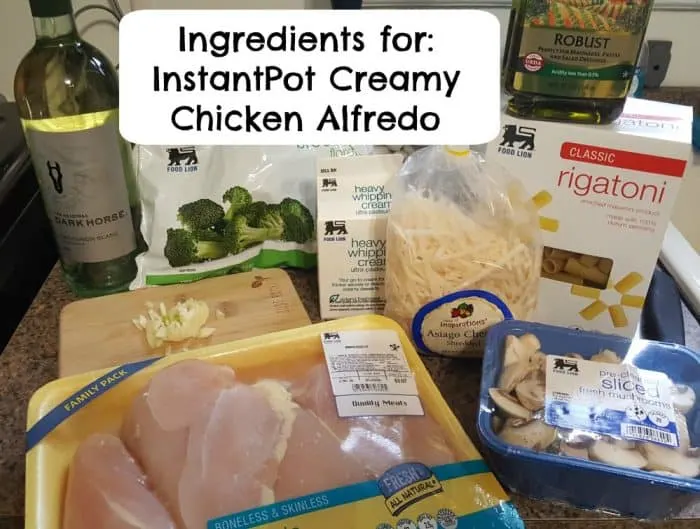 How to Make Instant Pot Chicken Alfredo Pasta:
Set Instant Pot to saute setting.
Add olive oil and minced garlic.
Stir garlic for 2 minutes, and then add the cut boneless chicken breast chunks.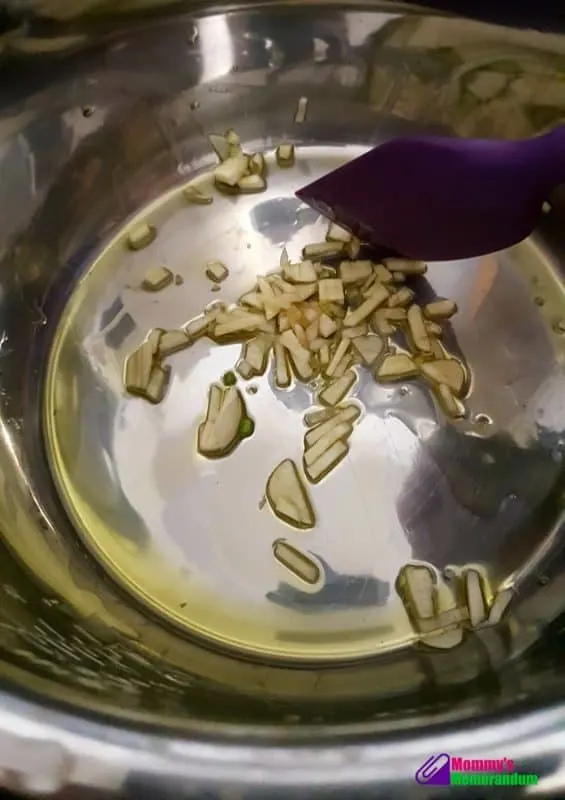 Saute chicken pieces until almost done, about 4 minutes of cooking time.
Add white wine to the electric pressure cooker.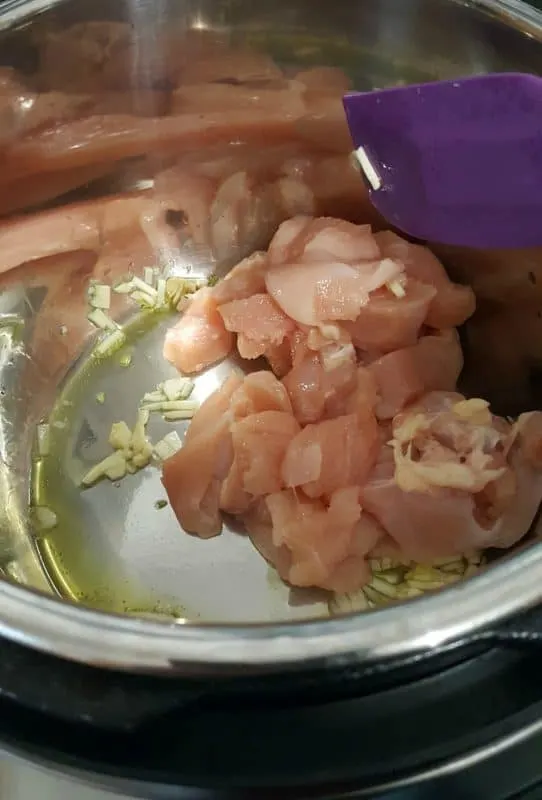 Add pasta and 2 cups of water.
You may need to add more water–you want to "just cover" the pasta.
Just a side note: The pasta absorbs the liquid during the cooking time, adding flavor, and it makes it easy because there is no need to strain the pasta.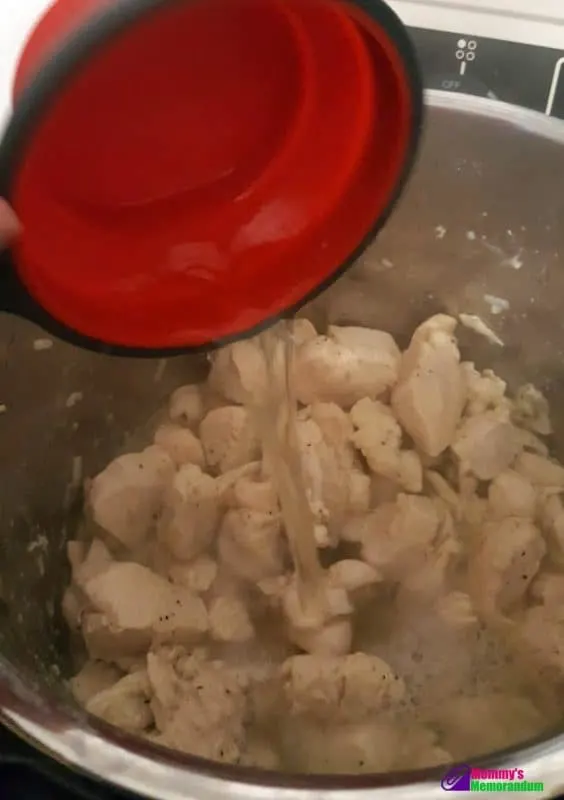 Add pasta and 2 cups of water.
You may need to add more water–you want to "just cover" the pasta.
Just a side note: The pasta absorbs the liquid during the cooking time, adding flavor, and it makes it easy because there is no need to strain the pasta.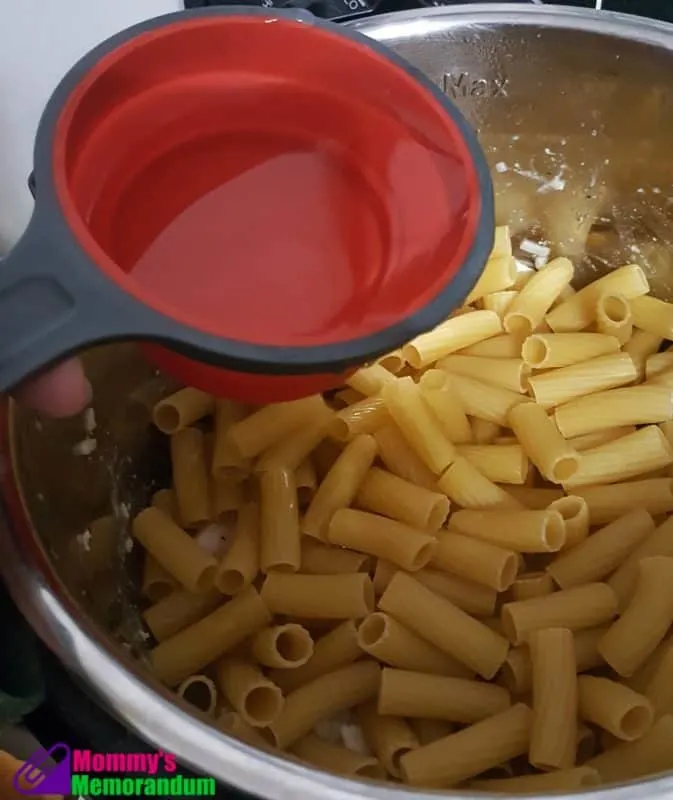 Add broccoli to the top.
Add mushrooms.
Place lid on Instantpot and place on high on the manual setting for 8-minutes.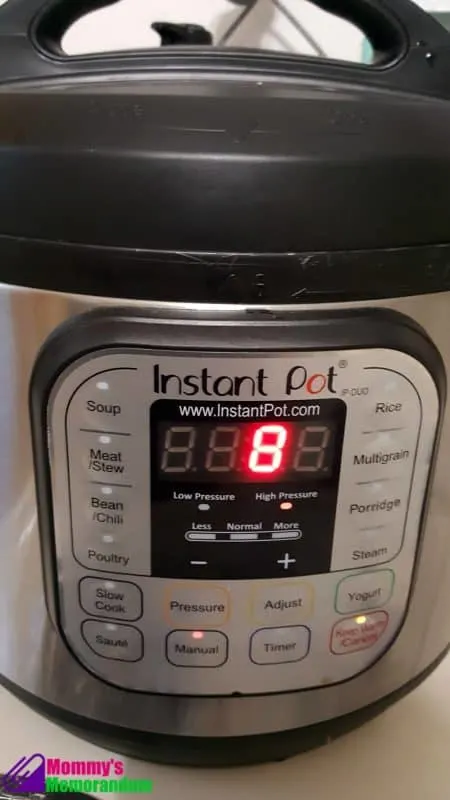 Do a quick release when it is done pressure cooking.
Check noodles; add another two minutes if they are more al dente and not as soft as you like.
Pour in heavy whipping cream and stir.
Stir in flour.
Stir the noodles and sauce together.
Slowly sprinkle in the Parmesan cheese and mix to combine.
Turn Instant Pot on to saute and stir until sauce thickens if you want a thicker sauce.
As soon as it begins to thicken, shut down the unit.
Add cheese.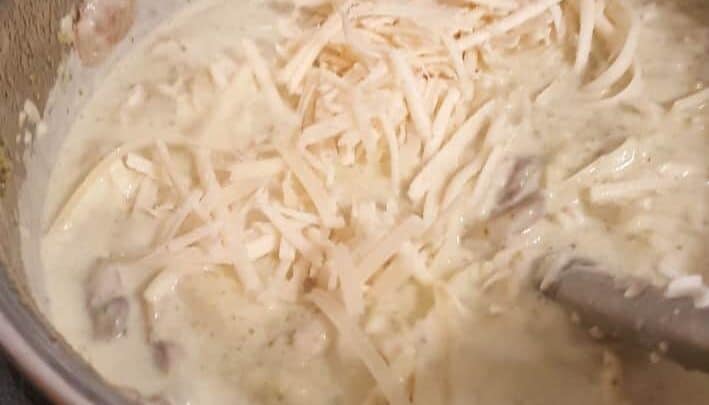 Stir and serve.
Garnish with freshly chopped parsley, optional.
We hope you enjoy this delicious instant pot chicken alfredo recipe.
Pro Tip:
If you want your alfredo sauce even more creamy, add cream cheese.
If the cream cheese is not softened, cut it into cubes and add the cream cheese to the Instant pot on top of the noodles before you pressure cook.
I prefer to add room-temperature cream cheese at the end.
Cut cream cheese into cubes and add at the end when you are stirring the sauce and noodles.
Stir until cream cheese is melted.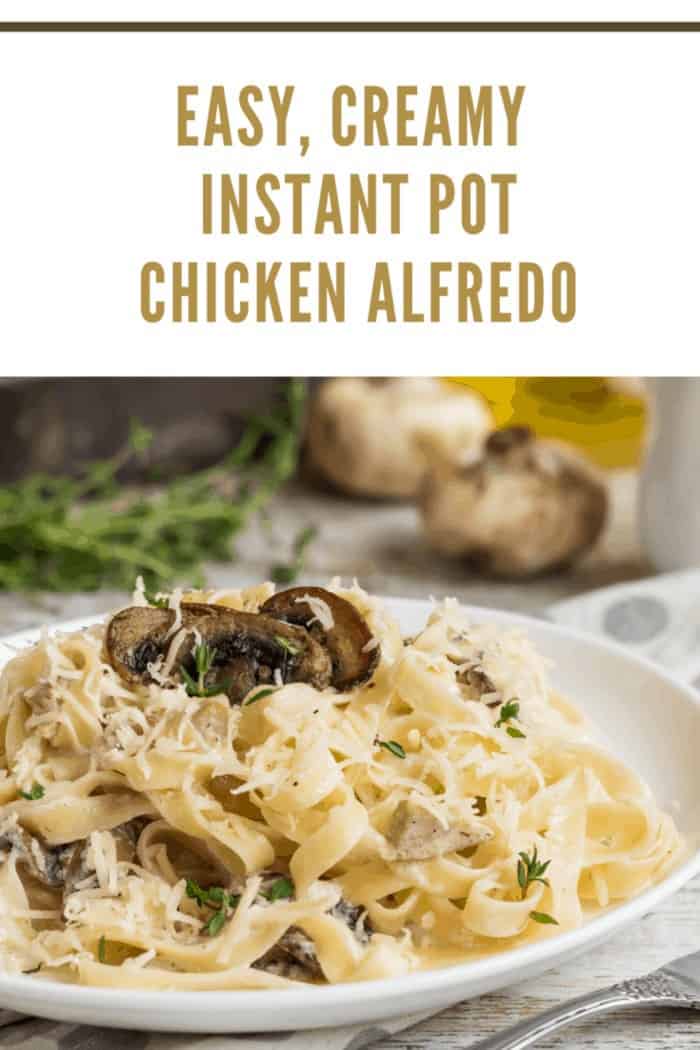 Let's Talk Cheese:
Cold cheese and hot liquid are not a delightful pair.
Cold cheese, when added to hot liquid, will curdle or clump.
To avoid this, stir the noodles after cooking to redistribute the sauce and release heat pockets.
Then, while stirring, slowly add the cheese while mixing.
NEVER add frozen cheese to the dish.
Leftovers:
In the unlikely event you have alfredo leftovers, store them in an airtight container in the refrigerator.
Like other pasta dishes, it will dry out a bit after being refrigerated.
Simply add a little milk to add moisture, stir and then reheat.
You Want to Use Store-Bought Sauce:
Sure. I get it. Easy dinner.
If you want to use a jarred sauce instead of homemade alfredo sauce to make Instant Pot Alfredo, add the recommended amounts of chicken, water and noodles to the Instant Pot.
Add one jar of the commercial alfredo sauce.
The cooking time should remain the same.
Season to taste when done cooking.
Substitutes:
Boneless skinless chicken thighs or chicken tenderloins can be used in place of the chicken breast.
Cut into cubes.
Are you stopping by the store on your way home?
Pick up a cooked rotisserie chicken and cut the meat off the bones, and use in place of the raw chicken in the recipe.
Cooking time does not change.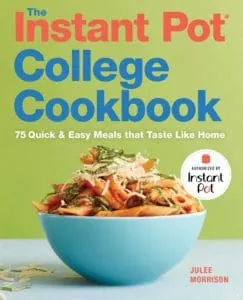 This recipe can be found in The Instant Pot College Cookbook: 75 Quick and Easy meals that Taste Like Home.