The living room is an excellent place for the whole family to gather together, pick out their favorite spots on the couch, and tune into a good movie. But don't forget about your canine companion! Your furry friend deserves a nice cozy spot to enjoy some quality family time as well. This article will provide some inspiration for designing a cozy nook for your dog, so they never feel left out of the family hangout. Read on for some great ways to put together some dog-friendly living room ideas for your space, including ways to incorporate luxury dog beds.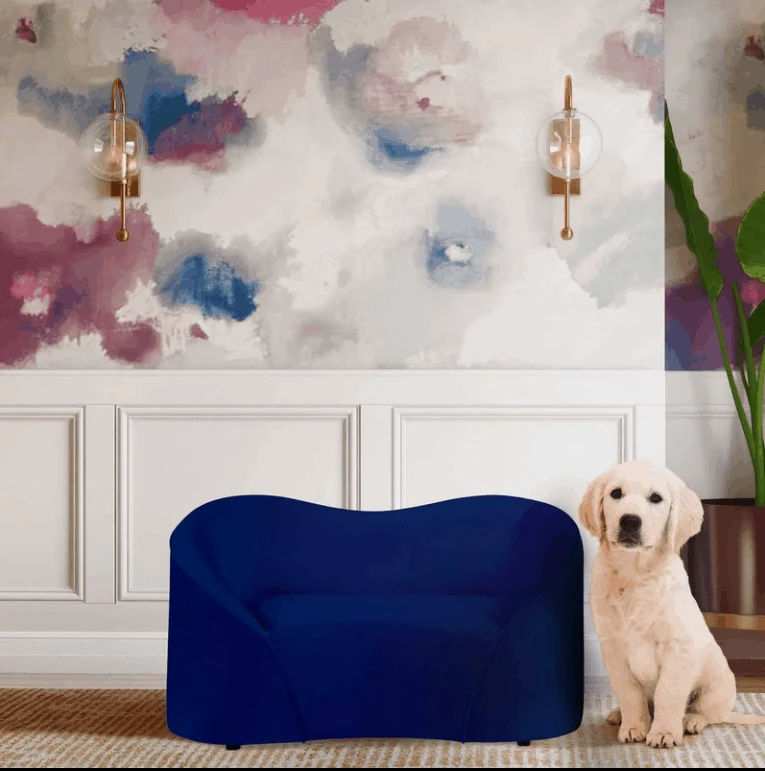 Every Dog Has Its Daybed
What better way to make your dog feel welcome than by giving them their very own luxury dog sofa bed?
Here are some things to think about when picking out the perfect one.
Opt for a dog bed made of high-quality materials, creating a comfortable space for them to relax, unwind, and recharge after their busy day of running around.
The Lang Velvet Curved Back Pet Bed is a great and stylish option that can make your buddy happy and complement your living room decor. Your dog will be sitting pretty!
The Juta Linen Pet Bed is another sleek-looking option that will have your dog sleeping in style while doubling as an attractive statement piece in your home.
The Argyle Velvet Pet Bed is another great-looking, contemporary option. Designed to pamper your pet, the luxurious, waterproof bed is available in both grey and light blue options.
Fur-Free Furniture
While supplying your dog with their own bed is great, pet owners also need to consider their own furniture.
Certain materials are going to be more dog-friendly than others.
Loose-weave fabrics like tweed or corduroy are probably not the best option for dogs. Claws can easily get snagged on this type of material, plus they can trap hairs and be difficult to clean.
Leather is an excellent go-to choice for dog-friendly furniture. It's durable so that claws won't dig in as quickly, and it's a breeze to clean up fur that your canine friend might shed.
Tight-weave fabrics like canvas, denim, and man-made microfiber couches are also great for dog owners. It's a good idea to pick a fabric that matches your dog's color so the fur won't stand out as much. But, of course, be sure to give it a nice, regular cleaning!
Doggy Decor
Though not essential, it can be fun to try to match some of your decors to your pup's look!
Feel free to play around with the colors in your living room. A darker rug might look great aesthetically if you've got a black lab. Plus, aesthetics aside, it will hide dark fur a lot better. Be sure to pick up something like a Dog Canister Vacuum to keep things tidy.
Even your furniture can match the color of your furry friend nicely. If you've got a beautiful golden retriever, it could be a great idea to opt for a light honey-colored sofa or set of accent chairs.
Lastly, what better way to show man's best friend your appreciation than with some doggy-themed art? Canine art is always an eye-catching hit with guests, and your dog will surely love it too!
Throw Your Dog A Bone
Dogs do a lot to keep the family happy, and they deserve a comfortable place to lounge at the end of their day, just like you do. With a luxury dog bed, some durable furniture, and perhaps a little bit of doggy aesthetic matching, you can create the perfect space in your living room that the whole family can enjoy together.