We received Crazy Aaron's SCENTsory Putty in exchange for this post. All opinions and our love for Crazy Aaron remain our own.
At our house, we love Crazy Aaron's Thinking Putty. We're increasing that love this Valentine's Day by saying, "We love the smell of Crazy Aaron's SCENTsory Putty!"
Sure, slime is trendy, but putty is forever.
I mean that, literally.
We have been playing with the same tins of Crazy Aaron's Thinking Putty since 2019 and when it arrived.
Crazy Aaron's SCENTsory Putty goes way beyond scent; it's a total sensory experience.
It's an incredible scent with velvety softness, bright colors, and hours of fun as you manipulate it in your hands.
We received Crazy Aaron's Chocolate Strawberry scented putty for review.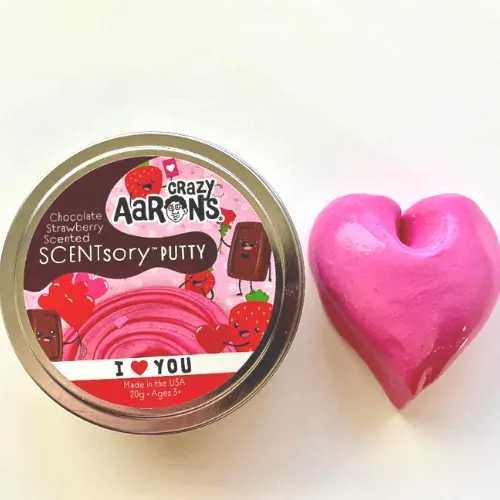 Once we opened it, MacKenzie exclaimed, "It smells like my Strawberry Shortcake dolls, Mom!"
It's a bright pink and has an incredibly indulgent strawberry scent.
It would be like chocolate-covered strawberries if they were a fluffy putty.
Like Crazy Aaron's Thinking Putting, it is Stretchable, sculptable, soft, and fluffy. SCENTsory Putty never dries out!
It's made right here in the United States with the help of exceptional individuals challenged with disabilities.
It's non-toxic silicone in a 2.57-inch tin (0.8 ounces) and best for those 3 or older.
You'll discover other Crazy Aaron's Putty on their website, some with unique effects that include glow-in-the-dark, heat-sensitive, magnetic, metallic, and scented putty.
All in all, Crazy Aaron offers 50+ amazing colors!
Crazy Aaron is generous with tins (mini, original, and mega-size putty is available).
Here's a tip: leave your tin resting with the Crazy Aaron label in the face-up position before opening so that you can have easy access.
If you leave the tin on the side or upside down, the Putty will grab the lid, and you have to have Hulk-like strength to get the lid off!
Next, twist your lid and get ready for creative play.
No actual directions on what to do with it.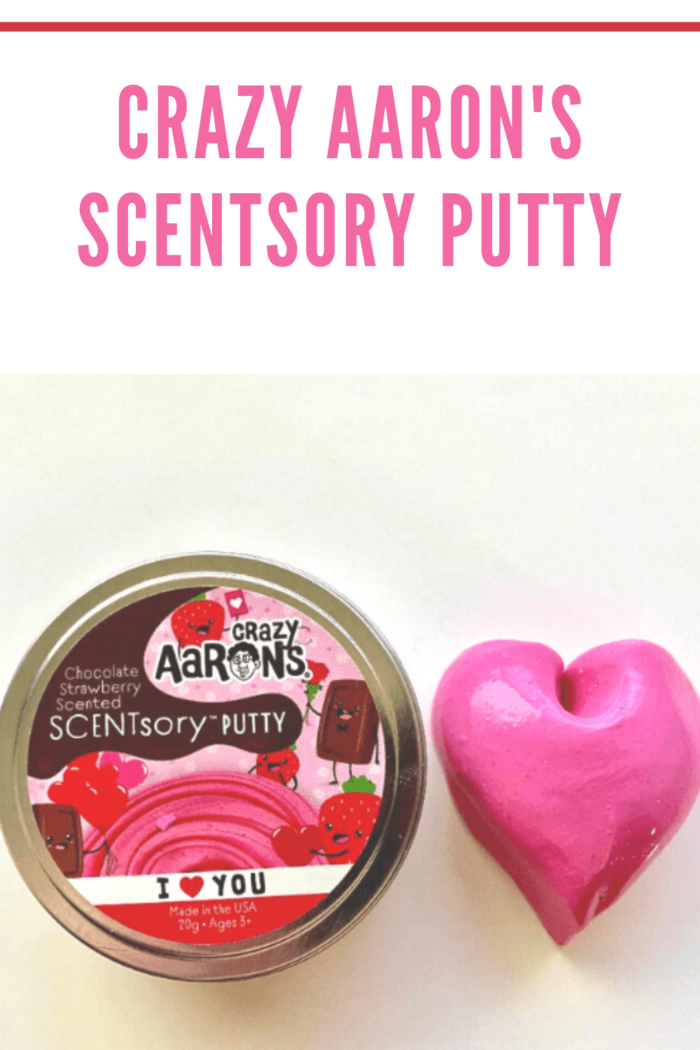 Enjoy this video MacKenzie created about Crazy Aaron's Thinking Putty:
But that's the beauty of this product.
It's creative play.
It can bounce
It can be molded.
It can be popped
And it can be torn.
What it doesn't do?
Crazy Aaron's Putty doesn't stick to clothing, carpet, walls, or hair.
Check out all the options at puttyworld.com
We are having so much fun playing with Crazy Aaron's Thinking Putty. We know you will too!