Who doesn't love a plate of spaghetti topped with cheesy Italian meatballs? It's just what the Multo by CookingPal cooked up this weekend with Chef Sherri.
If you aren't familiar with the Multo, read our Multo Review.
The Multo CookingPal introduces SMART cooking. 10-function kitchen appliances that cut, chops, grind, knead, grate, weigh, saute, steams, boils, mix, emulsifiers, and guide you step-by-step through the recipe.
It was Sherri's first time using the Multo and there was a learning curve.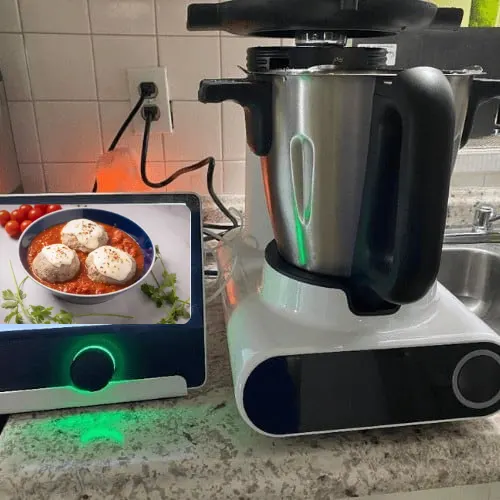 Save $80.00 on your Multo CookingPal purchase. Click the link and enter the coupon code: MOMMYSMEMORANDUM at checkout.
Multo Cheesy Italian Meatballs:
Dish Description:
Make these cheesy Italian meatballs in less than 30 minutes for a homemade, rustic, Italian-flavored meal. These meatballs are juicy, tender, well-seasoned, and extra cheesy! Thanks to the guided recipe by Multo™ by CookingPal®, you can steam the meatballs and cook the sauce in the same bowl! Multo™ comes with all the accessories (i.e. steamer) needed to make this moist, flavorful dish that will satisfy everyone's taste buds.
Ingredients from the Multo CookingPal Site:
2 OZ / 55 G Parmesan
3 EA garlic cloves
10 SPRIGS parsley
6 OZ / 170 G yellow onion
12 OZ / 340 G lean ground beef
4 OZ / 115 G sweet Italian sausage
2 OZ / 60 G dried breadcrumbs
1 large egg
1.75 TSP fine sea salt
0.75 TSP black pepper
2 TSP dried oregano
5 OZ / 150 G mozzarella ball
2 TBSP olive oil
28 OZ / 800 G canned whole tomatoes
1 TBSP tomato paste
1 TSP sugar
How to Make Multo Cheesy Italian Meatballs.
Cut Parmesan into cubes and peel 2 garlic cloves. Pick parsley leaves from the stems.
Add Parmesan, garlic, parsley, and half of the onion to the mixing bowl and chop for 8 seconds/speed
Use spatula to scrape down the sides of the bowl.
First, we see how nicely Multo CookingPal chops up garlic onion and parmesan.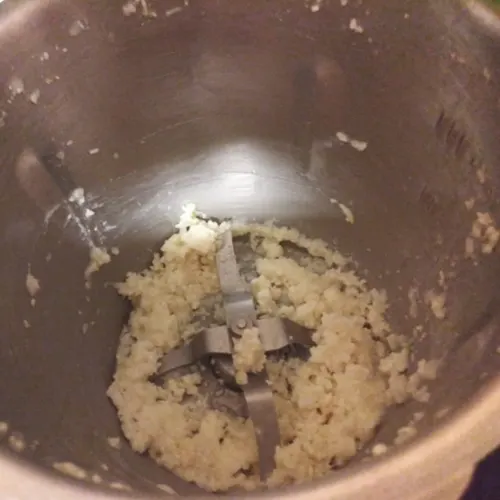 Add ground beef, sausage, breadcrumbs, egg, 1 teaspoon salt, ½ teaspoon pepper, 1 teaspoon oregano, and mix for 18 seconds/speed 4.
Next, we have added our ground beef, spices, egg, and other toasties and let the Multo CookingPal mix it up without your fingers getting squishy, and no rings falling off into the mixture!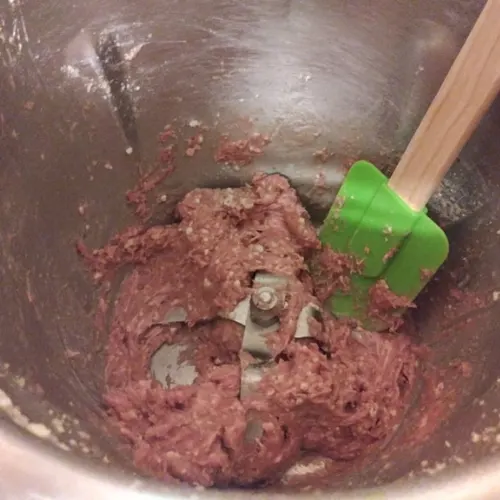 Look!
It sautees your finely chopped onion, garlic, spices for your sauce…
In the same bowl it chops them in!
Easy squeasy!!
Portion meatball mix into 16 balls, with lightly dampened hands, shape each portion into a ball and arrange in the deep steaming tray. Wash and dry the mixing bowl.
Drain the mozzarella and cut into 16 pieces. Set aside.
Peel the remaining garlic clove. Add garlic, remaining onion and oil to mixing bowl. Chop for 6 seconds / speed 6. Scrape down sides of mixing bowl.
Remove the measuring cup, sauté for 4 minutes / 265°F|130°C.
Add tomatoes, tomato paste, oregano, sugar, salt and pepper to the mixing bowl.
Attach the steamer set to the mixing bowl and steam for 20 minutes.
Sadly, your chef forgot to take pictures of the steaming process.
I actually found the steaming to be challenging.
My meatballs went into the steamer and I pressed the button, as recommended and they still weren't cooked through at the end.
Carefully remove the steamer set and set aside.
Place the lid on the mixing bowl and purée the sauce for 6 seconds/speed 6.
Serve the meatballs with the sauce. Enjoy your meal!
I followed the directions, and put the meatballs into the sauce, inside the Multo CookingPal.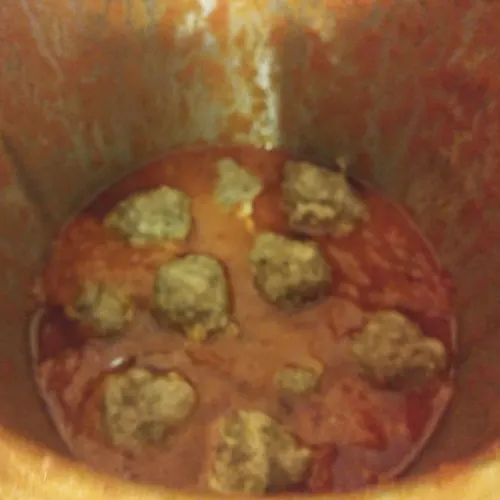 Those little meaty nuggets of nom floating in the sauce that you see in the pot actually steamed to lovely doneness in the steam created as the sauce cooked!
I know, right??
The result was a delicious homemade sauce with rich, complex flavors and tasty meatballs.
I made some spaghetti and indulged!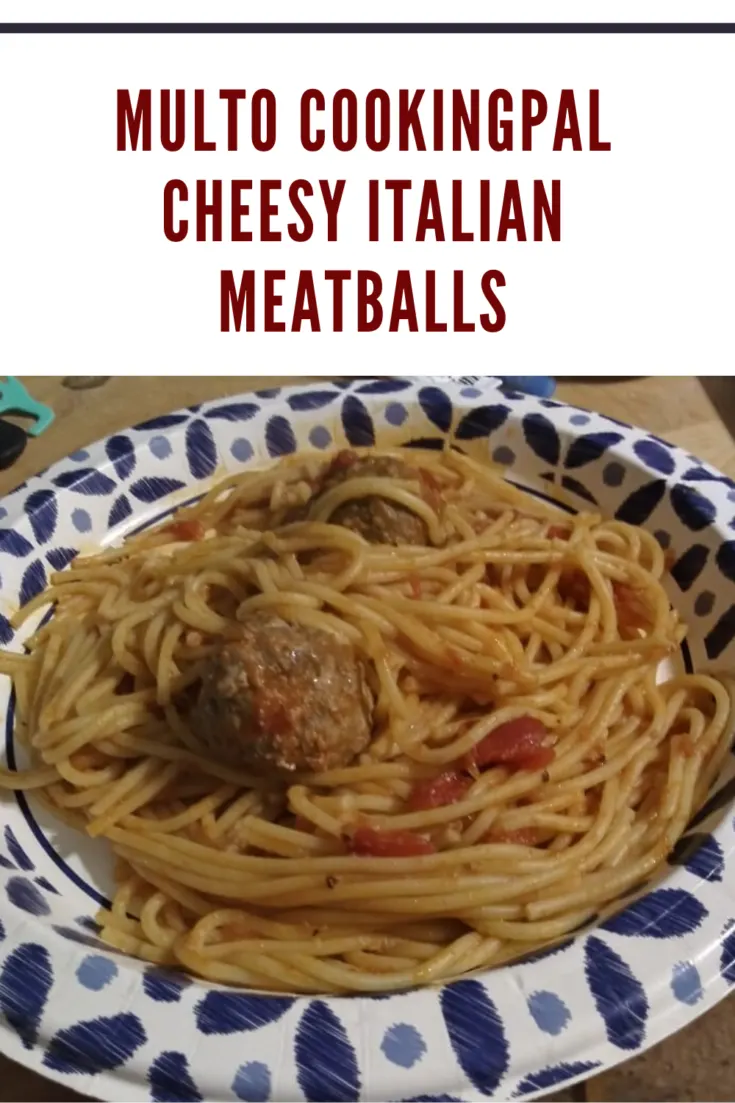 The Multo CookingPal is really is a pretty nifty device!
If I were to make any changes to the Multo CookingPal, they would be:
1. Make it easier to go back and then return to where you were in your process.
2. Classify the recipes in Easy, Medium, Expert categories,
3. Make the tutorials in big, bold letters so silly people see that immediately and don't jump in without going through them first.
4. Make the app available for Android.
Save $80.00 on your Multo CookingPal purchase. Click the link and enter the coupon code: MOMMYSMEMORANDUM at checkout.