The Multo CookingPal introduces SMART cooking. 10-function kitchen appliances that cut, chops, grind, knead, grate, weigh, saute, steams, boils, mix, emulsifiers, and guide you step-by-step through the recipe.
When I saw an advertisement for the Multo CookingPal multicooker, I spent hours with my friend, Sherri wondering what it could do.
Turns out, it does a lot.
It's a multi-cooker and it's not only fun to use, but it also creates amazing meals with so little effort.
The Multo consists of a cooking capsule that connects to a smart screen.
Control the cooking capsule with a touch of the smart screen.
To begin, select a recipe.
New recipes are loaded weekly so variety isn't an issue.
Five new recipes to be exact.
Seafood, beef, chicken, pasta, desserts, and more.
I enjoy scrolling through the recipes.
Some are traditional and some are recipes I've never thought of and want to try.
The Multo eliminates searching the internet for a recipe to inspire you, and brings the search to your counter, neatly organized and easily searched.
Next, read through the ingredients, gather and measure.
The Multo weighs your ingredients to precision.
Inside the cooking capsule, which looks like a blender, there's a blade to make smoothies and creamy milkshakes, scrumptious soups, and more.
It comes with cooking accessories so you can steam vegetables or cook a meatloaf.
Save $80.00 on your Multo CookingPal purchase. Click the link and enter the coupon code: MOMMYSMEMORANDUM at checkout.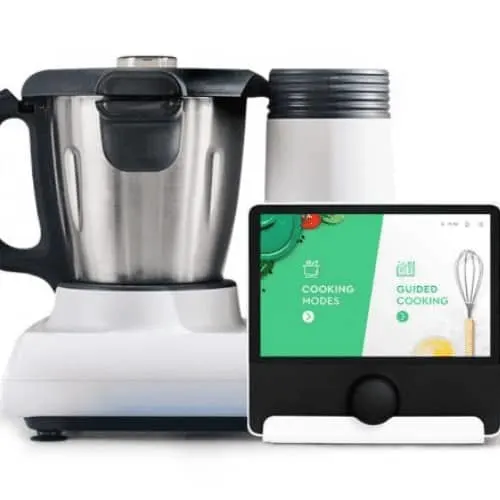 Here is what is included in the Multo CookingPal:
Mixing bowl/blender with blades
Custom lid and measuring cup
3-piece steamer set
Butterfly whisk
Smart Kitchen Hub (the brain)
Set up was easy.
You connect the Smart Kitchen Up to the device.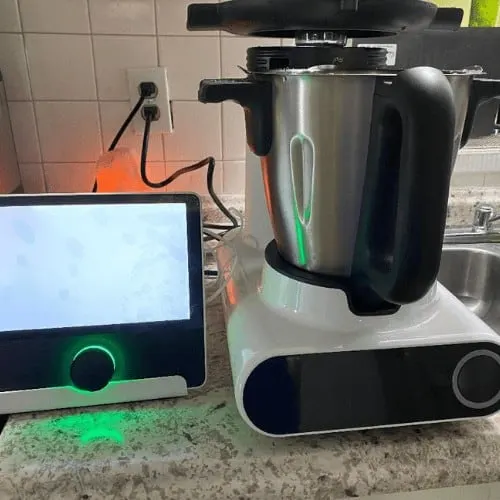 Then connect it to Wi-Fi.
Allow it time to charge.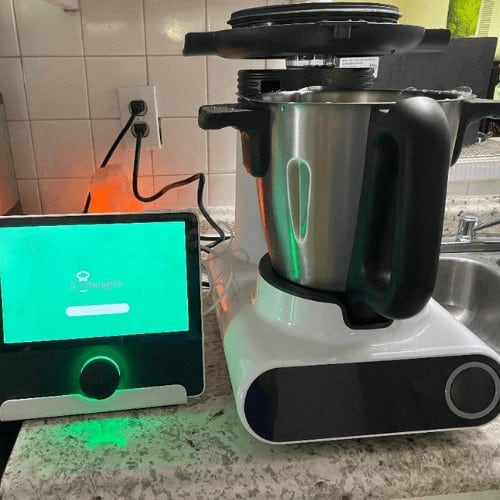 Then, it will search for updates.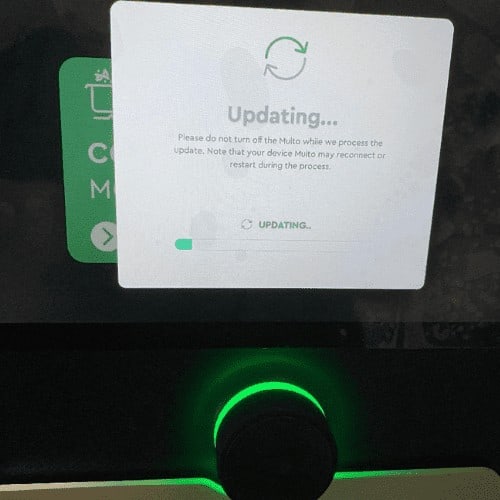 Once it's set up and updated, you begin scrolling the recipes from broccoli to New Orleans BBQ Shrimp, Grind Coffee to Oat Milk.
Select the recipe you want and a list of all required ingredients opens followed by the step-by-step instructions.
I found the device easy to use.
You can select the "Modes" button on the upper left of the screen.
Next, choose "knead", "Steam", "Saute", etc.
Then select the cooking time.
Hit start.
This sends a signal to the Multo and cooking begins.
I love the built-in scale—cooking is a science and measuring by weight is more precise than cups and spoons.
The Multo CookingPal can cook the entire entrée or the side dish.
I'm still experimenting, but eventually, I hope to be able to adapt my own recipes to use with the Multo.
Save $80.00 on your Multo CookingPal purchase. Click the link and enter the coupon code: MOMMYSMEMORANDUM at checkout.
My first recipe was the Tomato Basil Chicken Stew.
There were some learning curves as I learned and experimented with the different features.
Here is what the recipe looks like: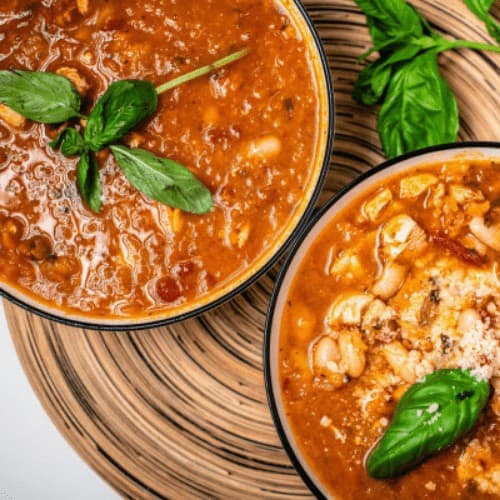 INGREDIENTS
1.5 OZ . 40 G Parmesan
5.25 OZ / 150 G yellow onion
7 OZ / 200 G carrots
3 EA garlic cloves
2.5 TBSP olive oil
15 EA fresh basil leaves
0.5 TSP dried oregano
0.25 TSP red pepper flakes
14.5 OZ / 400 G canned diced tomatoes
28 OZ / 800 G boneless skinless chicken breasts
8 OZ / 230 ML low-sodium chicken broth
1 TSP fine sea salt
1 TSP black pepper
15.5 OZ / 440 G canned cannellini beans
You can weigh everything before you begin, but I chose to weigh mine as I went.
The Multo CookingPal gives you step by step instructions: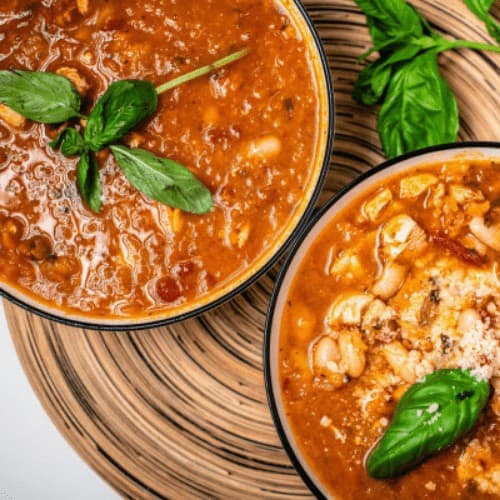 It will also give you a warning to take into consideration: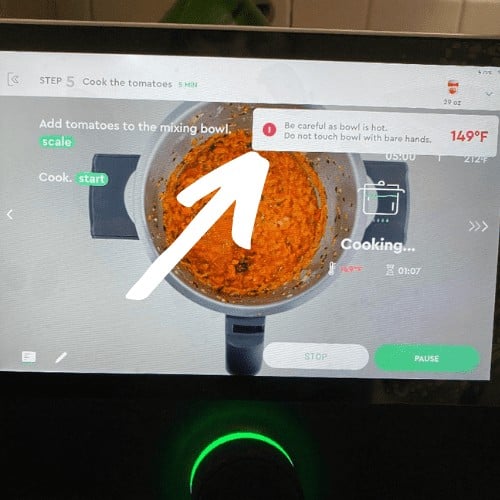 Here are the Directions:
Add Parmesan to the mixing bowl and chop Parmesan for 10 seconds/speed 10.
Transfer to a small bowl and set aside.
Quarter the onion, then peel and cut out the root end.
Cut the carrots into 1/2-inch (1.25cm) pieces.
Peel the garlic cloves.
Add onion, carrot, garlic, oil, basil, oregano, and pepper flakes to the mixing bowl.
Chop vegetables for 10 seconds / speed 5.
Remove the measuring cup and sauté for 5 minutes / 250°F|120°C / speed 1.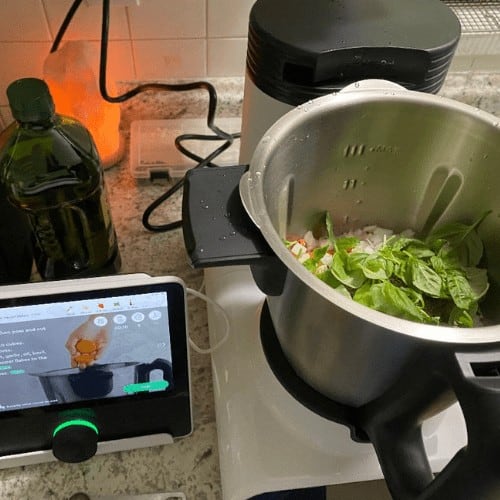 Scrape down sides of mixing bowl.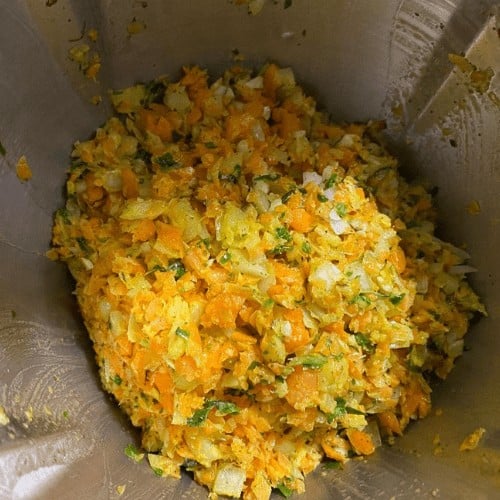 Add tomatoes to the mixing bowl and cook for 5 minutes / 212°F|100°C / speed 1.
Cut chicken into 1 1/2-inch (4cm) cubes.
Add chicken, broth, salt, and pepper to the mixing bowl and cook for 10 minutes / 212°F|100°C /speed 1.
Add beans to the mixing bowl and cook for 3 minutes / 212°F|100°C / speed 1.
Serve garnished with reserved Parmesan and basil leaves.
Enjoy your meal!
This is what mine looked like: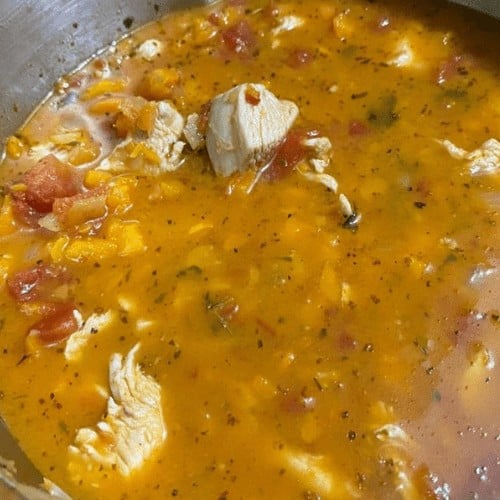 I was impressed that my stew looked JUST like the one in the picture, minus the plating and garnish here.
Also, it took much less time than I anticipated, so I moved it to my slow cooker, which was incredibly easy because I literally only had to pour it in the crock.
My family LOVED the flavors.
One of my favorite things is that it is SO easy to use fresh ingredients, especially fresh herbs because it weighs and chops them!
The chicken was deliciously tender and there was a blend of flavors in the broth that really elevated this stew from our usual stews.
My husband, who is the pickiest eater, said he would have liked the carrots to have been chopped finer, but he still ate it for dinner, and in a remarkable first, asked for leftovers the next day.
I made homemade focaccia to eat with it.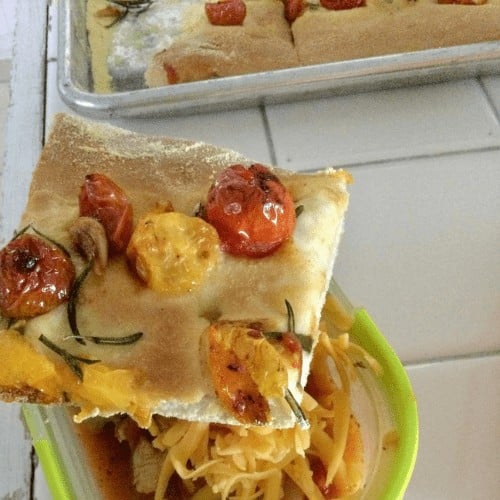 Save $80.00 on your Multo CookingPal purchase. Click the link and enter the coupon code: MOMMYSMEMORANDUM at checkout.
Then, I went a little more complex and tried making the Steak Fajitas with homemade tortillas on the cookingpal website.
Only the Multo took the complications out.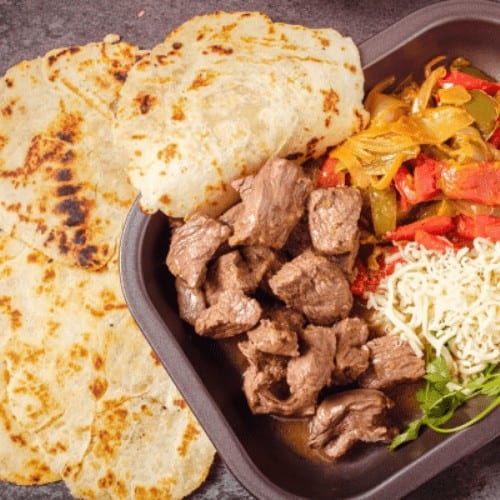 The tortillas were incredibly easy.
The dough was perfect and rolling them out took just minutes.
I will say that for the cooking of the tortillas you use your stovetop, but it was still easy.
The steak was tender, cooked to perfection and the flavor was off the charts!
My husband loves homemade tortillas, but the effort without the Multo is more than I am willing to do often.
He could not believe it when I presented dinner.
When he saw the homemade tortillas he said, "but I didn't see you in the kitchen much today."
And really, that's how dinner should be.
Easy.
Not an all-day event to prepare delicious meals.
I use my Multo often.
It delivers delicious meals.
This being said, the machine is big and bulky.
Storage is an issue.
The fact that it does so much eliminates the need for a food processor, blender, etc.
Unless you have a dedicated space on the counter where you can access the Multo easily, you'll probably not be ready to part with the other appliances.
The Multo CookingPal is perfect for any beginner or experienced cook.
There is a learning curve for experienced cooks in adapting recipes, but enough variety in menu selection that its experience with a delicious reward as you cook the Multo recipes.
Save $80.00 on your Multo CookingPal purchase. Click the link and enter the coupon code: MOMMYSMEMORANDUM at checkout.