Cookies are delicious, and this Strange Magic Cookie Bars Recipe includes a magic twist. Easy recipe that will have you celebrating Strange Magic beyond its January 23 arrival in theaters nationwide.
Strange Magic Cookie Bars
Ingredients
1/2 Cup of Melted Butter
2 Cups of Chocolate Chips
2 Cups of Oreo Cookie Crumbs
1 Cup of Chopped Peanuts
1 1/3 Cups Flaked Coconut
14 oz Can of Sweetened Condensed Milk
How to Make Strange Magic Cookie Bars with a Twist
Combine the cookie crumbs with the melted butter, and press into the bottom of greased 13″ x 9″ pan.
Sprinkle on the peanuts, chocolate chips, and coconut.
Drizzle on the condensed milk. Bake at 350 degrees F for 20-25 minutes.
Let cool before cutting into magic bars.
Try a Strange Magic Twist – Add crushed pretzels and caramel sauce before baking for a sweet and salty delight!
Be sure to check out our other great Strange Magic Recipes below:
Strange Magic Bog King Mud Pie
Plus, Strange Magic Hot Cocoa for kids!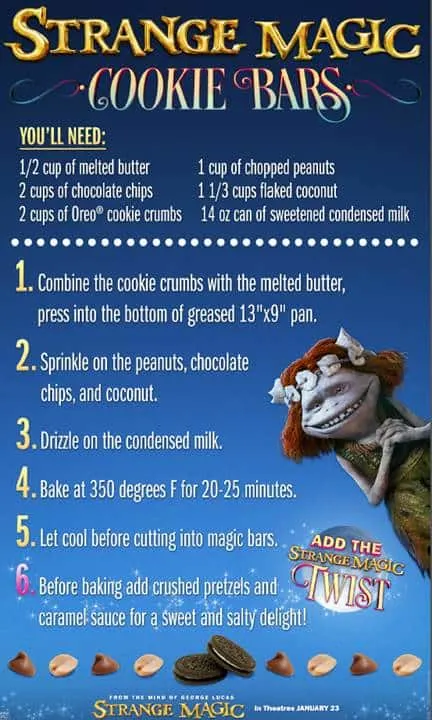 About Strange Magic:
Touchstone Pictures will release strange Magic. It is rated PG.
The animated movie features the voices of Alan Cumming, Evan Rachel Wood, Kristin Chenoweth, Maya Rudolph, Sam Palladio, Meredith Anne Bull, Alfred Molina, Elijah Kelley, Bob Einstein, and Peter Stormare.
Director: Gary Rydstrom
Producer: Mark S. Miller
Executive producer: George Lucas
Screenplay by: David Berenbaum, Irene Mecchi, Gary Rydstrom
Story by: George Lucas
Musical director & composer: Marius de Vries
Click on the image below to download and print the recipe!
Print the full size StrangeMagic Cookie Bars Recipe