Hot cocoa is always a favorite for my family, especially when marshmallows are included! Enjoy this fun Strange Magic hot cocoa recipe with your family, and don't forget to add the Strange Magic twist.
It's been so cold here in the South. Last Thursday, it was 9 degrees when I left for Las Vegas. They routed me through Detroit, and the gentleman behind the Delta counter told me it was -3 degrees in Detroit. I could only say, "I hope that's Celsius!" Once in the terminal, I could only think of a cup of hot cocoa.
Hot Cocoa is my children's favorite. They love the warmth. They love the flavor, and thanks to Lucasfilm Ltd. these days, we can make it with a little Strange Magic.
It's a fun recipe to make and delicious to eat and drink. It's perfect for crisp fall nights or chilly winter evenings. It's delicious all year long!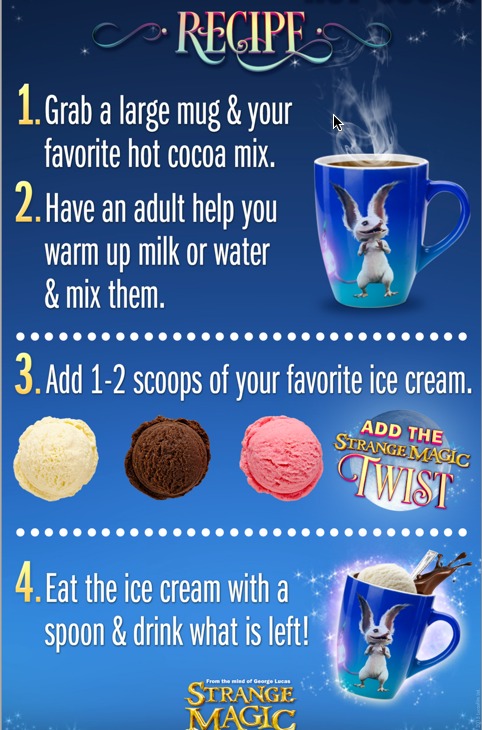 Strange Magic Hot Cocoa Recipe Ingredients:
Hot Cocoa Mix
Milk or water
Ice Cream
How to Make Strange Magic Hot Cocoa:
Grab a large mug and your favorite hot cocoa mix
Make cocoa according to package directions
Eat the ice cream with a spoon and drink what's left!
About Strange Magic
"Strange Magic," a new animated film from Lucasfilm Ltd., is a madcap fairy tale musical inspired by "A Midsummer Night's Dream." Popular songs from the past six decades help tell the tale of a colorful cast of goblins, elves, fairies, and imps, and their hilarious misadventures sparked by the battle over a powerful potion. Lucasfilm Animation Singapore and Industrial Light & Magic bring to life the fanciful forest turned upside down with world-class animation and visual effects. Directed by Gary Rydstrom ("Toy Story Toons: Hawaiian Vacation," "Lifted") from a story by George Lucas, "Strange Magic" was released by Touchstone Pictures on Jan. 23, 2015.
Be sure to check out our other great Strange Magic Recipes below:
Strange Magic Bog King Mud Pie
Strange Magic Cookie Bars
Click the image below to download and print the hot cocoa recipe.
Strange Magic Hot Cocoa Recipe