As we move forward into the holiday season, the kiddos and I sat down together to watch Christmas Oranges. The Beauty Queen had read the book by authors,
Linda Bethers and Ben Sowards , but the rest of us were going into this movie without any glimpse of spoilers.
The story is set in a children's orphanage and from the perspective of Rose, a child who was left on the doorstep of the Greenwoods Orphanage as an infant. Mrs. Hartely is the motherly caregiver. At Greenwoods the orphans are cared for greatly by Mrs. Hartley and live as a family. There are struggles but Mrs. Hartley always makes everything more of a celebration.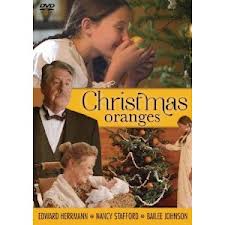 Then tragedy strikes and the children of Greenwoods lose the only home many of them have known. Some are adopted, however, Rose is shipped to Irongates, an orphanage that severely contrasts the kindess and love withing Greenwoods.
At Irongates, Mr. Crampton has many rules and disobeying the rules lead to punishment, including solitary confinement in the attic. Rose feels out of place, but soon makes friends with one of the orphans of Irongates named Emily, who takes Rose under her wings and attempts to protect her from the malice of the other children.
Mr. Crampton's brother, Joe, often arrives at Irongates and brings joy to the dreary orphanage. Rose learns that every Christmas Joe brings an orange for each child. Rose has never had an orange and finds hope and joy in this gift. The other children describe the oranges to Rose from their delicious taste to their fragrance, building up the anticipation.
Rose breaks the rules and faces Mr. Crampton's punishment. Will she get to celebrate the giving of the Christmas oranges? Experience the gift of giving as this story unravels.
My children and I enjoyed this movie. It seems like a story line of so many holiday movies, however, my children really took to the characters. They felt so much gratitude for what we have and enjoyed describing an orange to each other as if they were sharing it with Rose.
I cried and The Beauty Queen confessed she was so touched that she cried twice!
It truly tugs at the heart strings.
Disclosure of Material Connection: I received one or more of the products or services mentioned above for free in the hope that I would mention it on my blog. Regardless, I only recommend products or services I use personally and believe will be good for my readers. I am disclosing this in accordance with the Federal Trade Commission's 16 CFR, Part 255: "Guides Concerning the Use of Endorsements and Testimonials in Advertising.".