Today we are reviewing Clarins Contour Body Treatment.
Age.
Some of us do it gracefully.
If I had known in my youth, what I have learned about my body in the past decade, my skin would be far more luxurious.
I've started body brushing. It's changing my skin, and it's economical and boosts my favorite skincare products.
Wellness Mama shares how dry brushing boosts circulation and helps break down fatty pockets that could cause cellulite by pushing the body's ability to eliminate toxins through the lymphatic system.
The second thing I'm doing is using one of my favorite beauty products Clarins Contour Body Treatment.
It is incredible and smells amazing!
Out of the box, Clarins Contour Anti-Eau Body Treatment is beautiful.
I love the plump, glass bottle.
It represents the simple, classic brand I've come to love so elegantly.
This oil is pampering at its finest with essential oils like marjoram, lemon, and geranium.
The first time I used it I passed my husband in the hallway and he inhaled and said, "You smell really good".
It made me feel beautiful.
The scent is a floral fragrance with the spotlight on the geranium.
I apply it out of the shower to moist skin, starting at my toes and working my way up my body, massaging it in.
It is soothing and absorbs into the skin nicely without a greasy residue.
I've noticed my skin is more resilient, toned, and feels supple.
It's a beautiful extension of who I am.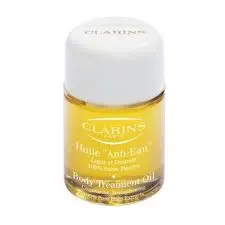 The Clarins Contour Anti-Eau Body Treatment is also part of the Clarins Pregnancy Kit "Beautiful Beginnings" that arrived at counters nationwide in August!
Clarins has been the long-trusted beauty brand for expecting mothers around the world and has helped thousands of women over the past 60 years discover the beauty of pregnancy and motherhood.


The "Beautiful Beginnings" kit includes the brands' most iconic products for expecting and new moms, housed in an elegant and practical vanity case:
Smoothing Body Scrub – with bamboo powders, the scrub softens, smoothes, and firms (30 ml)
Beauty Flash Balm – brightens and tightens (15 ml)
Stretch Mark Control – helps reduce the appearance of stretch marks and promotes skin elasticity and comfort (30 ml)
Tonic Body Treatment Oil – 100% pure plant extracts; firms and tones (100 ml)
Also included is a delicate baby blanket and Clarin's beauty guide "Pregnancy, the most beautiful days of your life" which details the ways to adopt and maintain healthy beauty habits and to properly prepare your body for pregnancy and after childbirth, as written by Jacques Courtin-Clarins, Founder, and Dr. Olivier Courtin, Managing Director.
An $80 value, the Pregnancy Kit retails for $65 at Clarins.com and Clarins counters nationwide.
Take my lead, you don't have to be expecting to benefit from the Clarins Contour Anti-Eau Body Treatment.
It's a beautiful beginning at any stage in a woman's life!
Disclosure of Material Connection: I received one or more of the products or services mentioned above for free in the hope that I would mention it on my blog. Regardless, I only recommend products or services I use personally and believe will be good for my readers. I am disclosing this in accordance with the Federal Trade Commission's 16 CFR, Part 255: "Guides Concerning the Use of Endorsements and Testimonials in Advertising.".