Want to cheer up a friend who's stressed out but not sure what you can give them? Read on to get some fantastic gift ideas.
Life isn't a fairytale; we can all agree on that. There will come a time when we will all hit bumpy roads in the journey called life. While we're on that shaky path, we might be stressed out, depressed, and full of negative thoughts. Friends can be a great resource to help us get back on track. So when those same people hit hard times, we want to do the same for them.
But sometimes, no matter what you do for them, you're unable to lift their spirits or cheer them up. Sometimes they suffer from pain and stress, which words cannot heal. However, that doesn't mean we should give up on them. If words fail to do the trick, you should try to do something else, like giving them a small and thoughtful gift. Just like Santa, you can put the gift in an adult stocking stuffer (uniquegifter.com has 400 stocking stuffer suggestions) to provide them with a full-on Christmas vibe to cast out the sadness from their life.
But giving gifts can be a daunting task in itself, and when you're giving a gift to lift someone's mood, it becomes even more daunting. So many things will come to your mind, like Is this the perfect gift or will it make them even sadder? If you're suffering from this kind of dilemma, scroll down to the end of this article to find out how to choose a fantastic gift to cheer up a stressed-out friend.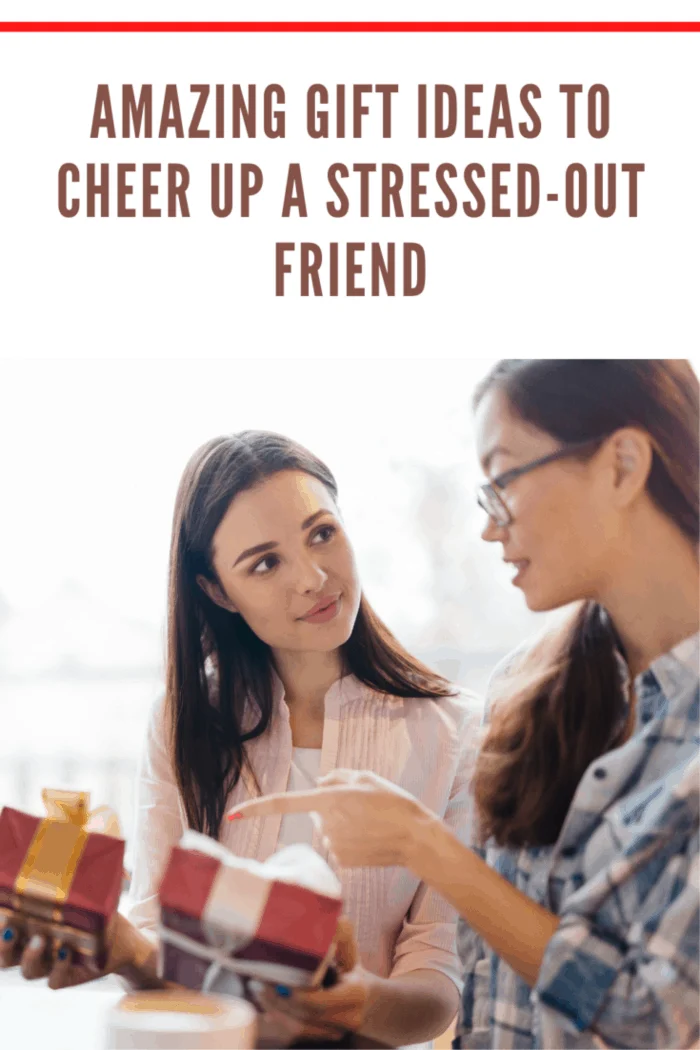 A Keychain With a Personalized Photo
We like to think about the happy times of our lives when we feel down. And the best we can do to relive the good times is to look at the captured moments of those good times.
If your friend is feeling down, consider gifting them a keychain with a photo of you two that has a good memory attached to it. It is sure to smile on their face because it is not fancy or generalized; it is personalized and thoughtful. It will also remind them that they might be facing hardship currently in their life, but good times are sure to come back.
A Weighted Plushie or Cuddly Toy
Just imagine your friend is feeling low, so they call you and say, "I wish I could hug you right now." But sadly, you live far away from them and are helpless to give them a hug they want.
A weighted plushie or cuddly toy is a good substitute for an in-person hug. I know you might think, Why would I give an adult a kids' toy? But even if you can't hug them, they'll have something that will remind them of you. Also, when they feel the need to embrace you or anyone, they'll have the perfect companion.
Anything In Lavender
Many people don't know it, but lavender's soothing scent can bring down a person's stress level.
So for that friend who is suffering from stress, you can choose anything made of lavender. It can be lavender-scented oil, candle, or perfume, or even a lavender plant itself. Moreover, it is suitable for your mental health, in general, to be surrounded by flowers.
You Can Send Them Fresh Flowers
As I mentioned in the last paragraph, being surrounded by flowers is essential for your mental health. So to uplift the mood of a friend who is stressed out, sending them fresh flowers is a great idea.
Because we all know, colorful and aromatic flowers will brighten up any space instantly. That is why flowers are the go-to gift for almost every occasion. They are simple, yet they are a personal and thoughtful gift.
You Can Give Them Something Sweet
When life becomes sour, you should try to make it sweeter. And when the life of someone close becomes sour, you should try to make their life sweet again. You can do so metaphorically by being there for them as their mental and emotional support, and you can also get the job done by sending them something sweet.
When you want to put a smile on someone's face, you can never go wrong with sending them dessert. It can be anything from a simple chocolate bar to some fancy pastry; whichever is their favorite, send them that. It'll not only satisfy their craving, but they will also feel a little bit relaxed while having their favorite dessert.
Consider Giving Them an Anti-Stress Journal
I know this option might seem a little bit old-fashioned. Who writes in journals nowadays? But you also need to keep in mind that there might be some issues in your friend's life which they are not yet ready to share with anyone, not even you. Or you might not be available for your friend all the time they need you. In these types of moments, an anti-stress journal will come in handy. Maintaining a grief journal is a technique of stress relief suggested by professionals.
The best thing your friend can do to overcome stress is to write down whatever they are feeling. If they keep bottling things up, things will only get worse. To prevent that from happening, you should give an anti-stress journal or a grief journal to that friend who's feeling low.
In the end, I would say we all feel low or stressed out at some point in our lives. But if we have someone by our side, we are sure to overcome that situation. So when a close friend feels stressed out, you should stand by their side any way you can, and sometimes a thoughtful gift can help. I hope this piece will give you some good ideas for choosing a gift for your stressed-out friend.