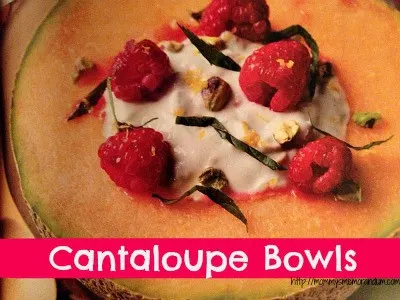 Kick start your day with these tasty and refreshing cantaloupe bowls.
Ingredients:
1 cup plain, low fat Greek yogurt
1 cup low fat granola
1 Tbsp. honey
1 Tbsp. lemon juice
1/2 tsp. ground ginger
1 large cantaloupe
1 tsp. grated lemon zest
1/2 cup fresh raspberries
1/2 cup chopped unsalted pistachios or other nut of choice
1 Tbsp. chopped fresh mint, optional
Directions:
In medium bowl, stir together the yogurt, granola, honey, lemon juice and ginger.
Slice the cantaloupe in half along its width, and then slice about 1/2″ off the bottom, allowing it to rest flat.
Scoop out the seeds and stuff the yogurt mixture into the hollow cavity.
Top with lemon zest, raspberries, nuts and mint.