This blueberry bread recipe is moist and loaded with fresh blueberries! It's like a slice of the best blueberry muffins.

This blueberry bread is delicious and bursting with fruit flavor!
This blueberry loaf is delicious after dinner with some coffee; devour it with butter. Serve it for breakfast.
It tastes best with fresh blueberries, but frozen blueberries also work well.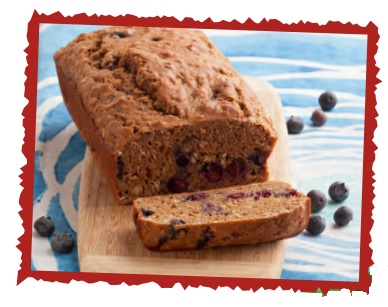 Blueberry Bread Recipe Ingredients:
2 cups whole-wheat flour
1 cup rolled oats
1/2 cup sugar
1 1/2 teaspoon baking powder
1/2 teaspoon baking soda
1 teaspoon nutmeg
1 tablespoon cinnamon
1/4 teaspoon salt (optional)
1 1/4 cups nonfat milk
1/3 cup low-fat plain yogurt
2 teaspoons vanilla
1 teaspoon grated lemon peel
2 eggs
1 cup fresh blueberries
Blueberry Bread Recipe Directions:
Pre-heat the oven to 350 F.
In a large bowl, combine the dry ingredients: flour, oats, sugar, baking
powder, baking soda, nutmeg, cinnamon, and salt. Mix well.
In a small bowl, combine the wet ingredients: milk, yogurt, vanilla,
lemon peel, and eggs, and blend well.
Add the wet mixture to the dry ingredients all at once; stir just until dry
ingredients are moistened.
Gently fold in blueberries.
Pour batter into greased 9"×5"-inch loaf pan.
Bake at 350 F for 40-50 minutes, or until a toothpick inserted into the
center comes out clean.
Cool 10 minutes; remove from pan. Cool completely on wire rack.