It has been six months now since we are all trapped at our own homes — we only have limited time to go outside for groceries, we are all starving, and craving for some of our favorite foods. To divert everyone's attention, a few of us became very busy while at home and tried different things like planting. We all know that indoor plants can easily place and hang around your house that can look so cool.
However, if you think indoor plants are usually for aesthetic purposes only, you're wrong. Plants, including herbs around your house, are useful not just for home decor but also for making some drinks. Imagine the idea of harvesting your plants and using it daily, it is good not just for health but also economically speaking.
Now, if you're a tea lover, then start planting a variety of herbs that you can use to add different flavors to your tea.
We spill the tea with a list of 5 herbs perfect for everyday tea that will make your tea ritual one of indulgence.
These might get your interest.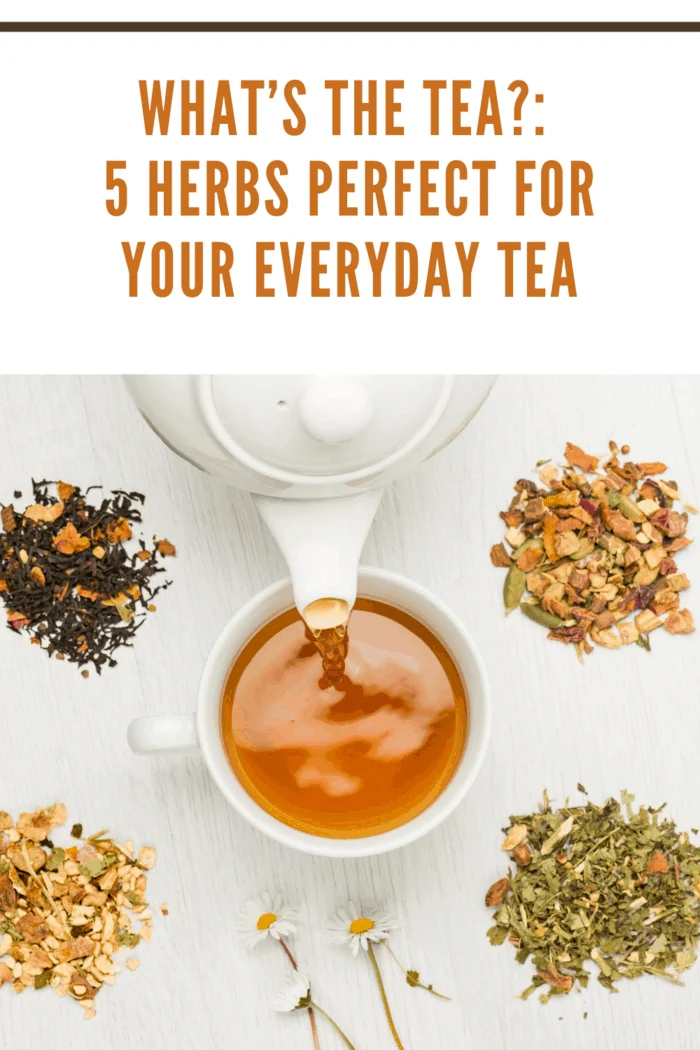 Spearmint
If you think spearmint can only be used to add flavor and coolness to other products, such as mouthwash, toothpaste, or even candy, then you're wrong.
Note that whether it's fresh or in dried, you can always add spearmint leaves to your favorite tea.
Depending on your tastes, some prefer to use its leaves fresh.
The fresher they are, the more taste and aroma they give to your tea.
That's why you should plant and grow spearmint for tea because its leaves are very refreshing, says Gardner's Path.
Aside from the cool feeling you get when consuming spearmint, this plant also has a lot of medicinal properties.
If too much eating can cause you to stress, then worry no more.
That's because spearmint tea is high in antioxidants that aid in digestion.
Spearmint tea is perfect for those people who are very sensitive to the food they eat.
Lemongrass
If you often go to a supermarket, you'll probably notice that you can find lemongrass in soap and other hygiene products.
Lemongrass has a strong aroma to it which is also perfect for grilled meats.
Aside from its kitchen uses, lemongrass can also act as a medicinal herb.
In addition, the plant has antimicrobial properties that are perfect for fighting off bacteria and infections.
Lemongrass is also rich in antioxidants. Drinking a warm cup of lemongrass tea will also help with stomach cramping.
Basil
Asian and Italian cuisines usually use basil as spices to add flavor to their dishes.
You can commonly find basil in pasta such as spaghetti, carbonara, and fettuccine.
Basil also works well with meat and you can find it in small amounts in some Italian-based meatballs.
Although basil is a well-loved herb in the kitchen, did you know that basil also has a lot of healthy qualities to it?
Basil tea is one of the best tea for relaxing and calming down most people.
With its pleasant aroma and taste, you will never regret taking a sip.
If you're suffering from arthritis or fibromyalgia, consider adding this in your tea.
Aside from healing properties, Basil also has an adaptogen with anti-inflammatory and antioxidant properties suggests Healthline.
Basil tastes well, it smells good and is very healthy.
That's how good this herb is when used properly.
Rosemary
In culinary uses, we all know that rosemary has this great earthy and aromatic smell.
These qualities make rosemary perfect for a lot of dishes.
However, rosemary is also quite flexible as it is also used for making tea.
If you have a problem with your blood sugar, then sipping a tea with rosemary will lower it down.
This tea enhances digestion, boosts conscious processing, and serves as a protective antioxidant protecting the body from heart disease and cancer.
Wild Pansy
Maybe you're of those people who love plants because of their blooming flowers.
You'll be glad to find out that wild pansy is both a beautiful flowering plant you can use to decorate your home and a medicinal herb.
You can use wild pansy for tea.
In modern herbalism, the wild pansy is considered a medicinal plant.
It's hard to believe that such a beautiful plant has medicinal properties.
For one, the wild pansy is used as a diuretic.
Tea made from the leaves of the plant can also help people with hyperacidity.
Takeaway
It's a good habit to plant herbs indoors.
Herbs such as basil, wild pansy, and lemongrass can add flavors to your favorite tea, and it is very beneficial not just for your daily consumption but also for your health.
Note that these plants take up small areas inside your house.
For the most part, you can put these plants in a pot and leave them near a window.
You can even hang and place some of these plants to conserve even more space.