As a parent, you may have spent the initial few months of your baby's life wondering when they would begin to talk. Once they start to speak, the next significant milestone or worry transitions to 'when will my baby start to walk,' and when they do finally start to walk, the worry only heightens to 'I hope my baby does not get hurt,' and that is where baby walkers come to help!
While your baby's first steps may overwhelm you and take you by delight, you will need a baby walker to keep them from getting hurt. Baby walkers support a baby's movements, help them create a balance, and satisfy their curiosity by moving around, thereby fine-tuning their motor skills. Of the various types, kinds, and varieties of baby walkers available in the market, we have curated a list of the top 5 best baby walkers, particularly for growing babies at six months old to pick from!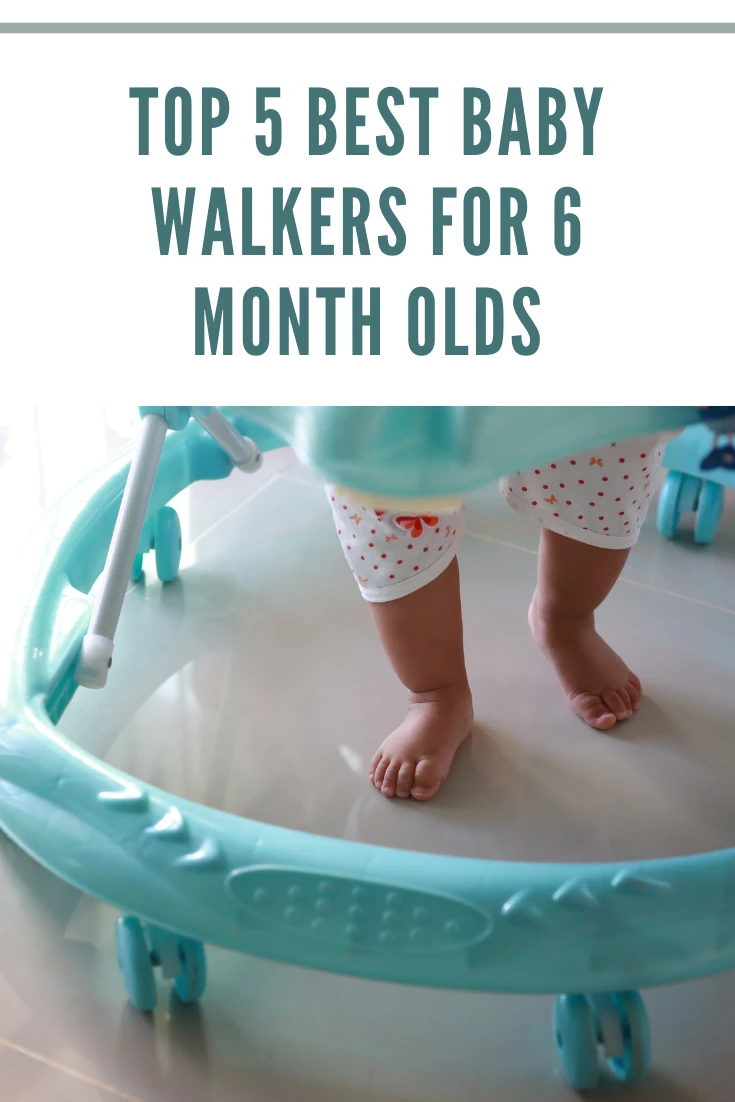 Top 5 Best Baby Walkers for 6-Month-Old Babies
1) Baby Trend Trend 2.0 Activity Walker
Priced at $35, it measures 24 x 21 inches x 27 inches.
The Baby Trend baby walker has maintained its name and position as one of the top, best-rated, best-ranked walkers for quite some time, and let us tell you why.
Since it is priced at just about $35, this walker, unlike most other baby products and accessories, will not burn a hole in your wallet.
It would not make much sense for a growing baby just six months of age to spend exuberant amounts of money, and this baby walker serves the cause.
Designed to operate as a standard baby walker that you make your child sit in, this also features a large tray that can place food items or toys for when your baby gets tired with all the walking but would not agree to get out of the walker!
A removable toy bar is also attached to the tray with a rattle and sensory spin toys for your baby to grab and play with.
Its height can be adjusted to three different heights to cater to babies of various heights and ensure comfortable stepping on the floor when they try to move around.
The featured padded seat comes with high back support that helps your baby sit upright and is machine washable for easy maintenance.
What's more? The wheels maneuver in all directions to ensure unrestricted baby movement, the wide bumper provides added protection and can also be folded flat for compact and clutter-free storage!
Baby Trend Trend 2.0 Activity Walker Key Features:
Sold in a range of colors and patterns
A large tray surface
Removable toy bar
The seating pad is machine washable and comes with a high back
Multi-directional wheels
2) Joovy Spoon Baby Walker
It is priced at about $130 and measures 70.49 x 64.77 x 45.72 cm.
A baby walker made in the traditional sit-in walkers style yet with relatively modern and contemporary features, the Joovy Spoon baby walker is one of the most-loved baby walkers for how easy it is to unpack and to put to you.
Sold in frustration-free packaging and very easy to assemble, this baby walker comes with a large activity tray to wrap food or baby toys around the baby for enhanced safety and security.
The baby seat pad is made in a plush, comfortable, soft, high-quality fabric that can be wiped clean or machine-washed without the risk of shrinkage or color bleeding.
The seat is also height adjustable, offering three height options and a capacity of over 30 pounds!
.The wheels of this walker offer smooth gliding on all sorts of flooring, be it tiles, linoleum floors, Berber carpets, or even thin-line plugs; however, it could be a little challenging to maneuver thick carpets.
Joovy Spoon Walker Key Features:
Extremely light-weight, weighing just bout 12 pounds
It folds up flat into a compact walker for easy storage
Features a removable tray that even be washed in a dishwasher
Skid-resistant, owing to the non-slip stair pads
3) Best 3 in 1 Baby Walker: Bright Starts 3 Ways to Play Walker
Priced at $99.99, measures 71.12 x 63.5 x 50.8 cm
A 3-in-1 baby walker, the Bright Starts Ford baby walker features three modes in one walker – a basic baby walker, a baby walker with a truck body, and a push-behind truck walker.
Ideal for families with multiple children of different age groups, the Bright Starts 3 Ways to Play Walker is made to look like a baby-sized Ford truck for extra oomph on the aesthetics!
With a battery life of over 144 hours, this convertible walker is suitable for babies who are just starting to move around and those who are full-time learning how to walk on their own.
If you have children more than 1, this one is highly recommended because it offers sustained usage and allows two children to fit in at once as a sit-down and push-behind model!
The seat further features an adjustable height configured in three positions for unrestricted baby activity.
The seat pad is machine washable and has a high back for added support. For the most exciting part still?
The in-built real truck sounds can be volume controlled, and your baby can get a real truck-driving experience with the fully functional lights, a play steering wheel, and even the gearshift options!
Want your baby to spend some time sitting on the floor? Just remove the steering wheel and let that be a toy for them to play with on the floor!
Bright Starts 3 Ways to Play Walker Key Features:
Sold in a range of colors
Three different adjustable height options
Realistic truck sounds and lights for enhanced sensory development
Machine-washable seat cushion
The removable steering wheel doubles up as a sit-down toy
The basic walker and the push-behind truck can be used at the same time
4) Disney Baby Minnie Mouse Baby Walker
Priced at $69.99, measures 5.5 x 25.2 x 29.4 inches
A baby walker that looks and feels like a walker straight out of Disney World, the Disney Baby Minnie walker is not just a good-to-look at baby walker but is also a smart feature-loaded walker to impress you and your baby each day! It has a broad and super stable three height-adjustable base, it also has a full-fledged built-in musical system that helps your baby walk while learning the steps. It also comes with Minnie Mouse-themed toys and plays as many as 12 different songs via its music module! The wheels are also rather sturdy and work flawlessly on floors and carpets. Once your baby is done for the day, you can fold it compact for easy storage and enhanced portability.
Disney Baby Minnie Mouse Walker Key Features:
Machine washable pads
Easy to wipe snack tray
Sturdy base and extra grip for high control and enhanced overall safety.
5) Kolcraft Tiny Steps 2-in-1 Infant & Baby Activity Walker
The Kolcraft Tiny Steps 2-in-1 Infant & Baby Activity Walker is a convertible baby walker that doubles up from a sitting walker to a standing walker and hence works for babies from sit-to-stand learning.
While your baby is learning to walk, they will often get tired relatively quickly, and taking care of the 'downtime,' this walker comes with an activity center that also helps boost their motor skills.
The Kolcarft Tiny Steps activity bar features multiple toys, including crinkle, spinning, and textured toys for varied sensory developments.
The padded seat has high back support, and the front wheels also swivel for easy maneuvering.
What's more? The seat pad is machine washable and can be stored flat, making it so much easier for parents!
Kolcraft Tiny Steps 2-in-1 Infant & Baby Activity Walker Key Features:
Machine washable seat padding with a high back support
Available in two styles
Folds flat for storage utility
It comes included with an activity center and various toys
Swivelable front wheels
Final Thoughts
In your hunt for the best baby walker, we'd like you to remember a few things particularly.
It is widely advised and suggested to cautiously invest in the traditional sit-in roll-around baby walkers as they are slightly less safe and were also, in fact, banned for production and sales in Canada at or point in time.
The lesser safety is because sit-in walkers enable the babies to reach higher heights which can cause hazardous accidents and events.
But having said that, regardless of the type of walker you deem fit, make sure you keep a check on your newly moving baby and always place their walker in an open floor space area.
And while you're at it, do not forget to check out the baby walking shoes, most ideal for mamma-baby bonding walks!
Take precautions and let the baby roll!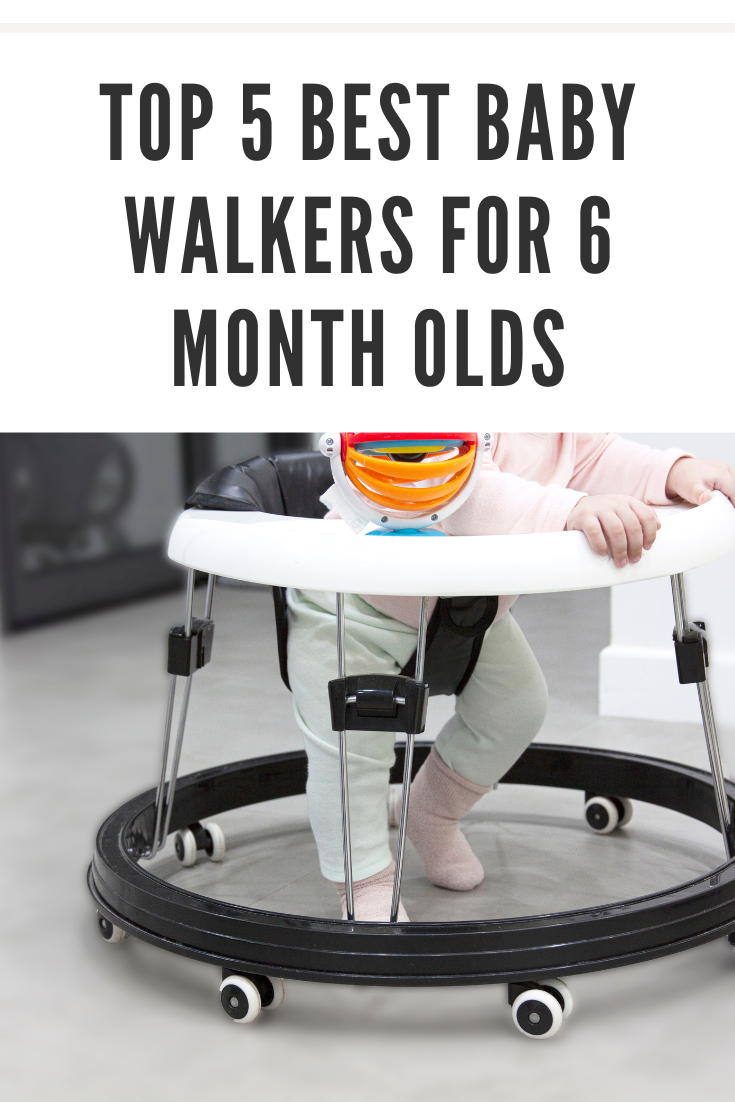 Baby Walker FAQs
1) Is it OK to put a 6-month-old in a walker?
Yes, baby walkers are generally considered safe for babies between 6-8 months of age. It is at this age that babies begin to sit up straight, and hence, the physical, as well as the psychological support of a baby walker helps. You should always consult your baby's pediatrician before getting them started on a walker, as all babies have different growth rates and paces.
2) When should you stop using a baby walker?
On average, baby walkers, especially the sit-in kinds of walkers, are recommended for use only between the ages of 6 months and one year, or until the time your baby starts to walk on their own- whichever is earlier. Push-behind baby walkers or push walkers, on the other hand, can be used as long as your baby fits into them and is intrigued by them!
3) What are the disadvantages of a baby walker?
The most significant disadvantage of a baby Walker is that it can pose many threats and cause significant baby hazards. When you place your baby in a walker, they are off the ground, at a higher height and so, get easy access to even dangerous items that you may have kept out of reach.' While helping the baby to walk, baby walkers also move swiftly and easily, which can be a further safety threat since babies do not have a heightened control over their movements.