Airsoft is a fun and productive way for kids to spend time outside, and I think parents should encourage this type of behavior. After all, we all know how kids today spend their time, right?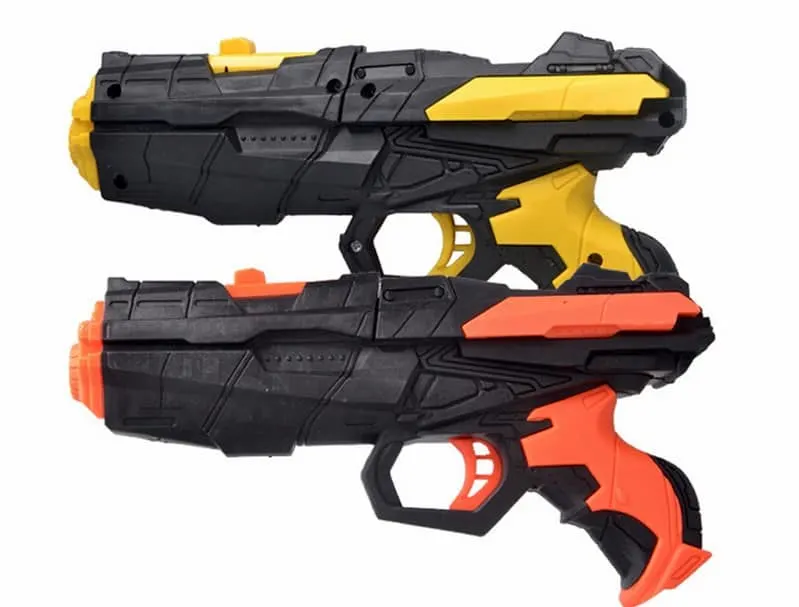 So, if you're sick of seeing your kid with their nose stuck to a screen (TV, phone, tablet, computer, and so on), airsoft is a fantastic way to get them out of the routing.
Even more, some studies show our children spend only half the time we used to spend outside.
If you're worried airsoft will teach your kid to be violent, you should know that many specialists recommend this game for both kids and adults.
Besides the apparent benefit of fitness level, this game is excellent at developing skills like collaborative work, hand-to-eye coordination, tactical thinking, etc.
Finally, with kids, it burns all their energy, builds character, and helps them make new friends.
As a parent, it's normal to want to know how airsoft will affect your kid, but if it is done correctly, this would be one of the best hobbies of your kid's childhood.
Keep eye safety in mind and talk to your child about safety.
Now, the first step to a wonderful experience on the field is getting the right toy gun (or BB gun).
The market is filled with all sorts of designs, and some are quite realistic, but for a beginner, I recommend something a bit more basic.
Below you can find a short buying guide based on the primary type of BB toys you can find on the market.
A Toy Pistol
Pistols are considered entry-level airsoft toys, and they won't dig a big hole in your budget. Even more, they are great for children who are just starting with airsoft as there are models that feature bright colors.
According to Tom from Goog Gun airsoft, pistols are the best airsoft toys for beginners as they are lightweight and easy to handle.
A Toy Rifle
Rifles are a bit more advanced than pistols, and I recommend them only for older kids (14+). As you can expect, a rifle will be more expensive than a handgun, but they are also more interesting and exciting.
Most rifles try to mimic a real weapon, and they use different types of power, from electric (battery) to gas. Gas rifles are quite powerful, so I wouldn't recommend them for kids under 16 years old, but AEGs (battery operated) are great for everyone.
Some of the best models out there come with metallic inner workings, which make them sound just like the real deal. Of course, some are fully metallic, but I think a beginner should get a rifle with a plastic body. It's lighter in weight, and it is more durable.
Accessories
The airsoft toy alone is fun, but accessories can make the game more interesting. I recommend getting a cardboard target for the first rounds – they are cheap, but they are amazing at helping kids learn how to aim.