I received Hask Beauty Hair Products in exchange for an honest review. All opinions are my own.
Introducing HASK Beauty Hair Products: Unleash Your Gorgeous Mane!
Are you ready to transform your hair into a breathtaking work of art? Look no further than HASK Beauty Hair Products—the ultimate secret to unlocking the luscious, healthy, and vibrant hair you've always dreamed of!
Discover the Magic of HASK Beauty:
Luxurious Haircare, Unmatched Results: Indulge your hair in the luxury it deserves with our premium range of HASK Beauty Hair Products. From shampoos and conditioners to treatments and styling essentials, our comprehensive line is meticulously crafted to address all your hair needs.
Natural Ingredients, Real Benefits: At HASK Beauty, they believe that nature holds the key to truly transformative haircare. That's why each product in their collection is enriched with carefully selected natural ingredients, such as Argan Oil, Coconut Milk, Keratin, Charcoal, and many more. Experience the power of Mother Earth as these ingredients work in harmony to nourish, repair, and revitalize your locks from root to tip.
Tailor-Made Solutions for Every Hair Type: Hask understands that each individual is unique, and so is their hair. That's why HASK Beauty offers a diverse range of specialized formulations designed to cater to all hair types, including dry, damaged, frizzy, color-treated, and more. Whether you're looking to restore shine, add volume, tame unruly strands, or protect your color, they have the perfect solution waiting for you.
Unleash Your Creativity: Don't just settle for ordinary hair—let your imagination run wild! With HASK Beauty's innovative styling products, you can effortlessly create stunning hairstyles that turn heads wherever you go. From voluminous curls to sleek updos and everything in between, their styling range gives you the tools to express your unique personality through your hair.
Trust and Quality: HASK Beauty is dedicated to providing exceptional quality, so you can confidently embrace your hair's full potential. Hask Beauty products are rigorously tested and crafted without sulfates, parabens, phthalates, artificial colors, or drying alcohols. Rest assured, HASK Beauty prioritizes the health and vitality of your hair above all else.
Embrace the Beauty within You with HASK Beauty Hair Products!
Unlock the radiance, strength, and confidence that come with having truly beautiful hair. Join the HASK Beauty revolution today and let our haircare essentials be your ultimate companion on your journey to hair perfection. Experience the magic and say hello to a world where every day is a good hair day!
Explore the full range of HASK Beauty Hair Products. Get ready to turn heads and be the envy of all with your stunning, healthy, and HASK-ified locks!
Our Hask Hair Review
Hair care is important to me. Once upon a time, my hair was my trademark. It's thick and has great body. I neglected it the past couple of years, and now I'm back to a routine of treating my hair like we're besties again. I've discovered the less junk in the product, the more my hair thanks me.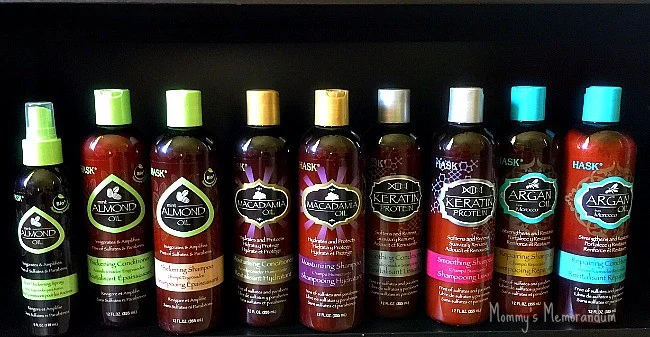 My current hair love affair is with Hask.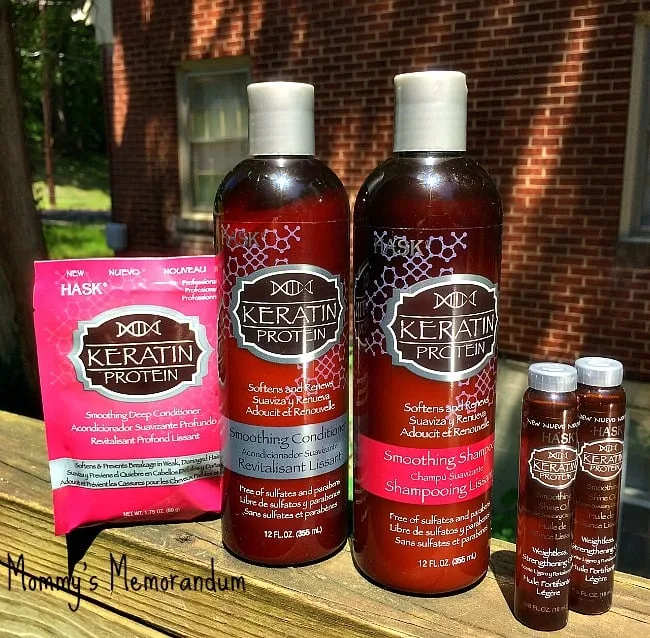 For the days when I'm pulling our the styling tools, cranking up the blow dryer, I'm reaching for the Hask Keratin Protein. It's a full line of awesomeness with shampoo, conditioner, and deep hair mask.
It's indulgent. The smell of sweet, fresh fruit. The incredible feel of my scalp and hair afterward. This product adds shine and bounce.
The best part is that it's a warrior against everything I do to ruin my hair: color-treatments, blow drying, heat irons. It's restorative, and keratin is the same stuff of which my hair is made! This line of Hask products revives, restores, calms and strengthens. It doesn't even let the humidity here in the south frizz me out.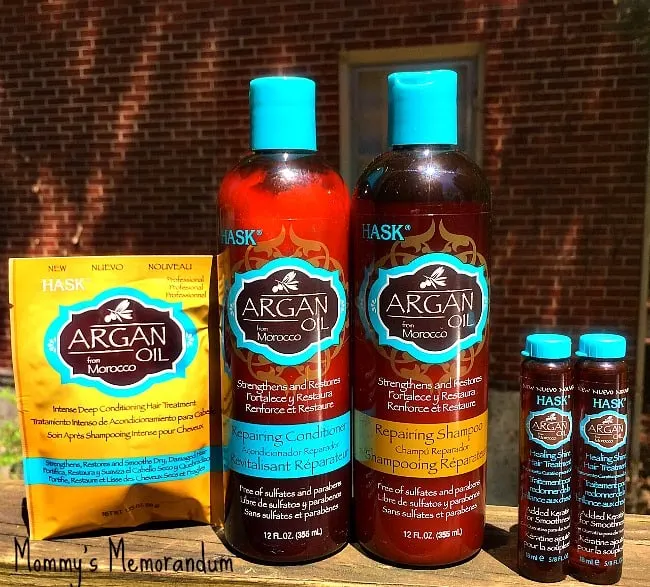 For the days I'm in a mad dash to get out the door, I love Hask Argan Oil. I want to confess that I jumped on the Argan Oil fan wagon when it first came out. I didn't like it.I thought it weighed my hair down and made it look greasy. So, trying the Hask Argan Oil was an expectation I didn't really have to impress me.
I love this stuff. It's infused with moisturizing Argan Oil. It offers a gentle clean while doing all the things Argan Oil is known for: repairing damage and breakage, leaving hair frizz-free and creating silky-soft, super glossy locks.
Add the hair mask and feel like you just walked out of a Fifth Avenue Salon!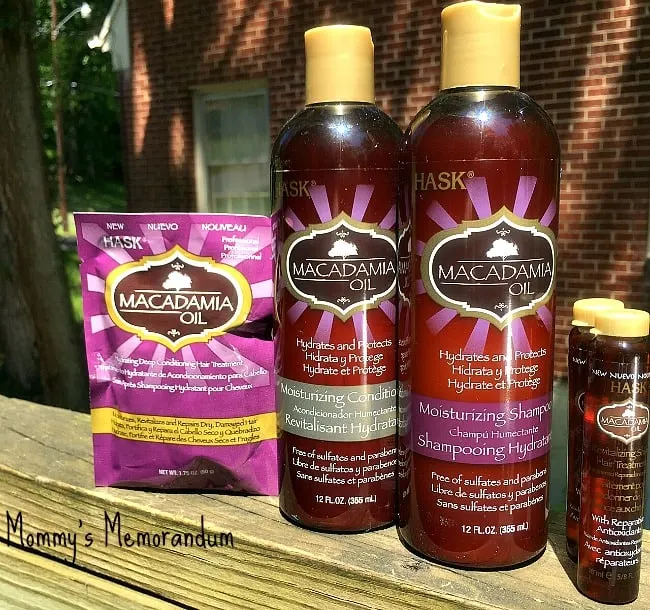 When my hair needs some moisturizing, I use the Hask Macadamia Oil product line. I love macadamia nuts, but they are high in calories thanks to the fat. My hair loves macadamia nuts for the same reason–the fatty acids that mimic my scalp's natural oils.This line of Hask is ideal for dry, damaged, or over-processed hair, thanks to the miraculous moisturizing effects of HASK Macadamia Oil products!
The Hask Macadamia Oil gently cleanses while it repairs and adds moisture, leaving even the most parched hair silky-soft and incredibly shiny. I like the texture of both the shampoo and conditioner. A little goes a long way!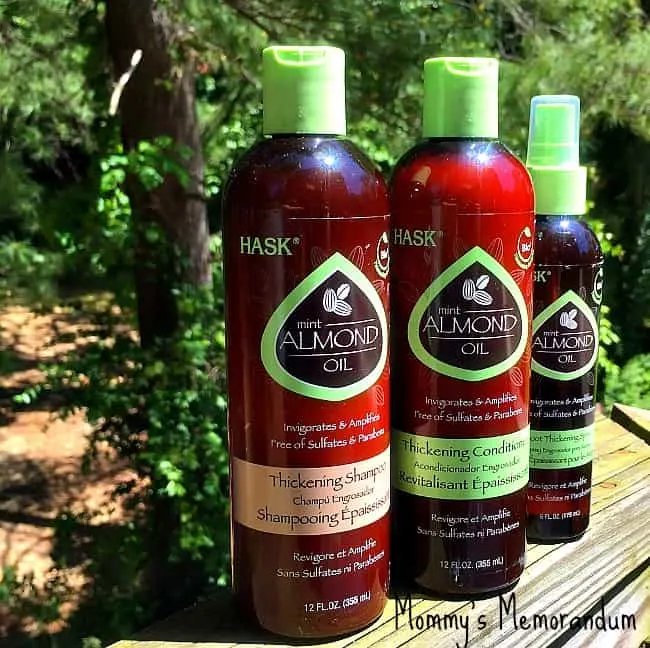 Miss M has fine, limp locks. She's been using the Hask Mink Almond Oil product line, and her hair is looking more thick and voluminous. I love that nourishes her hair with omega fatty acids, Vitamin E and Magnesium–all helping to boost her body and volume and bring out the shine!
The Hask Mink Almond product line offers Bio3 Thickening Complex and peppermint oil that not only smells amazing but fortifies, amplifies and stimulates the hair and scalp. It's making her hair thicker and her smile bigger!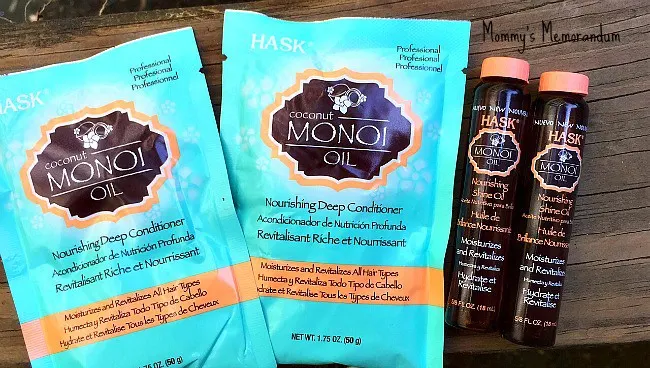 One of the first products I tried from Hask was the Monoi Oil deep conditioner packs. The smell was like getting in the shower and being transported to the tropics. Monoi
oil is pure
coconut oil infused with Tahitian gardenia. This product line protects hair from sand, wind, and more. It moisturizes, yet is light-weight and my hair was so shiny and soft!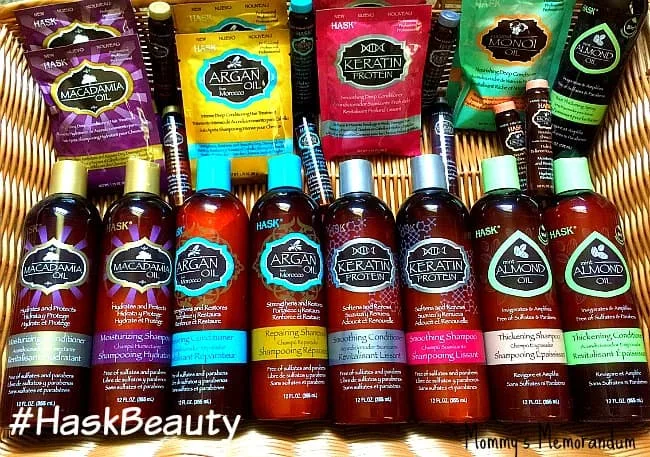 Hask is really a great brand. It adds exotic oils from across the globe as part of its high-quality ingredients. They all smell incredible, and the packaging is fun! The best part is they deliver glamorous locks.
Whether you're looking for shampoos, conditioners, shine oils or deep conditioners, you'll find a great product with Hask, utilizing the finest oils like Argan, Keratin, Monoi, and Macadamia.
It's not just the oils that make Hask stand out. All of their shampoos and conditioners are free of sulfates, parabens, drying alcohols, phthalates, gluten, artificial colors and can be used every day. The deep conditioning treatments restore and repair and add lots of shine!
Hask products are sold worldwide, including at Ulta, and are available online at ulta.com and soap.com. All products are under $10, which makes beautiful hair at a beautiful price!