The Beauty of the Ballantyne Hotel is unmistakable.
This is the story of the night my family stayed here and how I witnessed the curious, courageous, and quite quirky process of seeing the beauty in everything.
Charlotte offers tourist attractions for the NASCAR fan and thrill seeker.
It was our destination one weekend and the place I learned to see something beautiful in all things.
A lesson I learned from my just-turned-thirteen-year-old.
As a birthday surprise, we drove for two hours, a destination unknown to her and her brother.
We pulled off the main highway into a parking lot below an alabaster facade building.
My daughter's eyes sparkled with joy as she saw the "B."
We received a night's stay at the Ballantyne Hotel in exchange for this post.
We walked past a fountain, into a lobby where the ceilings are high, and the windows are large.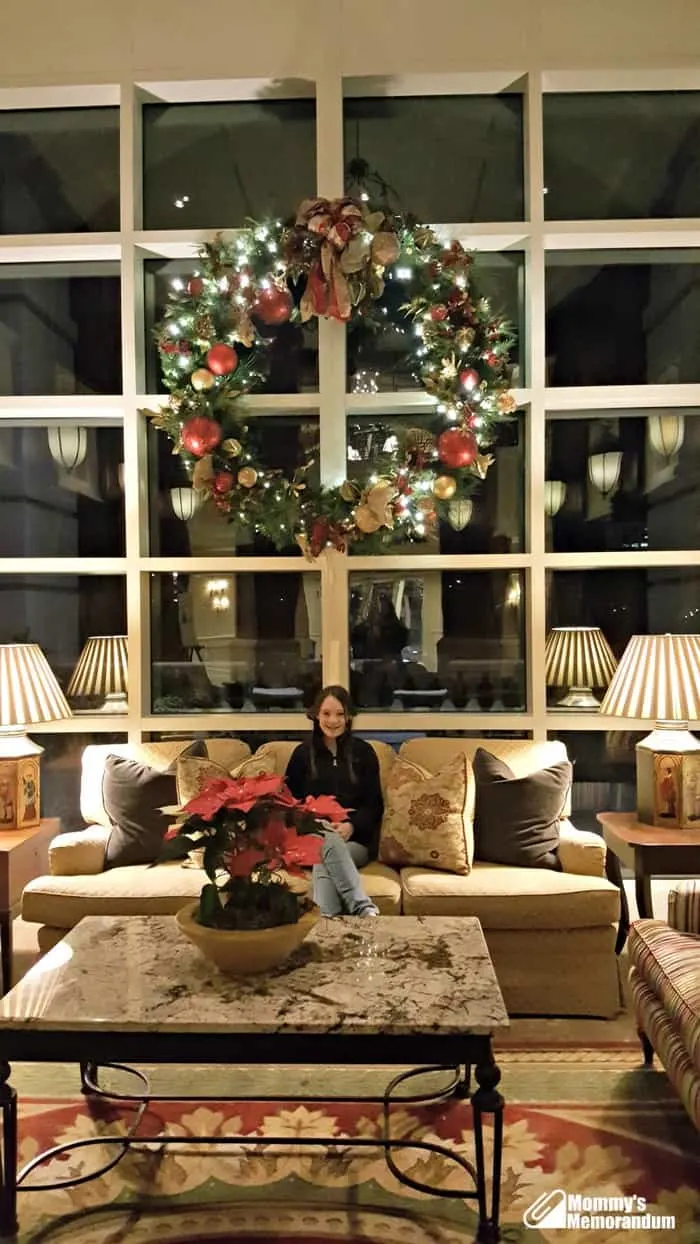 It's a place of awe with chandeliers that hang from ceilings and seem to capture the sun's rays, casting them out into orbs of beauty against the warm brown walls.
Light fixtures the shape of acorns line the mezzanine.
There are fresh flowers on tables.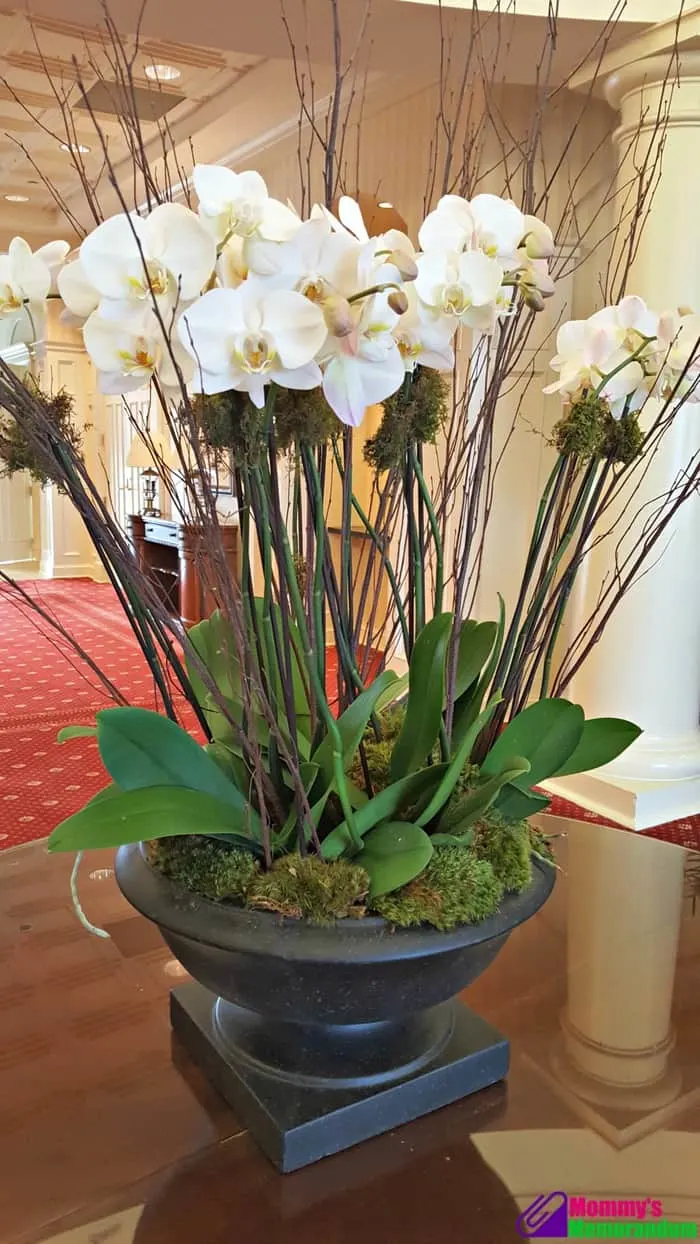 The crackling of a fire invites guests to take a seat and slow the pace.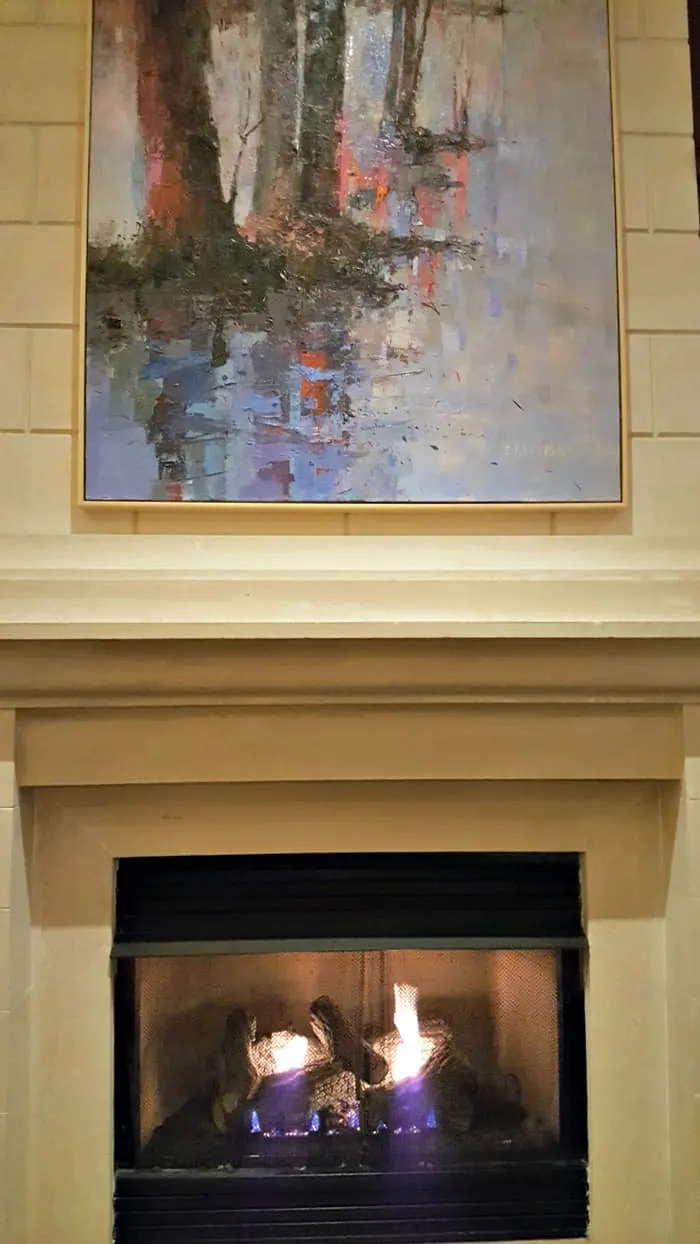 It's a place my daughter has been before; she turned "double digits" (10), something to cross off her bucket list.
Tonight she announces it is her "castle for the night."
The night is a milestone as she morphs from a tween to an official teenager at the stroke of midnight.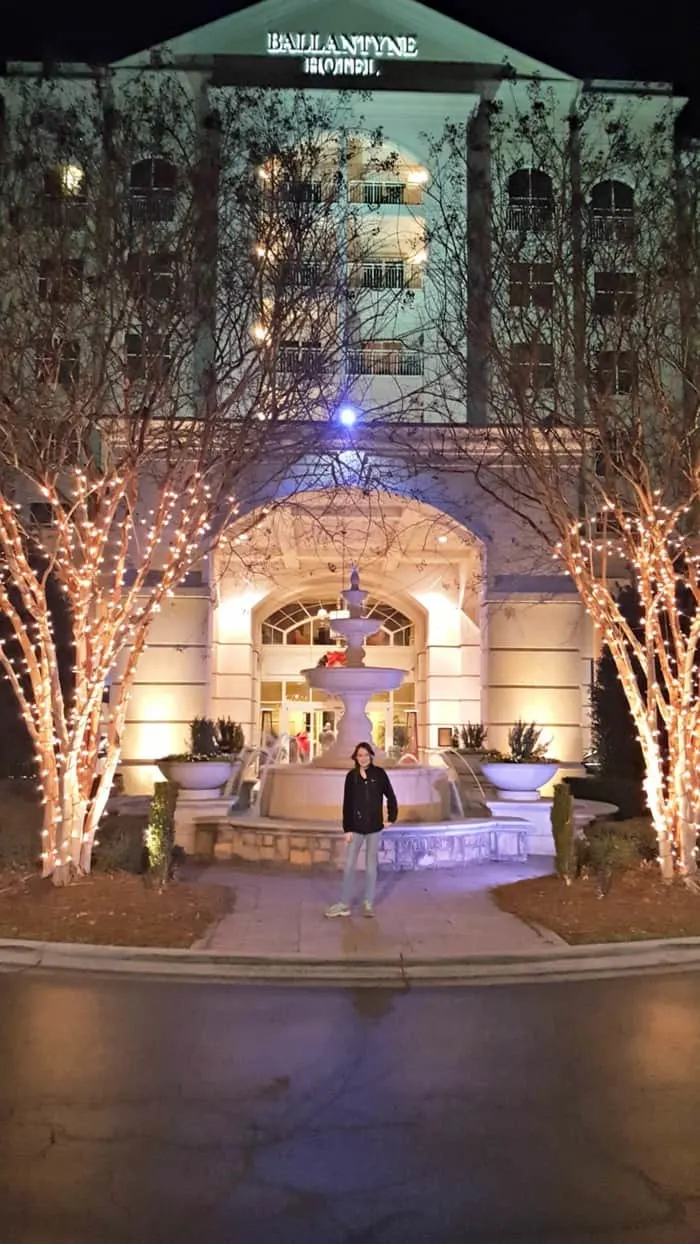 We rode the elevator to the seventh floor and slid the key to enter one of the 208 rooms.
A handwritten note greeted my children.
My heart melts at this seemingly old-fashioned gesture that is a reminder of a hand-written letter.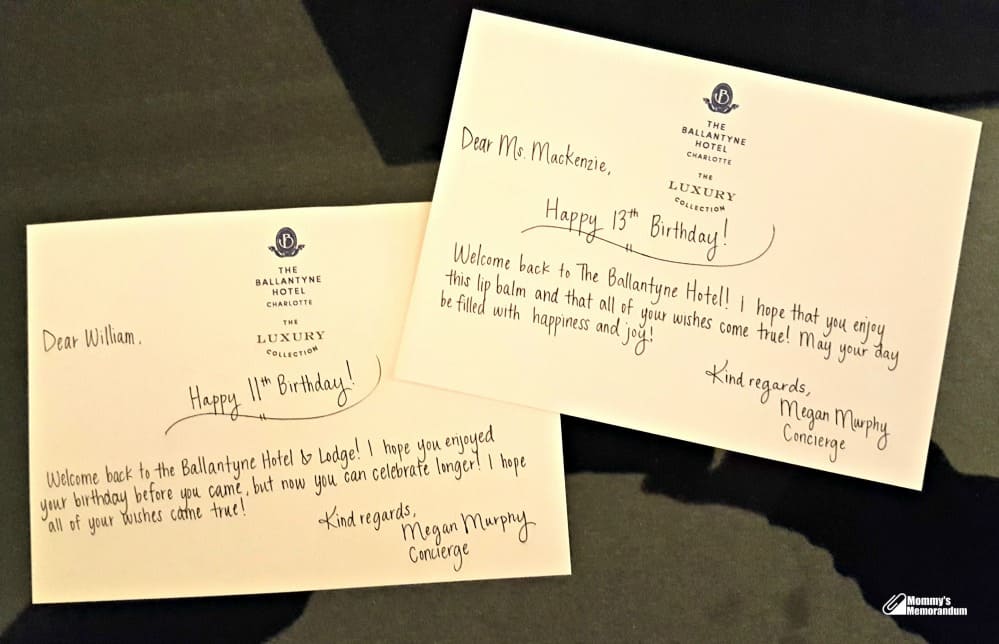 There are coos as they spy the selection of desserts to spoil the dinner awaiting them.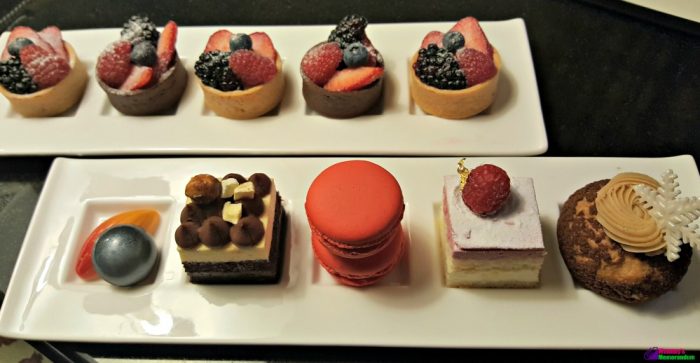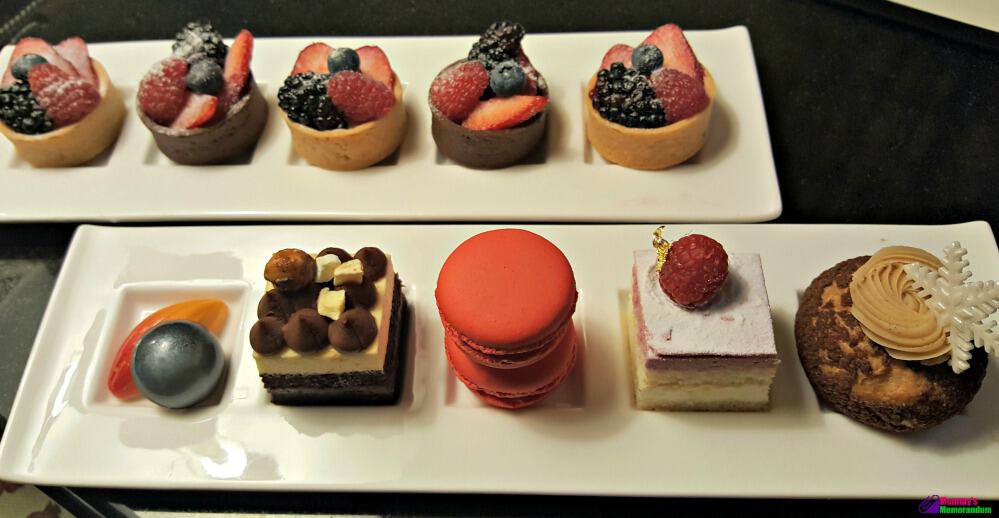 My children are curious.
They open every cabinet, ask about the mini-fridge contents, and taste the desserts.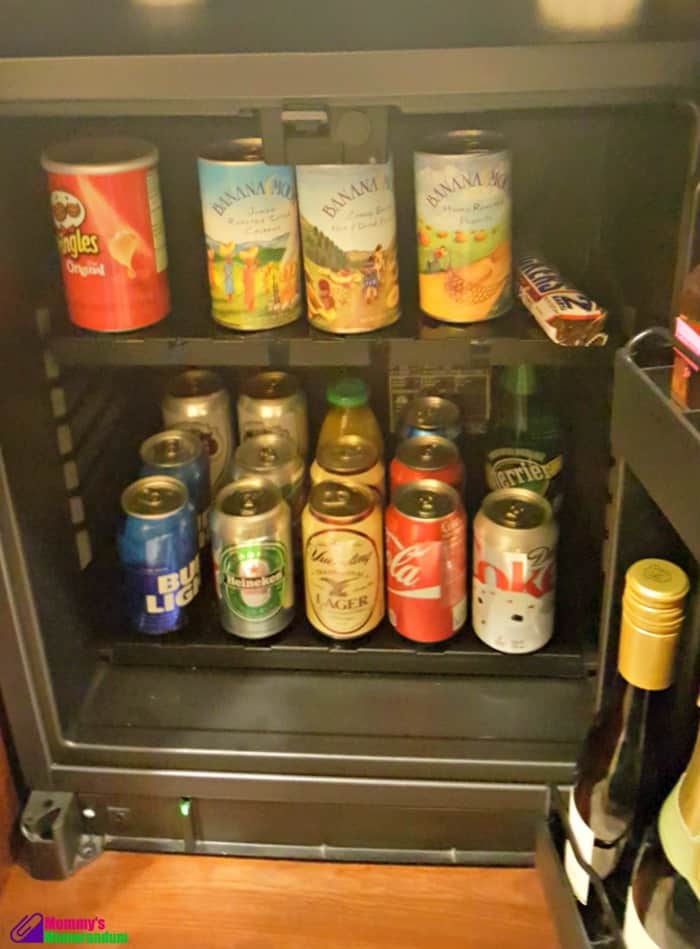 Then I see them take in the view; they each sit in front of the floor to ceiling window and gaze at the cityscape.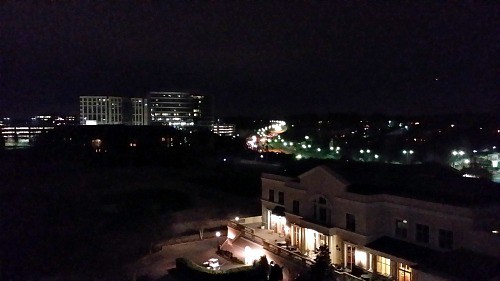 It was her last hours of being twelve.
To me it seemed like yesterday, I brought her home, but today, she reminded me it is a moment she has waited for her "entire life."
In those hours leading up to the magic moment of transition, I was on a journey with a child who gave me one of the most amazing lessons.
It was in those hours I learned gratitude. I was filled with love and passion and witnessed the curious, courageous, and quite quirky process of seeing the beauty in everything.
As I look back on those moments, I realize how crowded my view of the beauty around me had become.
It was crowded out by the pain of losing those I loved.
The stories of people, events, and life.
The complicated excuses of why I wasn't or couldn't.
The exhaustion of feeling it fruitless to rise to the occasion and shush the naysayers, of just marching on.
It wasn't a blunt smack in my face that I came to see this.
I suppose it began with a trip to the elevator.
As we waited, my daughter noticed something on the table.
Her brow furrowed and I asked, "What do you think that is?"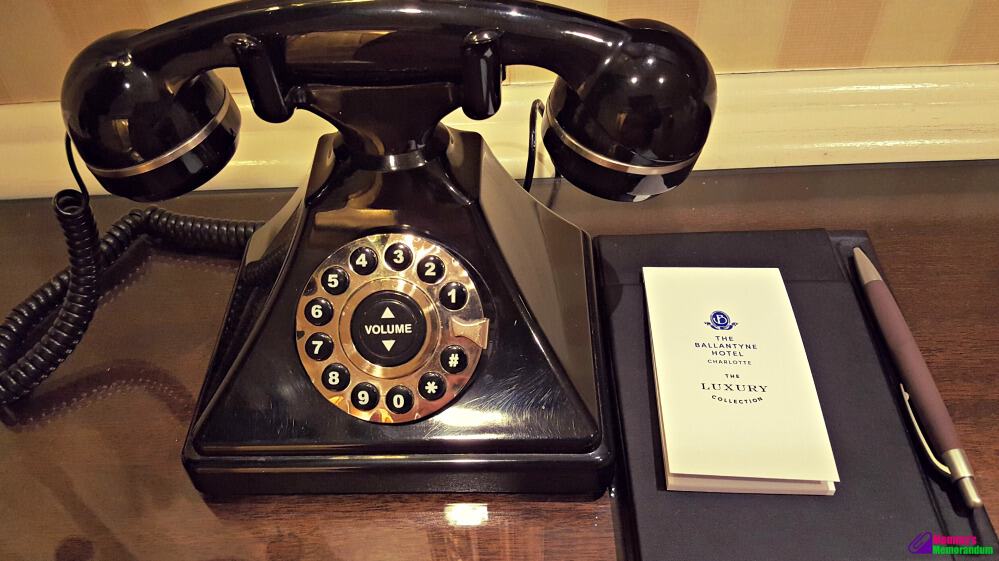 It took a moment; I could see her mind like a Sears & Robuck catalog, flipping through glossy pages of memories, and then she said, "It's a telephone!"
She inquired how it worked, and I told her if she picked up the receiver, someone would be on the other end. "Can I try?"
"Sure," I answered.
She was greeted by a voice.
Her words are meek as she explains she just wanted to try the telephone.
Her face widened as her smile spread, and she said, "Oh, the best time. Thank you."
Then put down the receiver.
"Mom, they asked if I was enjoying my stay. They KNOW me!"
Her soul was singing.
She had tried something new.
Daring to look through the lens and see something so simple with appreciation.
Allowing her eyes and ears to touch the kindness in herself.
We rode the elevator down and stopped in the lobby.
She noticed the smallest details.
It was as if the big was cloaked in invisibility.
The titles of books on the shelf reached her intellectual bones; the trinkets fascinated her.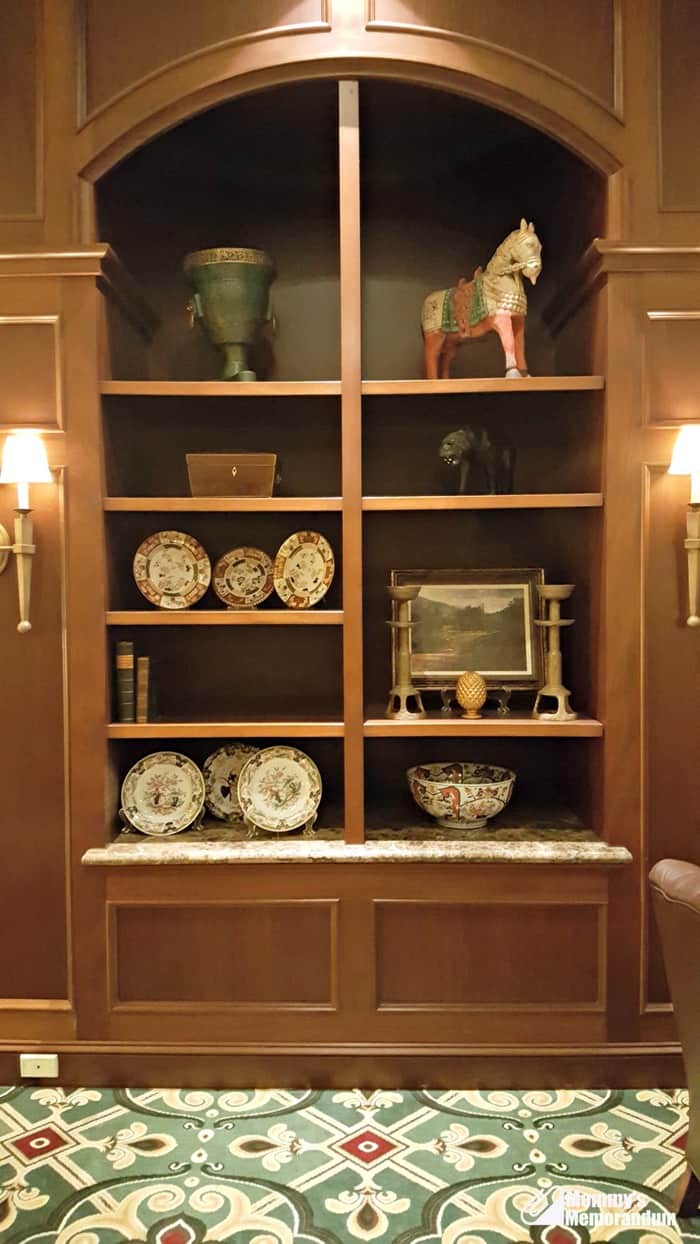 She seemed to inherently understand that she was in an experience that deserved her full attention.
Her dad and brother joined us, and we walked the hallway.
My husband is walking at an average pace with the destination his goal.
As his distance grew greater and my attention turned to keeping up, I heard a gasp and then, "Oh, it is beautiful!".
My daughter understood life was too short to wish it away.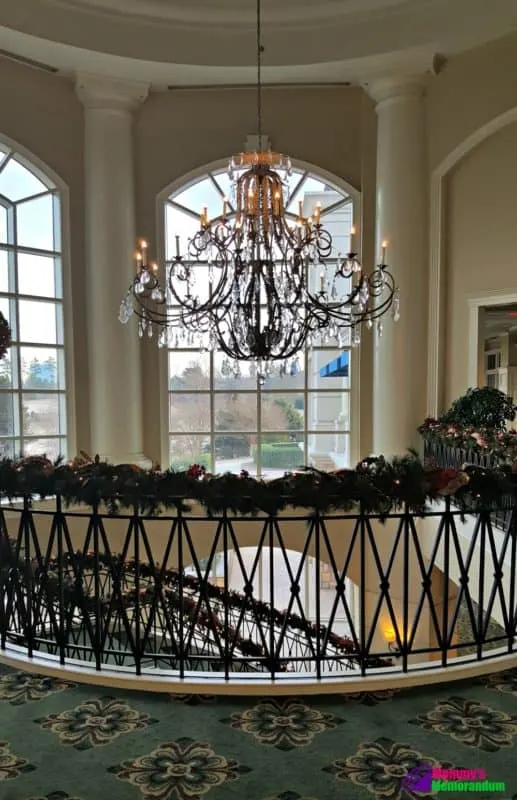 She stood in appreciation of the chandelier. In a brief glimpse, it seemed as if she were absorbing all the light and she looked eager to extend the same grace to the world as she marveled at the beautiful pieces of crystal cascaded gracefully into the last part.
In another hallway, we walked in silence. About midway, my daughter said, "Hey! I think these are all by the same person and they tell a story!"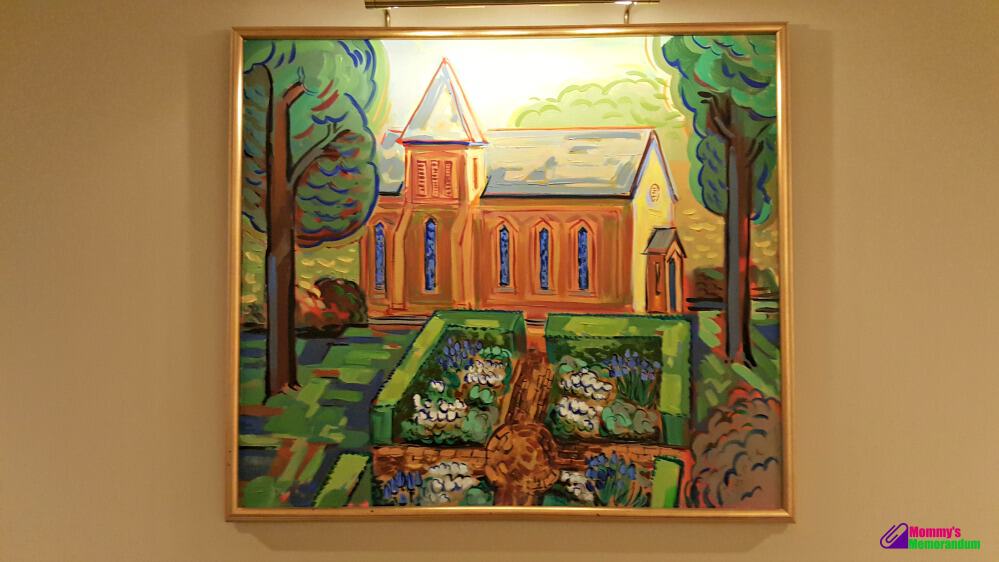 It made me slow down and look; the hallway was embellished with watercolors and oil paintings of Thomas Vieth, each depicting a Charlotte landmark.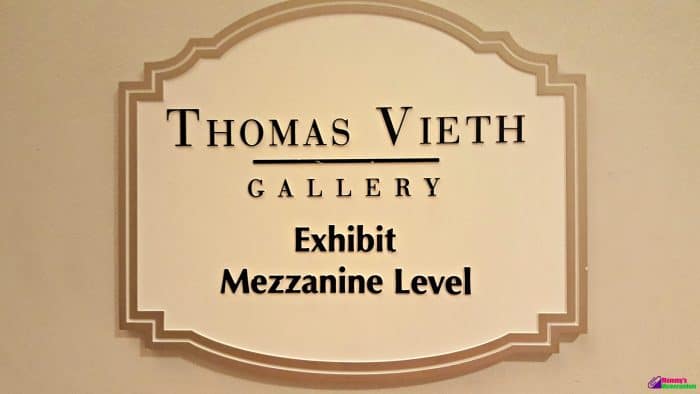 My son noticed a small hall that hosted pictures of the hotel from inception to now.
I yawned, but my children were fascinated, pointing out that "this picture is how this place looked when we were born, and this picture was the same year as…" some spectacular event in our family history.
I admit, they made me look and marvel at the process.
It seemed unnatural to see my child have such enlightening wisdom and then ask if we could go to the swimming pool.
They told me they had to get ready, and found robes in the closet to cover up for the stroll to the pool.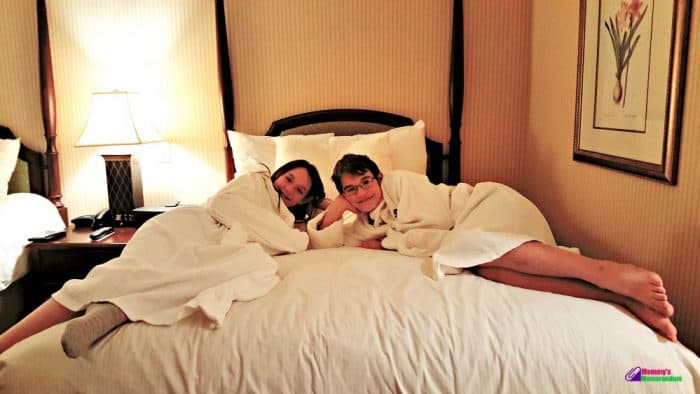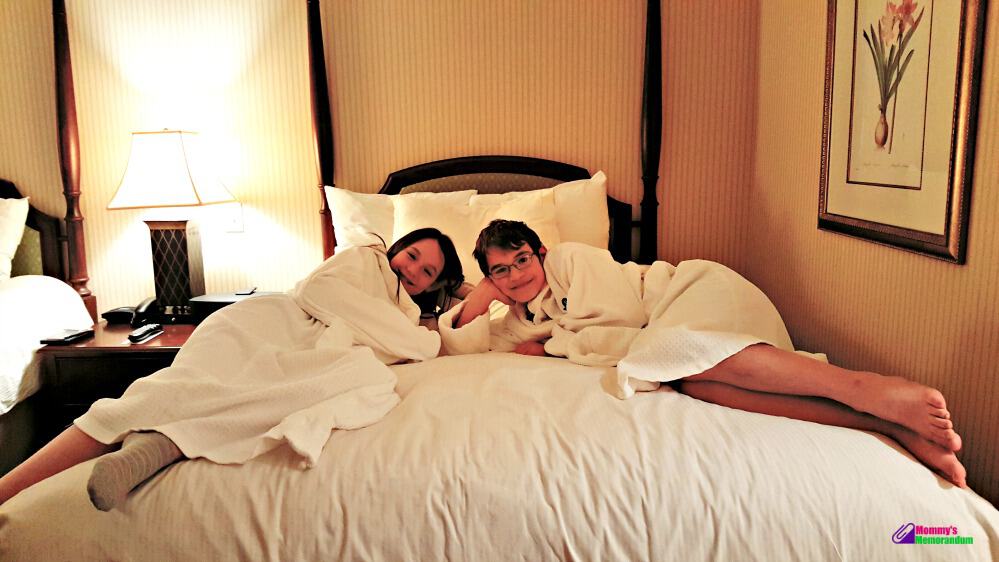 At the pool, the two were the only guests, and as I sat reading my book, I listened as they made up games, splashed, and giggled.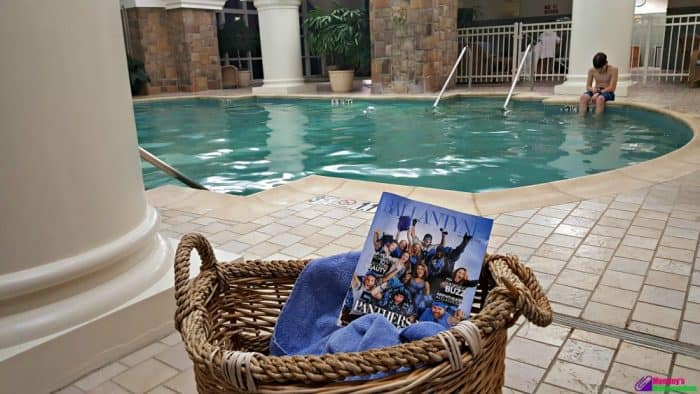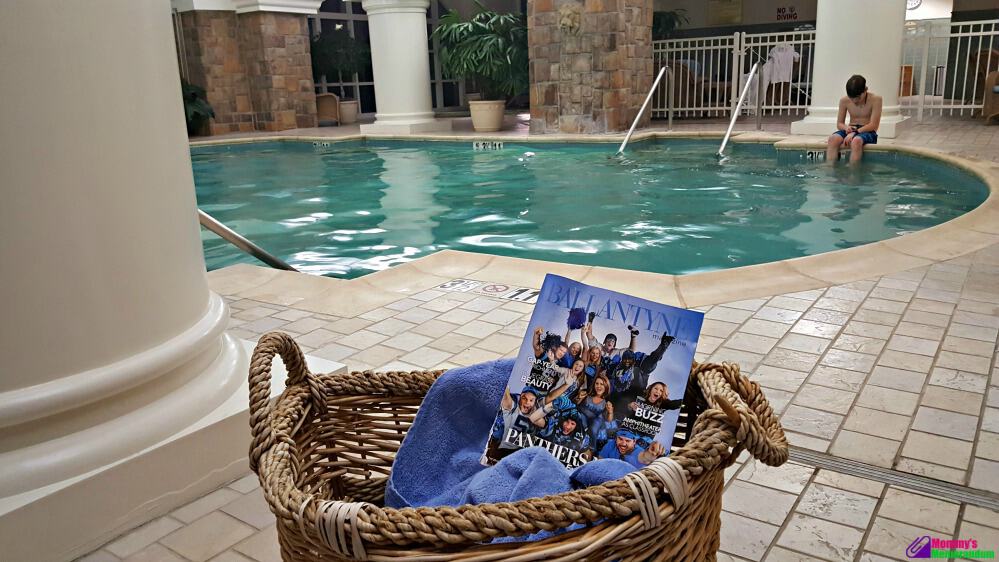 A woman and her daughter came into the pool area, and I cautioned my children to "use soft voices and be respectful."
The woman came to me and smiled then said, "Let them be. They should have a wonderful time here too."
My son enjoyed some time with his dad.
Just the two of them, talking architecture.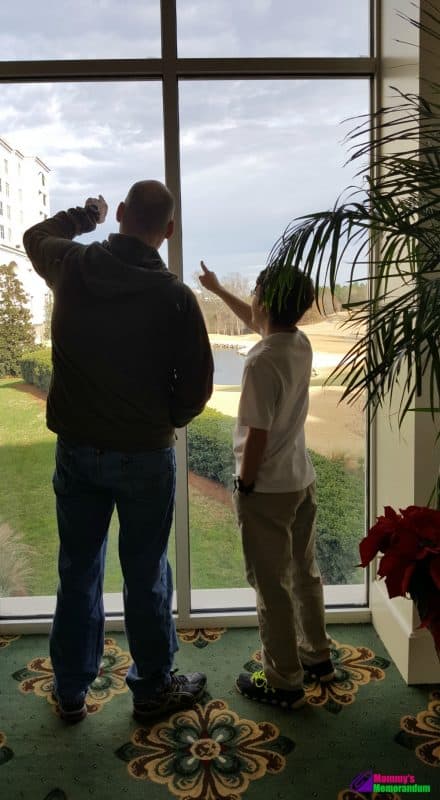 He learned about his dad's job as a teenager at a Golf Club. He learned about the rakes in the bunkers of this championship PGA golf course.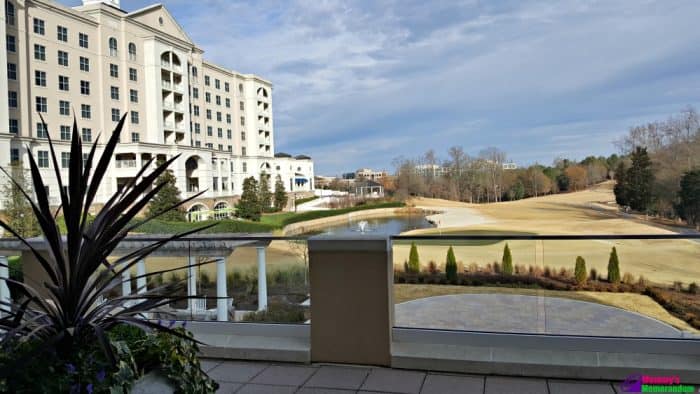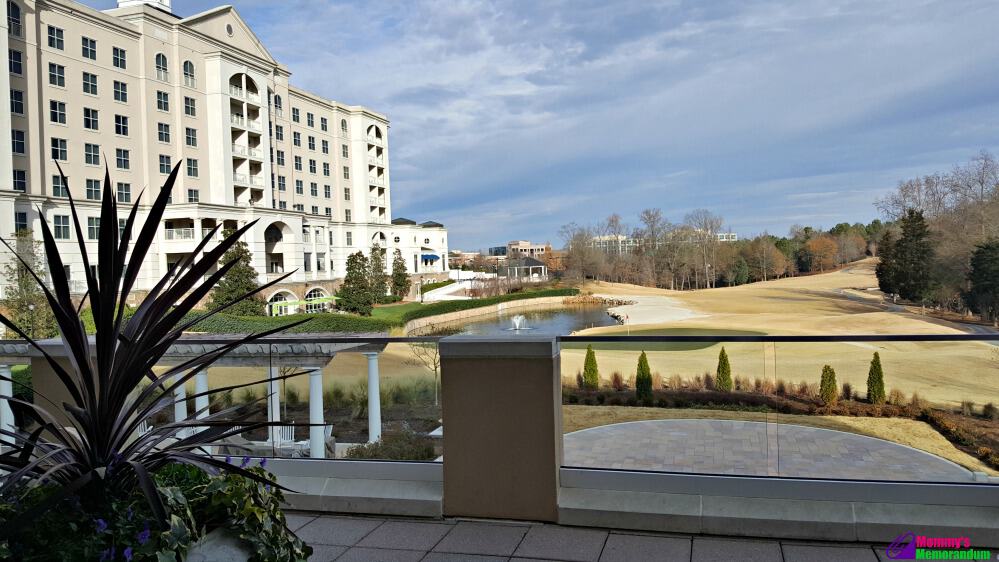 MacKenzie shared she wanted to come back when she was 16, then 18, then 21, and "I want to get married here!"
My son, asked, "You can get married here?"
His mind was blown when my husband told him, "This is a place where dreams come true. There is someone here who can make anything happen. He's like a genie, and he probably loves a challenge!"
Later in the evening, I'd overhear him say to his sister, "Do you think they believe that we're famous here?"
We are by no means famous, but for 24-hours my children thought they were.
I added to the fun by sharing a rumor has it the Obamas stayed here during the DNC and so has Oprah Winfrey (eonline).
My daughter calls dibs on the bathtub when we get back to the room.
"I am just going to soak for a long time, so be prepared to not see me again for a while!"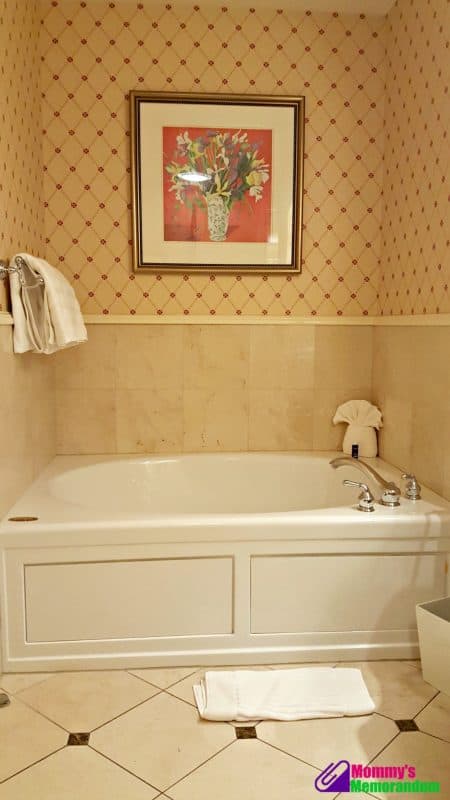 Then the night faded, and I had to face the reality that my baby girl is growing up.
This is the last picture I took of her at the age of twelve.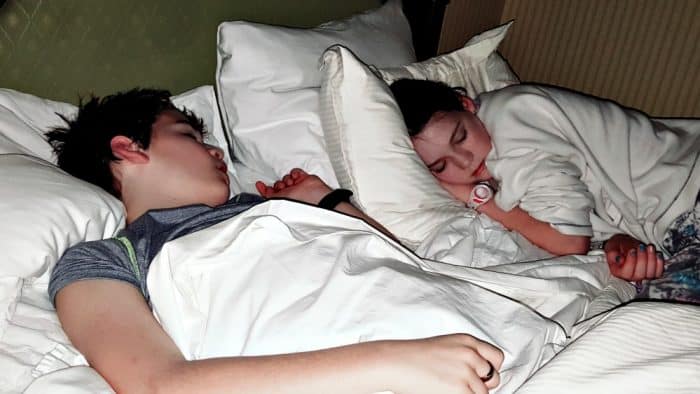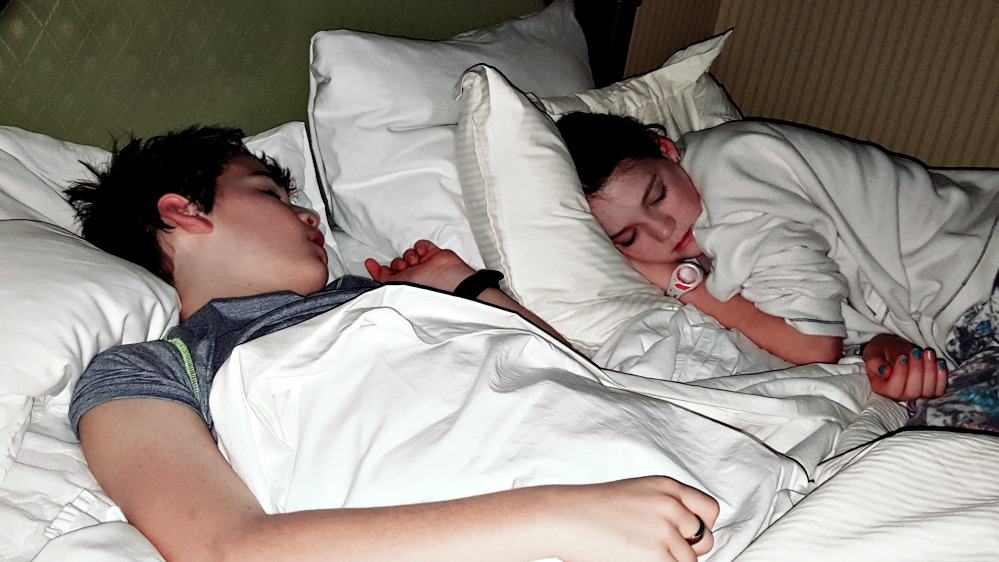 As Father Time marched forward, the clock struck midnight, and she turned thirteen, ready for a new adventure and the search to be more independent.
As she slept, I awoke to watch the sunrise.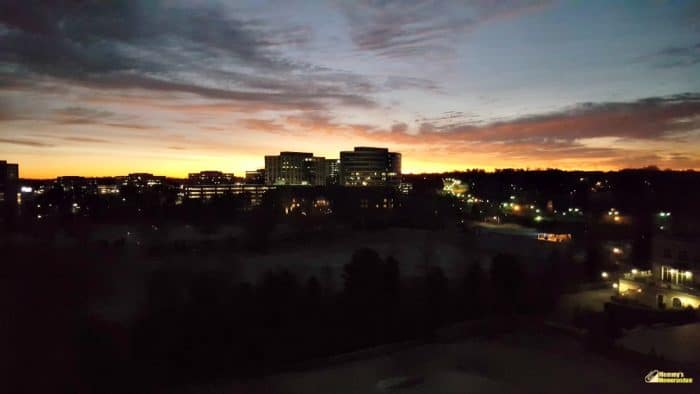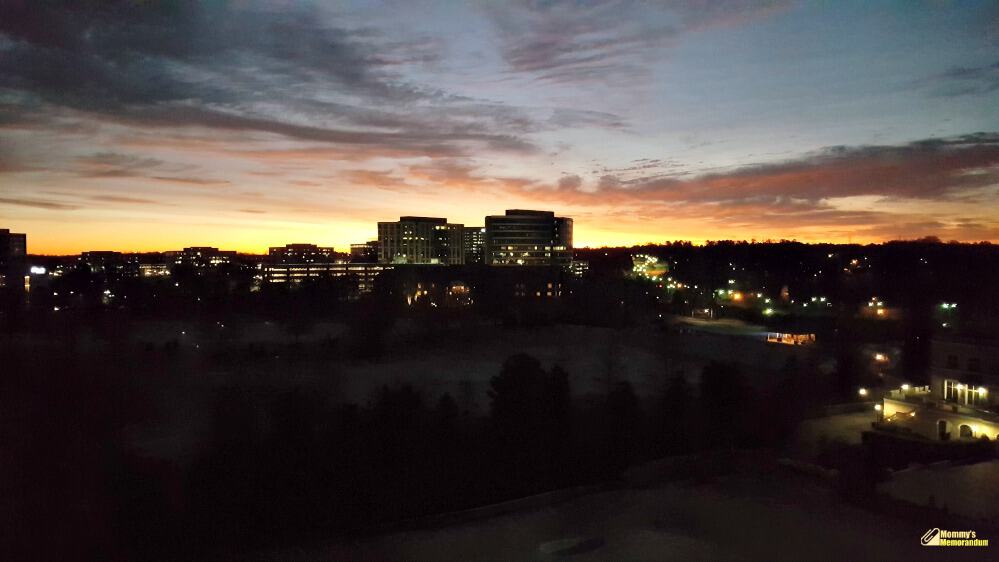 MacKenzie awoke in her castle, and as we prepared to leave and explore the city of Charlotte, she and I walked the halls.
We talked. We shared our dreams for this year.
I gave her some advice; I offer it to you as well:
Surround yourself with luxuries. The luxuries of friends, of family and experiences. The luxury of seeing what surrounds you for the beauty that it is. The luxury of just being you and accepting others for their courage to just be themselves around you.
Our night at the Ballantyne Hotel with my daughter lifted the veil that was keeping me from living my life to the fullest.
I realize the internal naysayers are louder than the external ones.
Walking the long hallways and listening to my children made me aware that I need to stay focused on gratitude.
That it is my responsibility to seek the things that make my soul sing and my heart smile.
This birthday celebration inspired me; it brought grace, and it gave me the joy of being.
Life is a playful, mysterious, and miraculous journey and sometimes, we only need to look in our backyard to see the beauty.