According to Seafood Nutrition, eating fish and other seafood three times per week reduces your risk of death due to certain health-related conditions by up to 17 percent. Estimates show that low seafood consumption is linked to up to 55,000 deaths per year.
Many people are put off eating fish and shellfish because they think it is difficult to work with. With know-how and practice, fish and shellfish can be easy to prepare, but if you're unsure, buy prepared ingredients or get your fishmonger to do the gutting, cleaning, deboning, shelling and filleting.
Fish and seafood are versatile, and you can enjoy it in many ways. When you do, you get to enjoy the flavors and boosting your intake of lean protein, omega-3 fatty acids, iron, and much more. Ready to try it? Any of these best seafood recipes will delight the entire family.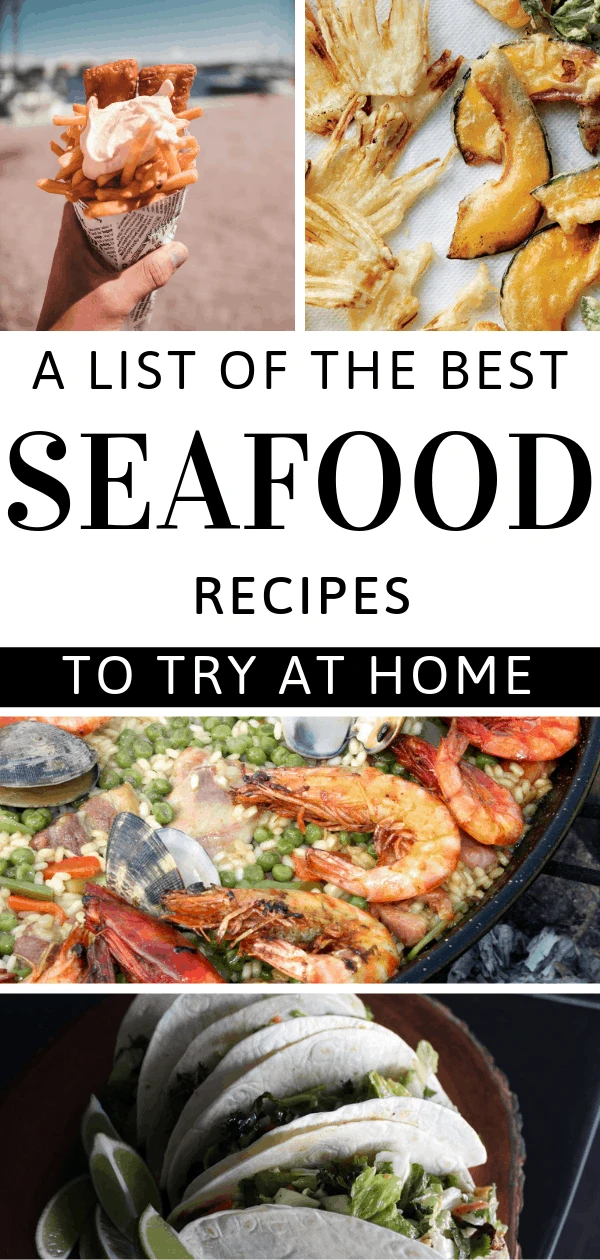 Our Pick of the Best Seafood Recipes – Authentic Valencia Paella
Recipe on My Recipes.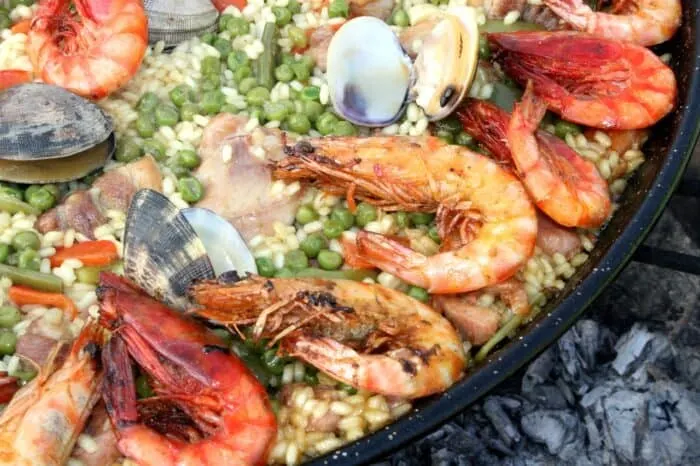 This dish hails from the Valencia region of Spain where it's a much-revered meal. Besides the sausage and chicken in the dish, you'll also find large shrimp and mussels. There's also onion, garlic, tomatoes, bell peppers, green peas, capers, and plenty of saffron, which lends the dish its robust flavor and color.
All those vegetables make this a healthy dish that loads you up on vitamins A and C, antioxidants, and fiber. The seafood provides protein and omega-3s, making this a healthy and well-rounded meal you will love.
Look for peeled and deveined shrimp and debearded mussels to cut down on some work of preparing your paella. Use a bit of white wine in place of some broth to really bring a new level of flavor to the dish.
Fisherman's Pie
If your family loves casseroles, this is a great addition to your menu planning. It's very similar to shepherd's pie or cottage pie but uses seafood in place of the traditional ground beef or ground lamb usually found in the dish. Potatoes, spinach, and garlic combine with flaky white cod for a meaty and hearty dish perfect for a cold night.
A dash of nutmeg to the potatoes that top the dish adds a tasty bit of flavor. Drain the spinach before baking the casserole so you don't end up with a watery mess when it's time to serve it.
Salmon Burgers
Recipe on Two Healthy Kitchens
Are you tired of the same old ground beef hamburgers for dinner? Why not try salmon burgers instead? The mild flavor of salmon pairs well with Asian flavors. Mix the flaky cooked fish with soy sauce and diced scallions. Salmon also works very well with avocado so top your burger with some mashed avocado.
Salmon is one of the top heart-healthy seafood options you can choose because of its content of omega-3 fatty acids, potassium, iron, B vitamins, and antioxidants. Salmon is also linked to a lower risk of heart disease when eaten regularly. You can also substitute a tuna steak or swordfish steak for the salmon in this recipe to shake things up.
Mexican Fish Tacos
night for tacos, right? This seafood-based version plays on traditional Latin American flavors with its fresh cilantro, lime juice, cumin, and smoked paprika." src="https://mommysmemorandum.com/wp-content/uploads/2019/09/fish-tacos.jpg" alt="It's always a great night for tacos, right? This seafood-based version plays on traditional Latin American flavors with its fresh cilantro, lime juice, cumin, and smoked paprika." width="985″ height="719″/>
It's always a great night for tacos. This seafood-based version plays on traditional Latin American flavors with its fresh cilantro, lime juice, cumin, and smoked paprika. Red snapper is the ideal firm white fish for this meal and tastes great nestled in corn tortillas and topped with crisp cabbage. The fresh cream sauce perfectly balances the spice on the fish, making this a refreshing meal the whole family will love.
Serve all the fixings in bowls to enable everyone to build their own tacos. Try cod, catfish, or tilapia in place of the red snapper if they're easier to find. Even trout makes a wonderful option.
Crab Stuffed Portobellos
Recipe The Sophisticated Caveman
Crab is an indulgent meal that you don't have to wait to eat when you're in a restaurant. It's easy to prepare, and the ingredients can be found at just about any supermarket or source your crab directly from www.crabdynasty.com.
When stuffed into a large portobello mushroom, you have a delicious and nutritious meal for a special occasion like a birthday dinner or anniversary celebration. Wipe the mushrooms well before cooking to be sure there isn't any dirt left behind.
The red pepper adds some nutrients and antioxidants, while the Old Bay seasoning adds an authentic seaside flavor that will make you feel you're on vacation enjoying your favorite seafood dishes by the water.
British Fish and Chips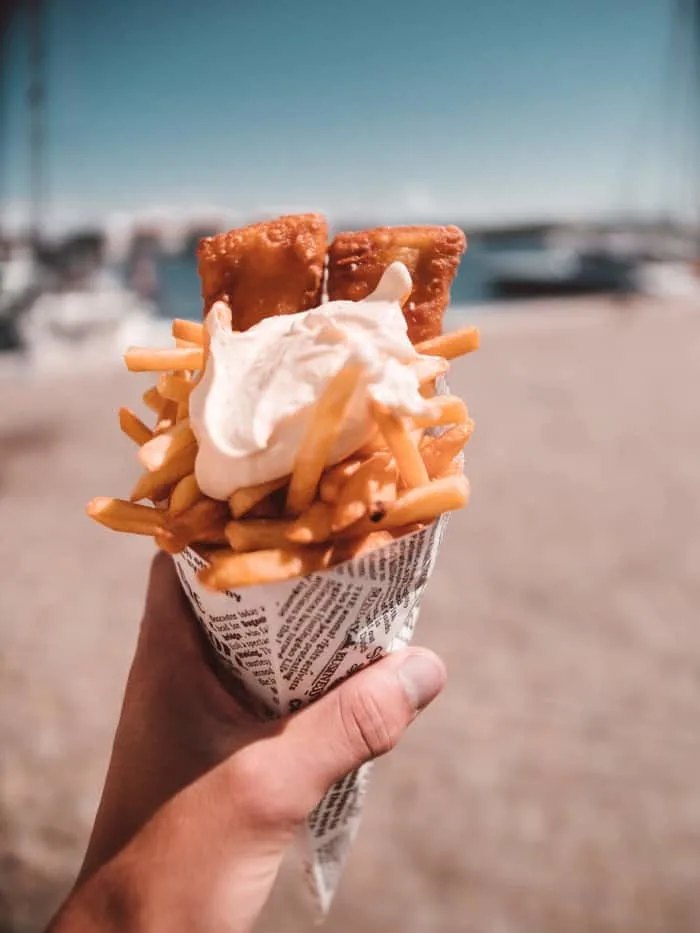 Want to feel you're relaxing and enjoying the good times in an old English pub? Fish and chips are one of the best seafood recipes to satisfy your craving. Fried fish is a meal you don't want to eat all the time because it's higher in fat and calories than other seafood meals, but it's sure to enjoy when the time is right.
Serve this seafood lunch for a family get-together on the patio or to celebrate a weekend birthday party. Adding beer to the batter gives the fish a delicious flavor that holds onto the fish, so it's flaky and crispy all over. Cod works really well for this recipe. Don't forget to serve it with a heaping pile of crispy fried potatoes.
Fritto Misto
To prepare this Italian dish, you don't have to be a professional seafood cook. This is a tasty first course or appetizer you can serve as it comes out of the fryer. Crispy and delicious, this dish is ideal for a fancy dinner party or a romantic dinner for two complete with wine and candlelight.
Shrimp, squid, and octopus are the stars of the show, but the fried fennel and squash offer plenty of flavors and a great dose of nutrients. To shake things up, try adding zucchini, squash blossoms, or onions to the mix
I Want Seafood, Mama!
The best seafood recipes are delicious and nutritious. Whether you mix fish types or fish and shellfish, you can produce a meal for any occasion from a simple breakfast dish (kippers or kedgeree—anyone?) to occasion dishes such as a classic French bouillabaisse. Eat fish regularly and boost your nutrition and health.
If you love to cook or want to learn new kitchen skills, check out more recipes on our site.