Your BFF is the person who has stuck by your side through thick and thin.
Whether you have been their friend for ten years or you met them a few months ago, you know that the bond shared between the two of you is unbreakable.
When you have someone this special in your life, a constant to get you through bad breakups and career downfalls, you want to hold on to them.
When the time comes for your best friend to get married, you get excited with joy for her.
You want to give them all the happiness in the world on their big day, but what kind of surprise can you orchestrate for them?
Whether you are the maid of honor or the best man, you know you play an essential role in your BFF's wedding day.
It is customary for the best friend of the bride or groom to give presents, but you can take things up a notch and surprise your special one with something extraordinary.
Some of the best surprises you can give your loved ones are personalized and sentimental, so they know what you mean to them.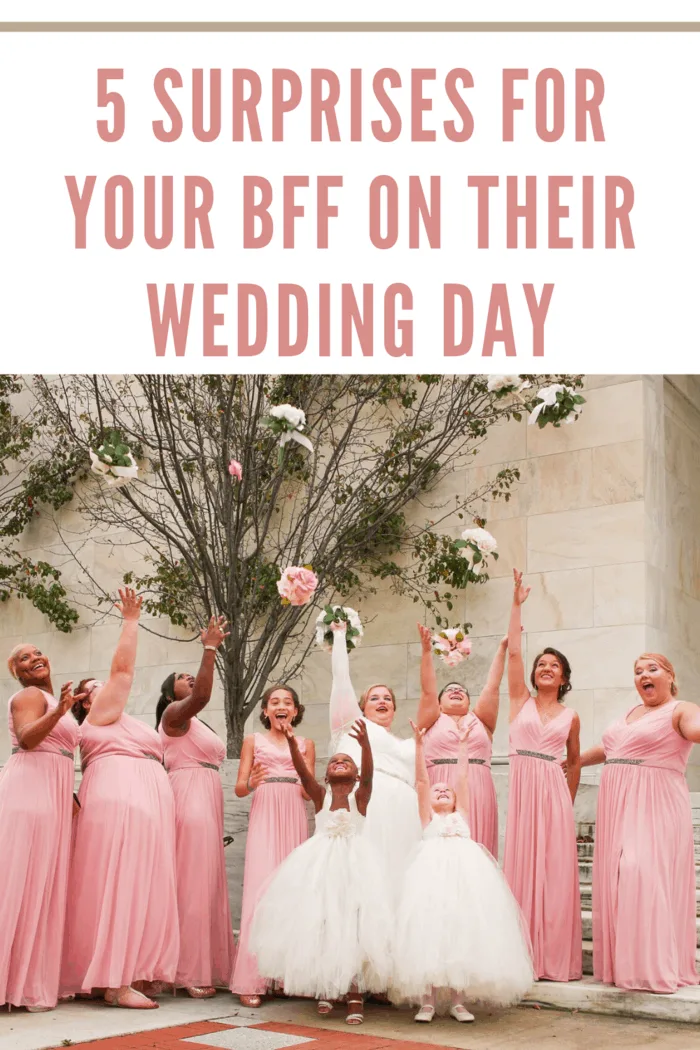 SURPRISING YOUR BFF ON THEIR BIG DAY
Here are some fun and thoughtful ideas to surprise your BFF with on their wedding day:
Prepare a Self-Care Box
A self-care box is what a bride or groom needs on their big day.
Simply buy a cheap floral wrapping paper roll and prepare it with all the items your BFF needs to relax.
For brides, you can include body lotions and bath bombs, as well as hand creams and lip balms, to help them feel soothed and calm.
Add their favorite cosmetic products and a scented candle, and your gift is complete!
For grooms, you can include personalized items like their favorite razors and a luxurious hand cream that they would enjoy using before they walk down the aisle.
When you wrap up these individual boxes with a beautiful paper roll, you can surprise your friend with the most thoughtful present.
Write Genuine Letters
Sending texts to your BFF may be quick and easy, but nothing says you love someone more than handwritten letters.
When your BFF is taking a big step towards a happy future, it is up to you to remind them how much they mean to you.
Take a pen and paper and jot down what you genuinely feel for them and note down the journey you have taken together over the years.
Once you get done, collect the letters in envelopes and deliver them yourself to your BFF right before they get married.
Watching the beaming smile on their face will make it well worth the effort!
Sponsor the Pre-Wedding Photoshoot
Pre-wedding photoshoots are popular right now.
If you want your best friend to have an Instagram-worthy wedding day with minimal stress, sponsoring the photoshoot for both the bride and groom is a fantastic surprise.
Every bride wants to look her best on her big day, and every groom wants to remember the most important day of his life fondly.
It is your chance to cement your BFF's relationship by hiring an experienced photographer to capture their happiness and excitement.
You can even direct a themed shoot with your BFF's favorite TV show or movie in mind, making the surprise all the more exceptional and unforgettable.
Pack a Romantic Picnic
During stressful wedding parties, the newlyweds will want some time to settle down with one another.
As their best friend, you will want to surprise them with something sweet and thoughtful that they will remember for many years.
You can plan a romantic picnic for the bride and groom, and as soon as they have said "I Do," send them off to a local park.
It works well, especially if they are having a day wedding because they can spend all day in the outdoors, enjoying each other's company.
Your BFF will never be able to thank you enough for such a considerate surprise.
Customized Wedding Ring Box
Personalized wedding ring boxes are another unusual item you can give to your BFF that will bring them to tears.
There are options to customize "His and Hers" ring boxes that you can present to the bride and groom during the ceremony, which will make the entire ordeal even more beautiful and memorable.
Brides can also keep the boxes with their engagement rings tucked inside as a stunning piece for their vanity, illustrating the everlasting friendship they share with their BFF.
IN CONCLUSION
There is no one way you can make sure your BFF has a fantastic wedding day.
So, give it some thought and filter through your options to see what your best friend would like the most, and then give them exactly that.
Making their big day even more special is your job, and you must be sure to make it an immeasurable success.