I received 175 Essential Slow Cooker Classics in exchange for this post. All opinions are my own.
With Fall approaching, the weather becomes crisper and I love the convenience of a crock pot. Judith Finlayson's newest cookbook, 175 Essential Slow Cooker Classics, features 175 delicious recipes that all cook in the crockpot.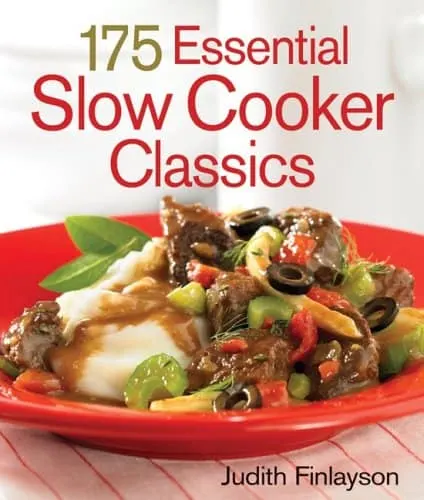 I love Finlayson's cookbooks; they are delicious and convenient and show how wonderful a slow cooker can be and how handy this appliance can be used to create an extraordinary range of dishes you might never have associated with a slow cooker.
This full-color cookbook includes 175 recipes, including 60 new recipes. The recipes span a wide range of meals and occasions, from everyday favorites to dishes that fit the bill for elegant entertaining, so you're sure to find options that will satisfy and delight everyone. Vegetarian and vegan recipes are also included and clearly identified in this book.
I love that this book features 100 color photographs and extensive tips and techniques; delicious results are guaranteed.
Among the delicious recipes are these:
Sumptuous Spinach and Artichoke Dip (pg 22)
Kids' Favorite Fondue (pg 34)
Sun-Dried Tomato and Dill Cheesecake (pg 42)
Pumpkin Soup with Shrimp and Lime (pg 42)
Santa Fe Sweet Potato Soup (pg 68)
Country Stew with Fennel (pg 74)
Chunky Black Bean Chili (pg 110)
Ribs in Tablecloth Stainer Sauce (pg 126)
Lamb with Artichokes (pg 142)
Classic Chicken Stew (pg 168)
Turkey Mole (pg 176)
Mussels in Lemongrass Tomato Broth (pg 196)
Sweet Potato Lasagna (pg 218)
Easy Vegetable Chili (pg 230)
Poached Eggs on Spicy Lentils (pg 236)
Leek Risotto (pg 262)
New Orleans Braised Onions (pg 270)
Plum Pudding (pg 292)
Buttermilk Lemon Sponge (pg 300)
Marble Cheesecake (pg 304)
175 Essential Slow Cooker Classics is available in bookstores nationwide and through Amazon.com