Chicken has been my go-to my entire adult life. It seems so versatile, yet there are weekly menu rotations that make me feel like we need something more. I received 125 Best Chicken Recipes, and our dinner doldrums are over!
With recipes that can be made in 30 minutes or less and most of the ingredients already in your kitchen pantry or common at the grocery store, this step-by-step book is a must!
There are full-color photos that show finished chicken dishes, and they are a great thing to browse!
I love the table of contents. It's broken down into sections that make deciding what to make easy: wraps, stir-fries, soups, salads, roasting and broiling, saute's and skillet suppers, and grilling.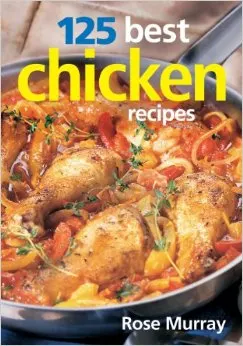 Back in print, this bestselling book on chicken illustrates just how versatile chicken can be.
In today's busy households, chicken has become a standard meal for people who want good and healthy food in a hurry. With 125 Best Chicken Recipes, there are dozens of different ways to prepare delicious and inspired chicken dishes — all in record time.
Whether using a skillet, frying pan, oven, or grill, most of these recipes can be prepared in 20 to 30 minutes. With just a few ingredients, chicken happily takes up flavors from all parts of the globe, whether it's Coq au Vin from Europe or the savory curry flavors of Easy Tandoori from India.
Woks, Wings and Wraps
Burmese Chicken Thighs, Tex-Mex Wings, Roasted Chicken Fajitas
Substantial Soups
Chicken Cheese Chowder, Hot and Sour Soup
Satisfying Salads
Curried Chicken and Pasta Salad, Thai Chicken Noodle Salad, Chicken Caesar
Oven Roasting and Broiling
Orange-Rosemary Glazed Chicken Breasts
Sautées and Skillet Suppers
Quick Coq au Vin, Braised Chicken with New Potatoes and Peas
Pasta and Rice
Mediterranean Pasta, Penne with Herbed Chicken Sauce
Great Grills
Gremolata Grilled Chicken, Chicken, and Summer Fruit Kabobs.
This book features a complete menu, helpful make-ahead tips, and shopping suggestions for each recipe. Also included are 50 easy recipes for appetizers, salads, side dishes, and desserts.