Candy is so many things to so many different people. It can be a reward, an indulgence, a weakness, a vice. One thing all seem to agree upon is that candy is delicious.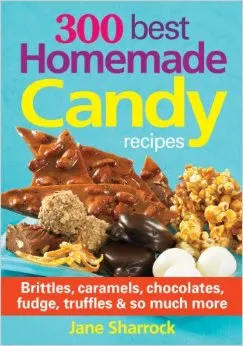 I received 300 Best Homemade Candy Recipes. It's the step-by-step candy bible for home candy-makers.
Those with a sweet tooth will find this book their indulgence. It's perfect year round, but imagine Christmas and the baskets of goodies for friends, neighbors and relatives! There is so much variety of candy and the recipes are easy to follow.
With hundreds of recipes for mouthwatering candies, chocolates, pralines, crèmes, fudges, toffee, holiday treats and no-bake cookies, this candy cookbook covers the traditional to the exotic.
Chocolate Peanut Clusters and Blue Ribbon Turtles are on the top of my list. But this book isn't just about chocolate.
Complete with easy-to-follow instructions and 75 step-by-step photos, this is a treasure trove of information and inspiring recipes. Although many are intimidated at the thought of making candies at home, Jane Sharrock shows how to master a few basic principles that every candy maker should know. She makes it easy to produce delicious goodies in the home kitchen.
Inside the covers of this soft bound book, you'll discover:
Heirloom Candies
Old-Fashioned Cooked Candies, Brittles, Toffees, Old-Fashioned Hard Candies, Caramels, Clusters, Patties and Pralines, Divinities, Nougats and Similar Candies, Old-Fashioned Candy Rolls
Make Mine Fudge
Old-Fashioned Chocolate Fudges, Marshmallow and Marshmallow-Crème Chocolate Fudges, Other Chocolate Fudges, Penuches
Designer Delights
Balls and Shaped Candies, Chocolate-Coated Candies, Fondants
Farmhouse Favorites
Candied and Spiced Nuts, Popcorn Candies, Fruit Candies
Short and Sweet
Simple Barks, Speedy Candy Rolls, Candies in Short Order
It's a book that will have your mouth watering and you trying to decide which recipe to begin:
Butterscotch Nut Marshmallows, page 32
Fruit Fancies, page 34
Marry Me Toffee, page 47
Lollipops, page 57
New Orleans Roasted Pecan Pralines, page 66
Tuxedo Fudge, page 147
Marzipan Potatoes, page 176
Blue Ribbon Turtles, page 200
Old fashioned Pastel Butter Mints, Page 207
Luscious Raspberry Fudge Truffles, page 220
Pineapple Date Roll, page 260
Gourmet Layered Peppermint Bark, page 258
Chocolate Bird's Nest, page 272
With its Candy Cooking Guide, charts, candy glossary and problems/solution section, this terrific new cookbook answers virtually every question or concern a home chef may have, truly creating the go-to candy bible.