We recently partnered with Zest for an invigorating shower experience with Zest's new Fruitboost Revitalizing Shower Gel.
Introducing Zest Fruitboost: Energize Your Senses with a Burst of Freshness!
Looking to invigorate your shower routine? Look no further! Zest Fruitboost, exclusively available at Walmart, is here to awaken your senses and leave you feeling refreshed like never before. Get ready to experience an explosion of fruity goodness that will make your showers a delightful treat.
Why choose Zest Fruitboost?
Here are a few compelling reasons:
1️⃣ Irresistible Fruit Fusion: Immerse yourself in the luscious blend of vibrant fruits like juicy oranges, tangy lemons, and succulent berries. Zest Fruitboost's unique formula combines these invigorating scents to create a fragrance that will uplift your spirit and leave you feeling revitalized.
2️⃣ Rich, Creamy Lather: Get ready to indulge in the luxurious lather that Zest Fruitboost offers. Its rich, creamy texture envelops your body, cleansing and nourishing your skin, while ensuring a pampering experience that will make you feel like you're in a tropical paradise.
3️⃣ Intense Moisture Infusion: We understand the importance of keeping your skin hydrated and healthy. Zest Fruitboost is specially formulated with moisturizing ingredients that help replenish and revitalize your skin, leaving it feeling soft, smooth, and beautifully hydrated.
4️⃣ Energize Your Mornings: Say goodbye to groggy mornings and hello to a fresh start! Zest Fruitboost's invigorating fragrance will awaken your senses, jump-starting your day with a burst of energy. Get ready to take on the world with a renewed zest for life.
🛒 Exclusive at Walmart: Zest Fruitboost is only available at Walmart stores, both in-store and online. Embrace the convenience and affordability of Walmart and grab your favorite Zest Fruitboost variant today!
🌟 Upgrade Your Shower Experience with Zest Fruitboost, Exclusively at Walmart! 🌟
Discover the power of fruity freshness and elevate your showers to new heights. Experience the invigorating scents, the luxurious lather, and the intense moisture infusion that Zest Fruitboost offers. Don't miss out on this extraordinary bathing sensation—head to your nearest Walmart store or visit Walmart.com now and bring the tantalizing world of Zest Fruitboost into your home!
Get ready to awaken your senses and embrace a shower experience like no other—Zest Fruitboost, exclusively at Walmart! 🍊🍋
Our Zest Fruit Boost Review
Showers don't have to be boring?
Miss M just made the Middle School soccer team and wanted something a little more revitalizing than her standard body wash.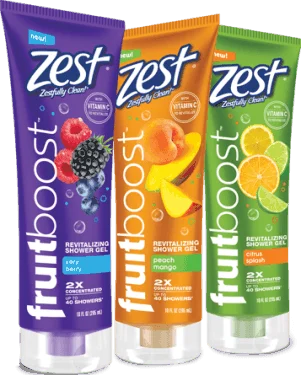 Zest Fruitboost Exclusively at Walmart
Miss M and I spent a few minutes in the personal care section of Walmart discussing the scents and then she took her time in smelling each one to ensure her shower experience was far from ho-hum!
Zest Fruitboosts are available in three incredibly fun scents:
Citrus Splash
Very Berry
Peach & Mango
In the shower, the scent awakens the senses. It also is loaded with rich moisturizers that leave her skin soft, beautiful and nourished. The Fruitboost tube has plenty of the antioxidant power of Vitamin C. Miss M will tell you that everyone compliments her on the subtle smell of her skin after she showers with Zest FruitBoost Very Berry. It gives her all-day freshness.
In the shower, Zest Fruitboost offers double the lather and twice the scent since it is formulated twice as concentrated as other shower gels. One tube of Zest Fruitboost can be used up to 40-showers! That's budget-friendly news to this mom. It's very thick and doesn't take long to liven things up with the amazing scent and rich, foaming lather!
Zest Fruitboosts are a very thick gel and it doesn't take long to liven things up with the amazing scent and rich, foaming lather!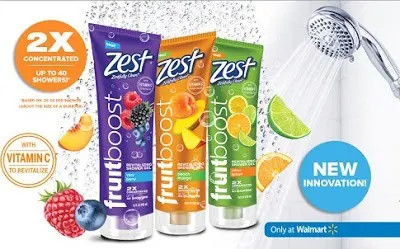 Zest Fruitboosts clean nicely, living up to their "Zestfully Clean" slogan, without drying out Miss M's sensitive skin! The fragrances are unique and the bright packaging is so much fun!
The Zest FruitBoosters are available exclusively at Walmart. Discover your favorite scent and availability using this store locator.