Dial recently sent me their new Deep Cleansing Hand Soap to try, review and share.
Cold and flu season is upon us, and we're washing our hands more than ever. This season we're experiencing a new level of hand-washing with NEW Dial Deep Cleansing Hand Soap. This latest member of the Dial Brand hand soap brings sense and touch together with vibrant scents and a gentle micro-scrubber formula that smooths and moisturizes the skin. Plus, the packaging is a completely new design ready to add personal style to your home.
You may have already seen them; they arrived on shelves in February.
The vibrant scents excite and inspire. They smell amazing.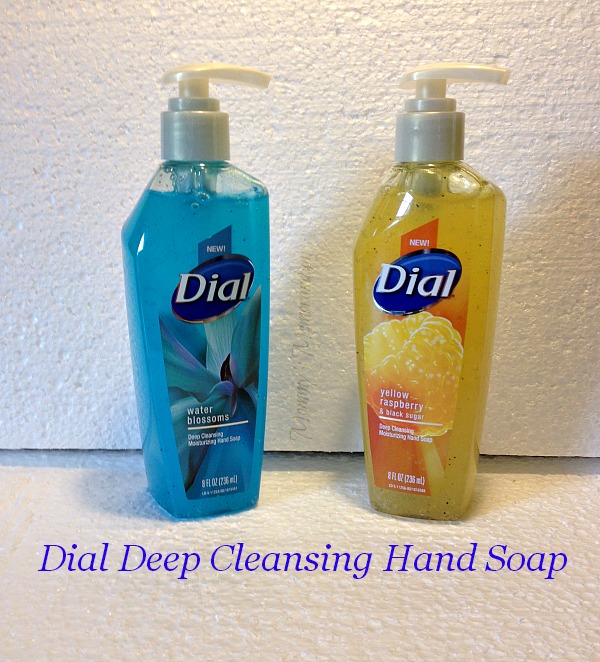 The available Dial Deep Cleansing Hand Soap scents are:
Three premium soaps featuring vibrant scents, a gentle micro-scrubber formula that smooths and moisturizes your skin, and a completely new design that adds personal style to your home.
Yellow Raspberry & Black Sugar
This is my favorite. It refreshes your senses with a tart and rich sweetness!
This one is in my kitchen. The scent invigorates with a crisp floral scent inspired by aquatic botanicals.
This one offers a juicy and tangy citrus fragrance that will brighten your day.
The new Dial Deep Cleansing Hand Soap smells amazing, and it is a premium soap with a deep cleansing formula that helps give you clean, healthy hands and skin. The moisturizing formulas with skin conditioners hydrate the skin and visibly improve skin dryness, while micro-scrubbers help gently remove dirt from the hands, leaving them feeling smooth and refreshed.
The completely new bottle and design offer rich colors and allow the display of your favorite scent throughout the home. It's gentle enough to be a family soap and tough enough to cut through dirt with the micro-scrubbers.
I love that Dial handsoap is a premium soap that is thick, not runny. It will lathers luxuriously. It washes off thoroughly, leaving no soap residue, and of course, the micro-scrubbers that make hands feel incredibly smooth.