I received this product in exchange for my honest review. All opinions are my own.
Introducing Alaffia Fair Trade Shea Triple Milled Soaps: Luxurious, Ethical, and Nourishing!
Are you tired of compromising between quality, ethics, and your personal care routine? Look no further! Alaffia Fair Trade Shea Triple Milled Soaps are here to revolutionize your bathing experience while making a positive impact on the world.
Indulge in the sheer luxury of our triple-milled soaps. Each bar is meticulously crafted with care and expertise to ensure a velvety smooth texture that glides effortlessly over your skin. The triple milling process creates a long-lasting, dense soap that produces a rich, creamy lather, leaving you feeling refreshed and revitalized after every use.
But what sets Alaffia Fair Trade Shea Triple Milled Soaps apart is our unwavering commitment to ethical practices. We believe in empowering communities and promoting sustainable livelihoods. Our shea butter is sourced directly from women-led cooperatives in West Africa, where the traditional knowledge and techniques of shea butter production have been passed down for generations. By supporting these cooperatives, they help provide fair wages and economic opportunities to the hardworking women who make it all possible.
Not only do you get to enjoy the amazing benefits of shea butter, known for its moisturizing and nourishing properties, but you can also feel good knowing that your purchase directly impacts the lives of those who need it most. We invest in education, maternal health, and reforestation projects to create a lasting positive change in communities across the globe.
With a variety of delightful scents and formulations to choose from, there's a perfect Alaffia Fair Trade Shea Triple Milled Soap for everyone. Whether you prefer the calming aroma of lavender, the invigorating freshness of eucalyptus, or the uplifting scent of citrus, these soaps will transform your shower or bath into a blissful oasis.
Join Alaffia in their mission to create a more equitable and sustainable world, one shower at a time. Treat yourself to the ultimate bathing experience with Alaffia Fair Trade Shea Triple Milled Soaps. Discover the perfect blend of luxury, ethics, and nourishment today.
Make a difference. Feel the difference. Experience Alaffia.
Our Alaffia Fair Trade Shea Triple Milled Soaps Review
When the box arrived, the most amazing scents were coming through. Opening the box was exciting because I wanted to see what smelled so amazing! It was Alaffia Fair Trade Shea Triple Milled Soaps!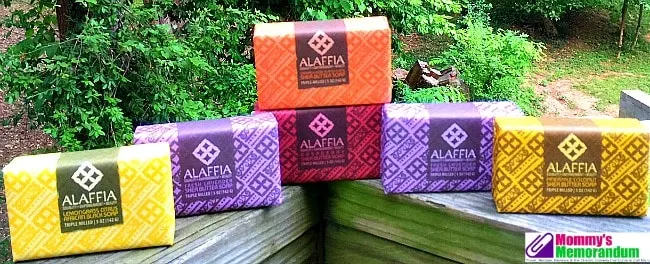 These Alaffia Fair Trade Shea Butter Triple Milled Soaps are incredible. To begin with, they are made with certified fair trade shea butter and coconut oil. Something I value as a human being. This brand gives back to communities by helping African women provide for their families. The brand also sends bicycles and other items to further support the impoverished communities.
This soap is organic..not animal tested, no GMOs, and gentle enough for even my daughter's sensitive skin.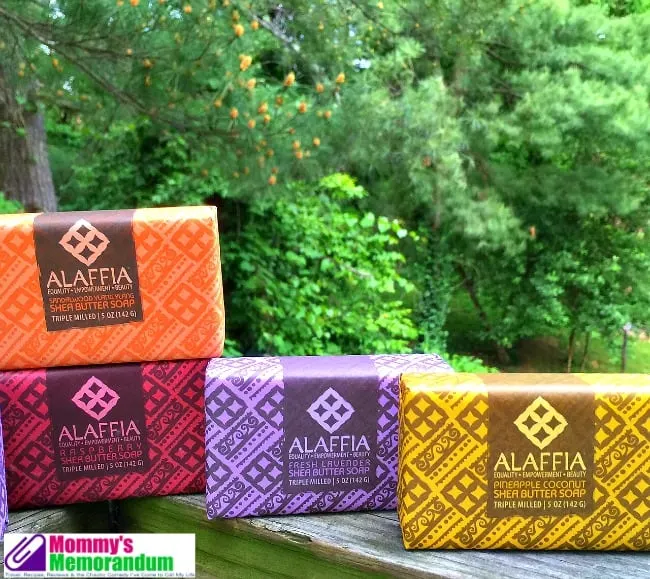 The packaging is colorful, like you see in African culture. It is not over the top. It's simple, yet elegant. Each color represents one incredible scent. We love the sandalwood and yang lang. The lavender is very soothing. Li'l Man like the pineapple coconut scent–it's very tropical!
The product itself is incredibly luxurious. It glides smoothly, lathers luxuriously, rinses completely and fills the shower with delightful aromas.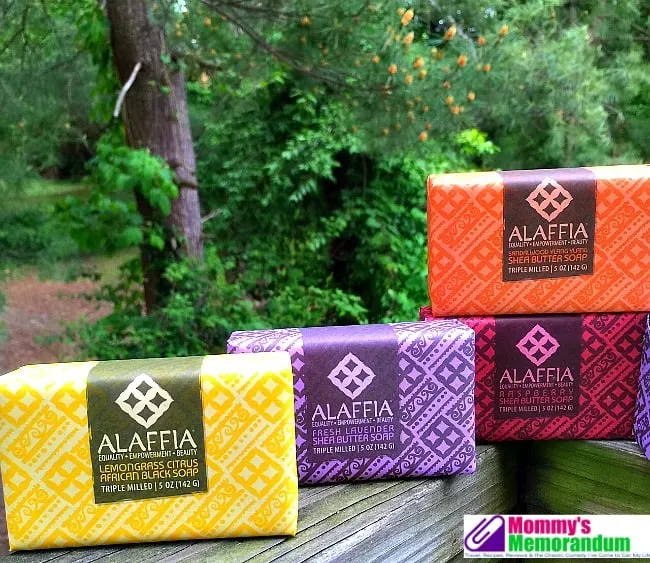 This is quality soap, made with care. It's available through Amazon.com and through Whole Foods stores.
Alaffia was created to help West African communities become sustainable through the fair trade of indigenous resources. One key to sustainability is empowerment of individuals within the communities. We encourage empowerment through our community projects, our women's cooperatives, and education and involvement in our customer communities. We firmly believe that the cooperation of people across the world is as essential part of building sustainability in all our communities.
I love everything about this brand and love the assortment of scents. Pamper yourself while helping someone provide for their family and give to the community.