These days, Generation Z always prefers texting over calling. They always feel comfortable typing thousands of words in place of listening to someone's voice over the phone. Now you must be wondering why. Why do kids, these days, prefer texting over calling so much? Studies show that around one-third of kids will prefer texting 100 times a day, which is a pretty huge number.
Depending on the surveys made, conducted a focus group with teenagers aged between 12 and 17 years. The result shows that text messaging is way too common among kids trying to communicate with one another, even more than using social networking sites, e-mails, and talking directly.
Nowadays, over 75% of teens are on their cell phones, just 45% in 2004. Among this 72%, around 88% of them use text messages to communicate. It is a considerable jump from 51% as marked in 2006. Half of the age group of 12 and 17 ages will send more than 50 messages daily. Around 15% of them will send over 200 messages per day! The results are subject to vary with age and gender, of course.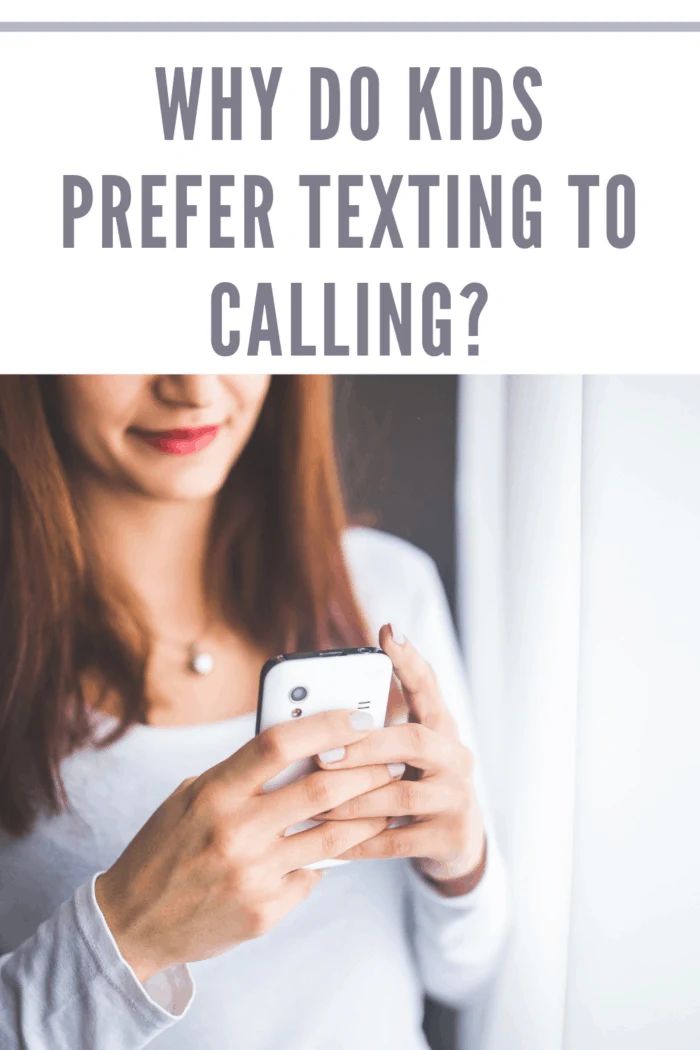 Younger teens are always in the mood for texting:
Even though voice calls are not at the risk of going extinct, millennials prefer not to speak on the phone. To be precise, they are inclining towards texting more often than usual. According to the teens, they prefer texting over phone calls because they regard the latter as intrusive in their lives.
A few years back, in Nielsen data, the average monthly voice minutes used by the youngsters were roughly between 1200 minutes monthly in 2008 and 900 minutes in 2010. So, the number is lowering at a steady rate.
At the same time, texting among those within 18 to 24 years of age has doubled in number. It climbed from 600 monthly to around 1400 texts monthly. Even though the Neilson data is not new, it can clearly state that this transformation from calling to texting started way before you anticipated.
Getting free messaging apps for that:
With so many new and free messaging apps available, kids prefer chatting to calling. Chatting apps like Facetime, Whatsapp, and more are leading marketing giants taking full-on advantage of teenagers and their inclination towards messaging.
They are introducing new emojis daily, which are colorful and attractive to look at. Even these emojis can showcase some emotions, which are better to express through texts. These are some of the reasons teenagers these days prefer texting over calling.
Moreover, people can video call their beloved through the same chatting apps, which is impossible through the primary calling feature. Everything is now available under one platform, from texting to sending emojis, sending audio clips, and videos even to video calling a person. So, the chances are high that teenagers are inclined towards the modern world of texting.
Avoid phone anxiety:
It may seem silly to older readers, but phone anxiety is prevalent among Gen Z. Texting allows people to communicate without all the regular traditions and small talk that comes with phone calls, so that's incredibly appealing for younger, busier people. Texting also allows people to keep a record that they can refer to later, which is suitable for people with poor memories and enable them to plan out their wording.
So for Generation Z, phone calls are such a radically different way of communicating than what they're used to that they can cause anxiety on their own, leaving texting and messaging apps as an attractive alternative.
Love to play with technologies:
Unlike older people, teenagers are always attracted to modern technologies. They want to explore what the technology world has to offer. Now, with a primary calling, they get nothing. It is a plain and boring task to press some numbers and then talk to someone. But, with texting, they get to explore some technical miracles, which was out of imagination a few years back.
Now, as mentioned already, kids get the chance to send video clips and audio clips through chatting apps! It is one of the significant modern inventions that took place. Moreover, they get to send important documents, contact details of other persons, and more from the same texting mediums. So, these latest inventions are attracting kids more to text rather than calling a person.
Their messages are well received:
When you call a person, if that receiver fails to pick up your call, they won't be able to hear your message until he gets another call from your side. But with texting, the person will know your message whenever he picks up his phone. This is yet another reason for teens to prefer texting over calling!