Omega is a luxury Swiss watch brand with a history that dates back as far as 1848. Their watches have been to the moon, sponsored several Olympic Games, and been featured in many James Bond movies, to name a few.
While these are exceptional, many other attributes make the Omega brand highly coveted and well-celebrated within the watchmaking industry—the most important of which, of course, is that Omega manufactures some of the most technically-advanced and precise watches that last for years.
In this article, let's go a little further into the factors that make Omega watches a valuable investment and why you should start searching for an Omega Watch for yourself.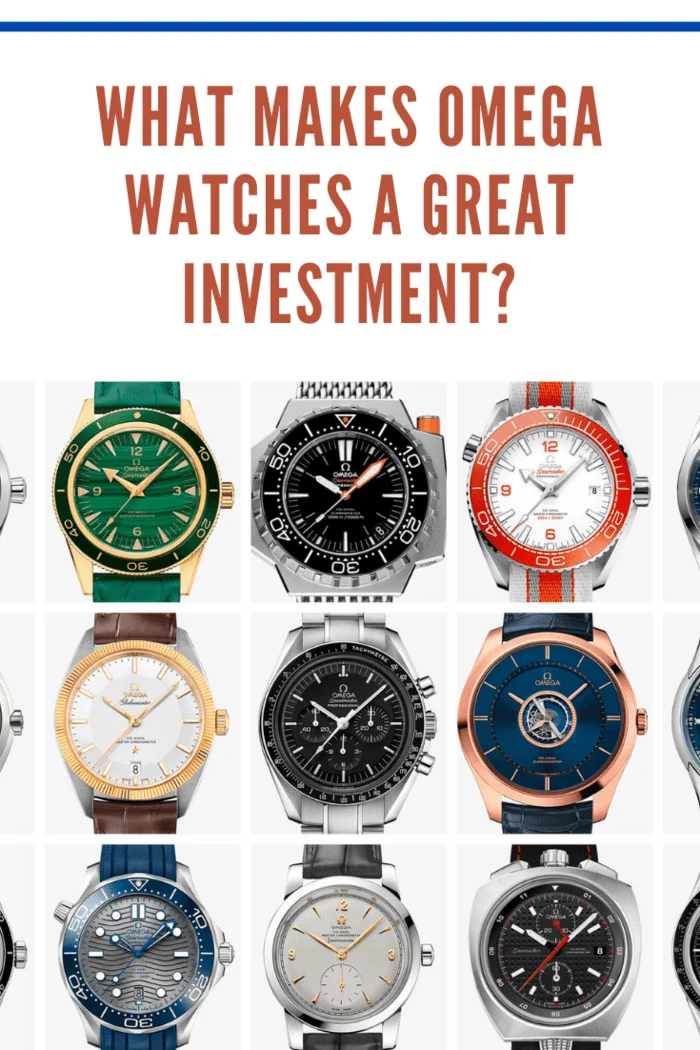 Omega watches increase in value.
The value of the most in-demand watches today has experienced consistent growth in the past few years, with some going up by more than 70% from their original price. For example, the special edition Omega Speedmaster Moonwatch "First Omega in Space" has appreciated over 12% over the last three years.
A true collector's item, the Speedmaster ref. CK2998 served as the foundation for the Omega Speedmaster design. The original model was the first Omega to reach space when astronaut Walter Schirra wore it in 1962, during the Mercury Sigma 7 mission. It's been the basis for the many modern Speedmaster models and limited editions suitable to this day.
They boast precise timing and high-quality materials
Omega—Exact time for life. The motto and slogan of the Omega brand is not an exaggeration, but a claim backed up by years of trial results.
In the 19th century, a time before quartz and GPS, the world relied on precise mechanical timepieces. In 1931, the Observatory Trials were held to test the precision of watches of various types for extended periods in Geneva. As you may have guessed, Omega enjoyed significant success, earning them substantial publicity that they want to this day.
Not only that, but the Omega watches were also proved to be highly durable. In 1965, NASA certified the Speedmaster ref. ST105.003 as Flight-Qualified for All Human-crewed Space Missions after undergoing a series of brutal tests. It won against the watches provided by Rolex and Longines-Wittnauer.
They are one of a kind.
Exclusive, iconic, and legendary. These are merely a few words to describe Omega watches, as well as the people who have sported them.
Omega watches have been featured in the most iconic of places like on the moon when Buzz Aldrin made history by becoming the second man to walk on it while wearing an Omega Speedmaster. James Bond also wore an Omega watch in Casino Royale, and so did celebrities like Ryan Gosling, Pierce Brosnan, Nicole Kidman, and several others.
It means when you wear an Omega watch, you're joining the ranks of these celebrities who enjoy highly-exclusive designs from the brand. These watches' low production volume makes them highly sought after, particularly those who can afford them.
The investment pays off.
As the previous points have been reasonably established, you can't go wrong with the Omega brand. Aside from the quality craft and precise movements, their watches are unparalleled in value.
While most in-demand models increase value, others remain stable in terms of the price level. You can expect minimal deductions should you wish to sell the model like a used watch in the future. It goes to show that if you're looking for a watch that will provide a great return on investment, you may want to invest a significant amount of money in a watch.
Many consumers don't understand how some people pay thousands, even millions of dollars, for a watch. After all, you can purchase fashionable, accurate watches for as little as $100 that also do a great job telling time as luxury watches do.
But, if you look at it, there's more to luxury watches like Omega, aside from giving the wearer a boost in confidence and bragging rights. They are made of high-quality materials meant to make them an excellent investment that you can pass down through generations; if not, sell them at a higher price.
With all these said, one can't help but ask:
Which Omega Watches to Invest In?
If you're looking to buy an Omega watch for investment, the safest bet is to purchase one of the most popular. You'll want to do this because these watches, including the likes of Seamaster and Speedmaster watches, will always have a larger audience, thus a greater demand.
It increases your chances of putting money on something that will increase value over time. This much is confirmed by the time they are discontinued—limited edition or not. You will also want to buy in men's sizes because the secondhand market has a greater demand for these watches.
However, keep in mind that while many Omega watches will be great investments, not everyone will afford them—especially the limited edition ones. Make sure to do your research to understand how the market and the demand works. Educating yourself more about the market will allow you to explore your options in the pool of Omega watches for sale and discover a true gem.
What are your thoughts about Omega watches as investments? Would you invest in one? Let us know by leaving a comment below! Please share this article with your friends who may find it interesting, too!