If you run a woodworking business, your tools are your biggest investment. However, there are many ways to cut costs in such a workspace. Some tools are especially revered because of their versatility. A table saw is one such tool that allows you to make intricate cuts and chop up extra thick chunks of wood using an array of stacked Dado blades. Table saws are also notorious for chopping off human appendages. Therefore, in this article, we would like to showcase the power and versatility of Sliding Compound Miter Saws. Keep reading to learn more about miter saws and what features set miter saws apart from one another. If you are looking for something simpler, refer to our guide on the best 10-inch Miter Saw.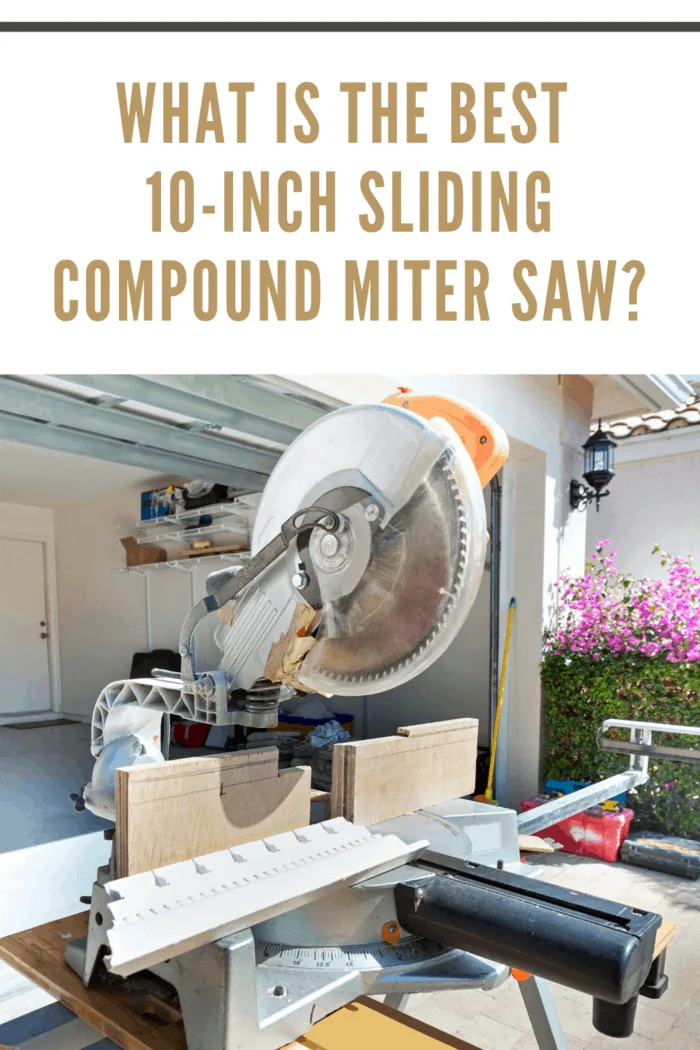 Our Top Picks
The list we compiled will be short and sweet.
We reviewed many units from all the top brands and have compiled a list of 10 amazing choices from the best 10-inch Sliding Compound Miter Saw manufacturers in the world.
1. DEWALT 10-Inch Sliding Compound Miter Saw DW717
2. Delta 10-Inch Sliding Compound Miter Saw 26-2241
3. TACKLIFE 10-Inch Sliding Miter Saw EMS01A
4. Makita LS1019L 10-Inch Sliding Compound Miter Saw
5. Festool 561287 10-Inch Sliding Compound Miter Saw
What does a Standard Compound Miter Saw bring to the table?
Before we dive into the new and improved Sliding Compound Miter Saws, let's first look into the Standard Compound Miter Saw.
A Stationary Compound Miter Saw, is called a "compound" saw because of its versatility.
It has a blade arm that pivots and allows you to make complex bevel cuts along with the traditional miter cuts.
This makes it easy to cut different moldings of wood like crown molding corners at precise angles.
However, these saws have relatively limited versatility when compared to their sliding "brethren"!
The width of the material they can operate on is fairly limited.
A 10-inch Standard Compound Miter Saw can cut materials or wooden pieces up to six inches in width.
You may be able to jerry-rig your way out of this limitation, but why default to that when you can simply upgrade to a Sliding Compound Miter Saw featured in our lineup.
What does a Sliding Compound Miter Saw add to the mix?
A Sliding Compound Miter saw simply ups the ante by putting the blade arm on rails.
This allows us carpenters to slide the blade arm in and out while making cuts, allowing us to accommodate wider pieces of material when the time comes.
The blade arm's varying length allows users to deal with thicker wooden materials like lumber, logs, etc.
This adds some extra mechanical versatility and allows you to unleash your creativity on every woodworking project.
What Sets these Sliding Compound Miter Saws apart?
Although these are all iterations of a Sliding Compound Miter Saw, each saw is different from the other in terms of additional features.
Laser Tracker
Some of these saws come equipped with a laser tracker.
The laser tracker helps actively mark the angle at which your workpiece will be cut.
According to Wood Magazine, this helps avoid the hassle of using a ruler and personally making an angled marking on your materials before you begin cutting them.
Among our top choices, the Makita LS1019L 10-Inch Sliding Compound Miter Saw and TACKLIFE 10-Inch Sliding Miter Saw EMS01A come with this laser add-on.
Single or Dual Bevels
Both standard and sliding miter saws come in single or dual bevel options.
A dual bevel allows you to adjust the bevel itself to the alternate angle and make the antagonist cut on your workpiece.
With single bevel miter saws, you will have to change the orientation of the workpiece itself.
You will also have to ensure that you replace your workpiece precisely if you want a clean finish.
Given the versatility of a Dual Bevel Miter Saw over Single Bevel options, we only included Dual-Bevel Sliding Compound 10-Inch miter saws in our lineup.
The Tacklife Miter Saw is the only one with a single bevel, but that is a special saw we had in reserve, and we'll get to it later.
The Top Three Contenders
We considered price, functionality, availability, warranty, support, and consumer feedback for our top three roundups!
No. 1
The best overall machine we featured in this lineup would have to be the DeWalt DW717.
Dewalt is a world-renowned brand that has provided top-class power tools to consumers and industries.
This is a brand we trust, and they have never failed to provide quality and comfort to users.
Dewalt is also renowned for its customer support.
As they have a huge lineup of products, you can rest assured that replacement parts are widely available.
This model comes with a 3-year warranty, one year of free service, and a 90-day money-back guarantee.
No. 2
Second place goes to Delta 26-2241.
Delta doesn't quite have Dewalt's brand power, but they make great products, and this Sliding Compound Miter Saw is by no means an exception.
However, this saw comes with a hefty price tag, which Delta balances by providing an impressive 5-year warranty.
No. 3
Third place goes to the Festool 561287 Kapex KS 120. This saw is jam-packed with features that traditional saws don't have.
It has a well-revered dual laser system to very accurately mark the angle of the cut on your material before you even begin cutting into it.
It comes with a great dust collection system as well, leaving your workplace clean and dust-free every time.
However, it only comes with a 3-year warranty, and it is the most expensive saw featured in this article.
The Festool dives farther into the industrial territory as opposed to consumers or enthusiasts because making this purchase is a significant investment for any individual.
We recommend this product for perfectionists who will accept nothing but the best.
For the Backyard Carpenter
For people who are office drones by day and carpenters by night, we included the TACKLIFE Miter Saw.
It comes with many features like dual speed, laser guides, and a single bevel.
It is cheap, and anyone would be happy to use this saw at home.
The rest of our lineup leaves it in the dust because it only has a single bevel, making its use cases limited and unsuitable for professionals.
For hobbyists, this is definitely the way to go!
Conclusion
Thank you for consulting our article on the best 10-inch sliding compound miter saws.
If you disagree with our picks, there are definitely other options out there for you in this ever-expanding world of technology.
Our objective was to give you an idea of what to expect in terms of quality and to illuminate features that set these saws apart from others available in the industry.
Good luck with your woodworking ventures.
Please keep it safe and simple in the workshop!