I received Welch's Fruit Roll in exchange for this post. My opinion and our love for fruit rolls remain our own.
Rolling in Childhood Nostalgia: Welch's Fruit Rolls Delight!
Indulge in a Trip Down Memory Lane with Free Printable
Welch's Fruit Rolls – Bursting with Nostalgia and Flavor!
Step into a world of delightful reminiscence with Welch's Fruit Rolls! These vibrant and scrumptious treats are a heartwarming reminder of cherished childhood moments. A throwback to the days when snacks were a bridge between generations, these rolls are a perfect bonding experience between parents and kids. Get ready to unwrap the joy, as we explore the irresistible allure of Welch's Fruit Rolls, along with a delightful bonus of a free printable that adds an extra sprinkle of fun to the experience.
Childhood Reimagined: The Welch's Fruit Rolls Legacy
Welch's Fruit Rolls carry a legacy that stretches back to the sweet memories of yesteryears. Remember those carefree days when Mom's kitchen was a hub of creativity and connection? Welch's Fruit Rolls capture that essence, bringing families together with their delectable taste and captivating appearance. As you unroll these fruity delights, you're not just savoring a snack – you're unrolling cherished moments and building new ones.
A Flavorful Affair: Rediscovering Welch's Fruit Rolls
With each bite of Welch's Fruit Rolls, you're embarking on a flavor-packed journey that transcends generations. The irresistible blend of vibrant fruits is a testament to the brand's commitment to quality and taste. Even the most discerning teenagers can't resist the allure of these fruity marvels. It's not just a snack; it's an experience that connects the dots between past and present.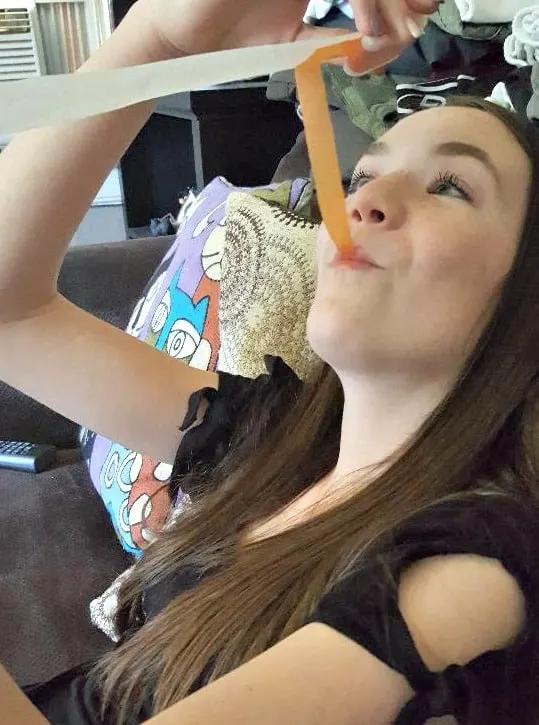 Welch's Fruit Rolls are available in three delicious flavors. Whether you prefer strawberry, berry, or tropical punch, every roll will be devoured.
The fruit rolls are a delicious fruit gummy snack that you can unroll into a long strip.
The fruit roll itself is thin, almost translucent.
The fruit is wrapped in a peelable strip so you can eat a little, or a lot. Just peel and eat.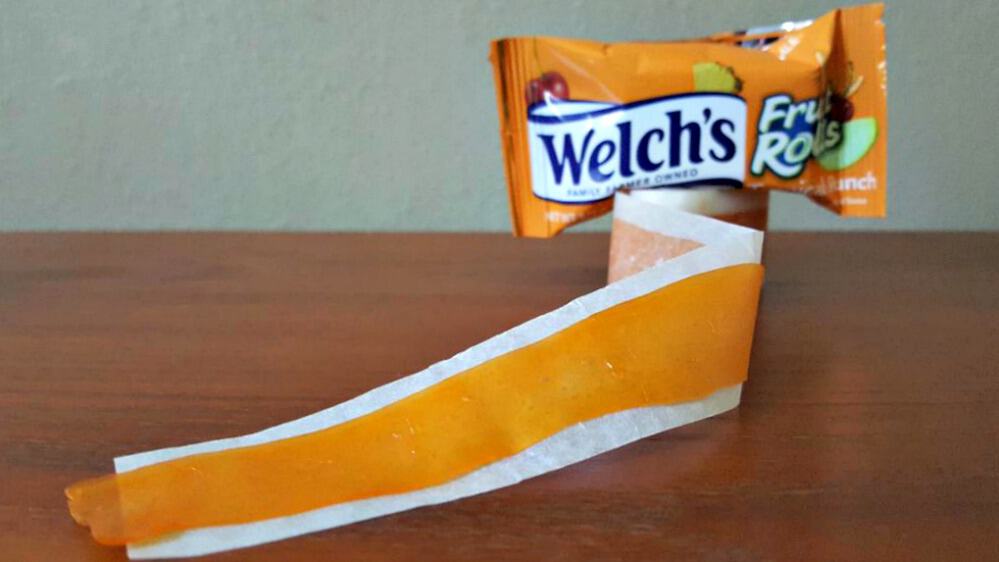 Welch's Fruit Rolls are made with real fruit puree; the fruit rolls are sweet, tangy, and delicious.
My kiddos can't help but "unroll the fun". They are popular at our house!
Welch's Fruit Rolls are also gluten-free and preservative-free and contain 100-percent of the daily value of Vitamin C, and a great source of Vitamin A and Vitamin E.
I love that each box is packaged with six individually wrapped fruit rolls and has a suggested retail price of $2.99, making it easy to stock up for those snack attacks.
We spent an afternoon creating a fun Halloween Printable to make the season a little more fun!
We simply attached them to the outside packaging of Welch's Fruit Rolls for grab-n-go fun!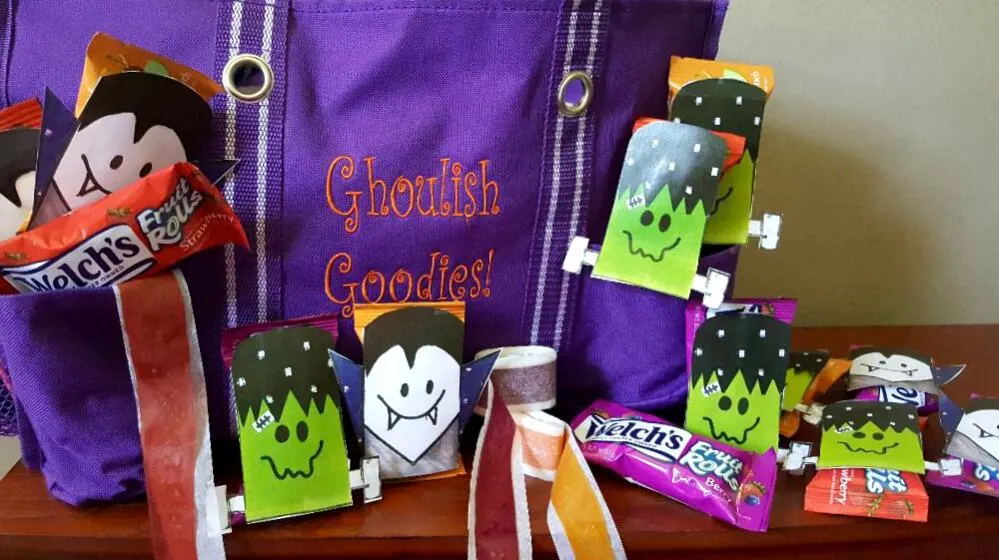 It's also a great option for the Trick-or-Treat bowl, offering little trick-or-treaters a healthier snack option!
Unwrap the Fun: A Free Printable Bonus!
But wait, there's more to this fruity adventure! Enhance your Welch's Fruit Rolls experience with our exclusive free printable. Whether it's a family gathering, a playdate, or a moment of personal indulgence, the printable adds an extra layer of excitement. From DIY wrappers to creative coloring activities, the printable transforms every bite into an opportunity for creativity and laughter.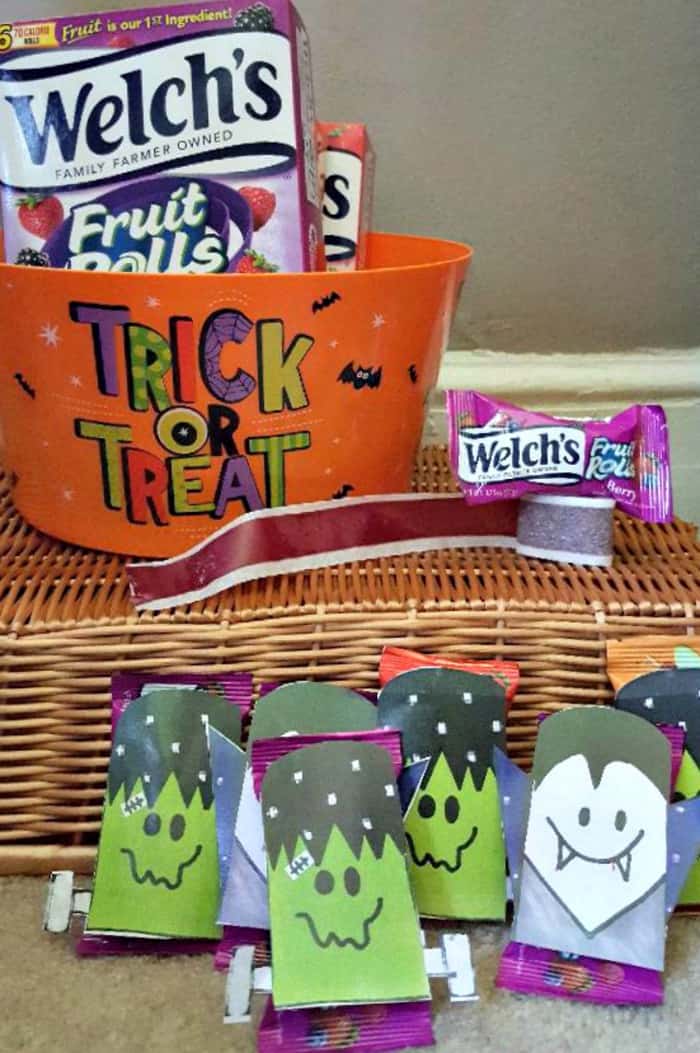 Download and print the free Halloween Printable featuring Frankenstein and a vampire. Then tape or glue to the Welch's Fruit Rolls individually for a fun, not-so-frightful treat!
Free Printable Halloween Frankenstein and Vampire for Welch's Fruit Rolls

Expert Tips for Ultimate Fruit Roll Enjoyment
Pairing Perfection: Elevate your Welch's Fruit Rolls delight by pairing them with cheese or yogurt for a harmonious blend of flavors and textures.
Chill Vibes: For an extra refreshing treat, try refrigerating the rolls before enjoying. The chilled sensation takes the flavor adventure to a whole new level.
On-the-Go Magic: Tuck a few Welch's Fruit Rolls into lunchboxes or backpacks for a convenient and wholesome snack that's ready whenever you are.
Preserving the Magic: Storage and Leftover Guide
To ensure that your Welch's Fruit Rolls retain their freshness and flavor, follow these simple guidelines:
Storage: Store in a cool, dry place away from direct sunlight to prevent sticking.
Longevity: For extended enjoyment, consider transferring any leftover rolls into an airtight container.
Refrigeration: If you prefer a cooler treat, refrigerate the rolls in a sealed bag or container.
Frequently Asked Questions (FAQs)
Q: Are Welch's Fruit Rolls suitable for all ages? A: Absolutely! Welch's Fruit Rolls are a hit across age groups, from youngsters to the young at heart.
Q: Can I freeze Welch's Fruit Rolls for later use? A: While freezing is possible, it might affect the texture and flavor. We recommend enjoying them fresh for the best experience.
Q: Are there any allergens in Welch's Fruit Rolls? A: Welch's Fruit Rolls are free from major allergens like nuts and dairy, making them a delightful choice for many dietary preferences.
Embrace the Past, Savor the Present
Welch's Fruit Rolls embody the spirit of connection and delight that transcends time. With every unroll, you're not just savoring a delicious snack – you're relishing cherished memories and creating new ones. Share the magic with loved ones, and don't forget to make use of our free printable to add an extra dash of fun to your fruity escapade. Unroll the fun, unroll the flavor, unroll the nostalgia with Welch's Fruit Rolls!
Pick up your favorite flavor at major retailers nationwide. Your family is going to love Welch's Fruit Rolls.