Waxelene is a petroleum jelly alternative, from non-petroleum based ingredients. Just four ingredients, all easily pronounced and recognized: Vitamin E oil, beeswax, organic rosemary oil and organic soy oil.
It works like petroleum jelly and if formulated to hydrate and protect the skin without clogging pores. Make in the United States with sustainable ingredients it's a great alternative.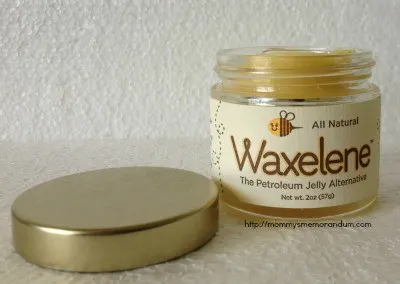 Waxelene's difference is in the packaging. Expect no plastics here; Waxelene comes in a glass jar, with a matte paper sticker seal.
Waxlene is simplicity. Simplicity that gets better. Waxlene boxes, used for shipping, are 100% post-consumer recycled AND their wind power powered facility.
Using Waxelene is easy. It works for anything you would use petroleum jelly for and more. Skin Moisturizing and Protection (we're talking lips, feet and everything in between), Make-up removal, diaper rash treatment, protection from chafing and the wind burn, after shave, after the sun. I have used it around my hair line when coloring my hair.
Why use Waxelene, the Petroleum Jelly Alternative:
Non-petroleum based – Healthier for your family and the planet!
Eco-friendly, biodegradable, no GMOs.
No parabens or artificial ingredients
All natural
Contains organic ingredients
Ideal for sensitive skin
Water/sweat resistant – Lasting protection.
Allows your skin to breathe
Not Greasy
Goes on clear
No animal testing
While its uses are similar, those familiar with petroleum jelly will love that Waxelene seems to "melt" into the skin, leaving a light, protective layer. Nothing sticky, shiny or greasy.
Don't let the jar size fool you. Waxelene works so well; it requires much less than expected. My jar has lasted me almost twice as long as my larger petroleum jelly jar.
Waxelene offers a faint honey smell. Nothing overwhelming. It's subtle.
The 2oz. jar is $6.99 at waxelene.com
Whether you're concerned about petroleum based products or just looking for a more natural product that offers relief from dry skin, heals and soothes, Waxelene is a great product and a great petroleum jelly alternative.