A balanced diet ensures our health, but there are times when our diet just doesn't offer our body what it needs. A daily supplement helps fill in the gaps where we need it most. There is no magic supplement—not all supplements work for everyone. Some supplements are loaded with binders and fillers, definitely not something our bodies need). Some supplements try to fit the masses rather than be tailored for each unique body. This is where Vous Vitamin comes in.
Our overall health is a product of our lifestyle habits and our daily nutrition. Our health is a measure of our body functioning properly. Make poor choices often, and you may find your health needs a bit of TLC. Make poor choices during the day, and your body may struggle mentally and physically.
What is Vous Vitamin?
Simply stated, Vous Vitamin is a multivitamin.
Unlike the store shelf multivitamin, Vous Vitamin is a personalized formula tailored to you.
They were created by Romy Block, MD, and Arielle Levitan, MD, experts of Endocrinology, Metabolism, and Preventative Health, Vous Vitamin formulas tailored to the individual needs.
The women behind Vous Vitamin practice at North Shore of Chicago.
They have incredible credentials.
Arielle Levitan, MD
Board-certified internal medicine physician Arielle Levitan, MD, has a Bachelor of Science from Stanford University.
Her M.D. is from Northwestern University Medical School.
She went on to become a chief resident at McGaw Medical Center's Evanston Hospital Program.
Romy Block, MD
A board-certified specialist in Endocrine and Metabolism medicine, Romy Block, MD, earned her Bachelor of Science from Tufts University.
She received her M.D. from Tel Aviv University's Sackler School of Medicine, finishing her fellowship in Endocrinology at New York University.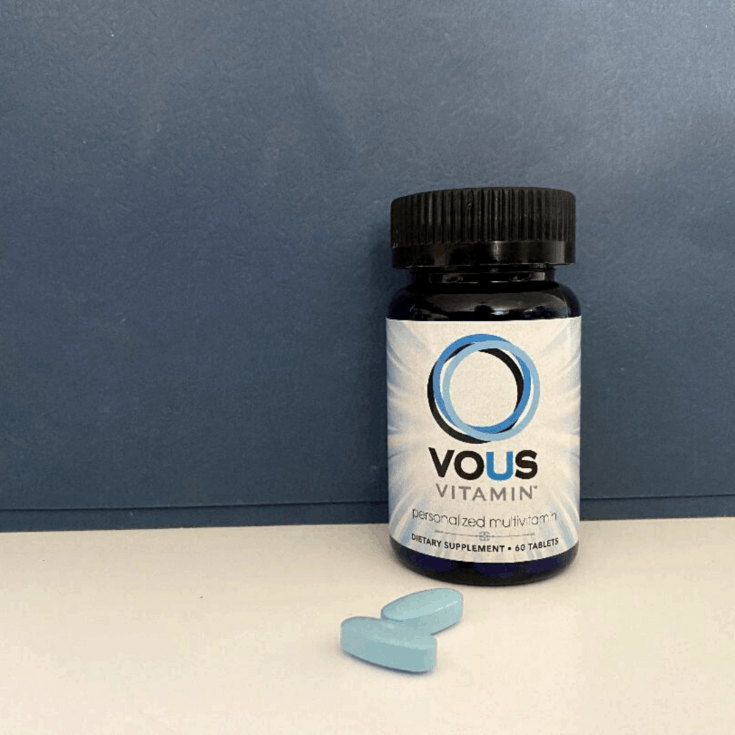 Do we need vitamins?
For proper body function, 13 vitamins currently are necessary:
Vitamin A
Vitamin B1
Vitamin B2
Vitamin B3
Vitamin B5
Vitamin B6
Vitamin B7
Vitamin B9
Vitamin B12
Vitamin D
Vitamin E
Vitamin K
Some vitamins are eventually excreted through the body via urine.
These vitamins are water-soluble.
Other vitamins are known as fat-soluble.
These vitamins are stored for days or sometimes months in fatty tissue and the liver.
Both types are important.
Our diets, if balanced, provide the necessary vitamins our body needs to thrive.
Diets should include:
Green leafy vegetables
Fruits such as Apples, Berries, and bananas
Vegetables like potatoes, mushrooms, broccoli, and carrots
What is a personalized supplement?
Typically personalized supplements rely on a test such as a simple questionnaire about our eating and lifestyle habits or medical tests like blood or stool testing.
These tests give inside into how your body is unique to create a customized formula for your body.
Vous Vitamin uses an online questionnaire to help build a multivitamin specific to your needs.
The questionnaire is free to take, and you aren't obligated to purchase a supply.
The questionnaire talks about what you're looking for in a supplement, basic information like your age, gender, and where you reside.
There are questions about your lifestyle, such as alcohol and caffeine consumption, activity levels, nutrition, etc., and your health-smoking, medications, and other symptoms and conditions.
Once you complete the questionnaire, a list of ingredients suggested you take is provided.
They might list vitamins A, B1, B2, B3, B5, B6, B7, B9, B12, C, D, E, or K.
They might also include probiotics, Iodine, Iron, Calcium, Magnesium, and others.
Vous Vitamins list how much they suggest you take of each vitamin and mineral and explain in layman terms why it is included in your formula.
From here, you can order your personalized formula.
Vous Vitamin is available in one month ($40), three-month ($90), and six-month supply ($150).
Don't worry; it's only a time investment of five minutes!
Don't want personalized vitamins, but like the idea of a supplement?
Vous Vitamin has you covered.
They also offer four ready-made formulas; they call these situational supplements:
Immune Blast (to build immunity)
Mountain Rescues (for Altitude Sickness)
Power Up
Recovery Act.
Shipping is free.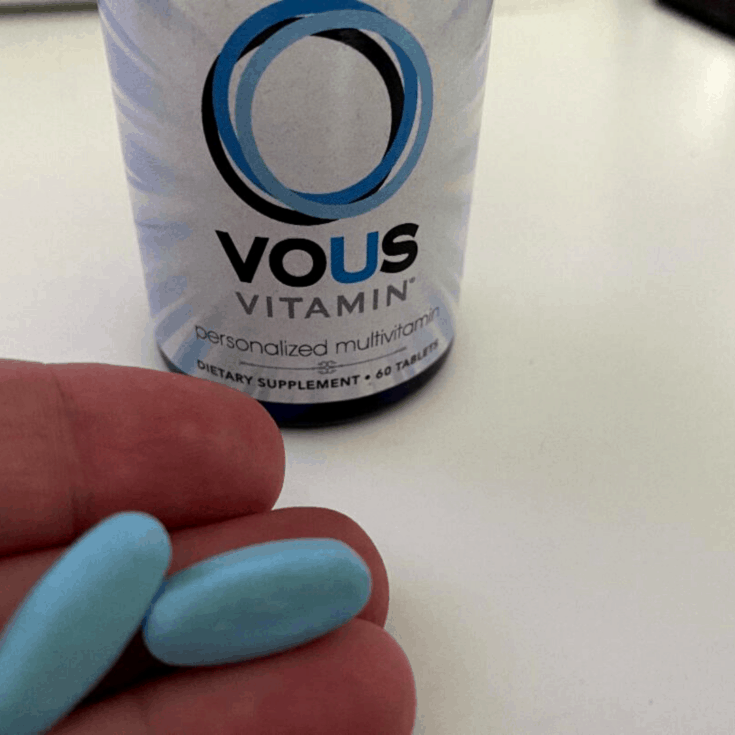 What Can I Expect with Vous Vitamin?
You'll receive your Vous Vitamin shipment directly to your door.
It's a dark blue plastic bottle with a child-proof black cap.
The label features the Vous Vitamin logo and a list of each ingredient in your personalized formula.
For best results, Vous Vitamins suggests one vitamin twice per day, morning and night.
As an individual who takes vitamins as part of my daily routine, I know that there is no such thing as a perfect supplement.
Our bodies change, or lifestyle changes, there are so many factors to consider.
I do believe Vous Vitamin offers more than the standard multivitamin found on the pharmacy shelf.
The questionnaire helps personalize a unique formula to your needs to create a multivitamin with a combination of both water-soluble and fat-soluble vitamins of all 13 mentioned earlier.
In addition to the vitamins, they may include minerals, electrolytes, and probiotics.
Vous Vitamin is free of additives, fillers, gluten, meat, dairy, and an all-natural, non-GMO, and GMP-certified.
The company manufactured in the United States was created by two medical professionals with their M.D. and overseen by physicians.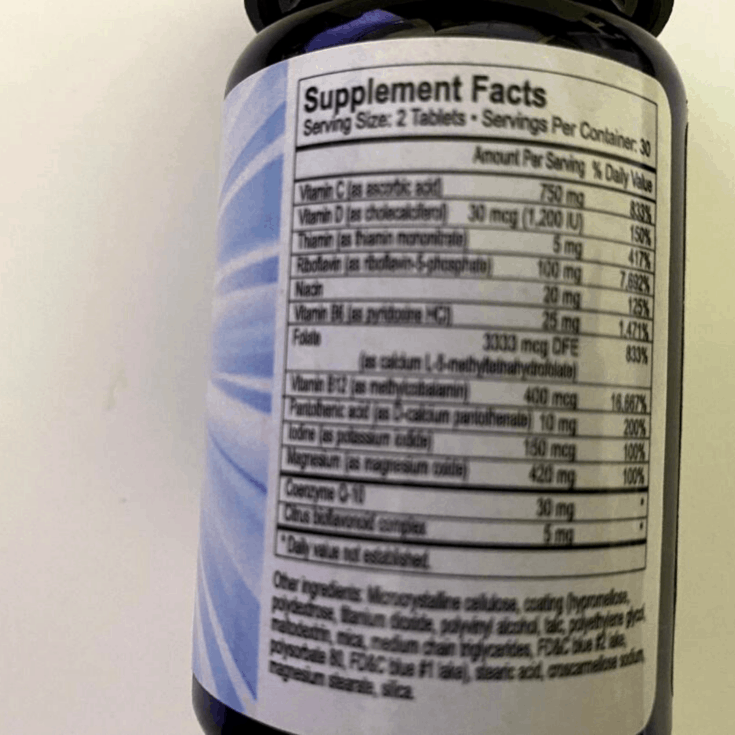 Some of the things I think might be drawbacks:
A blood or stool test is more effective than an online questionnaire.
Two vitamins per day.
The best vitamins come from food sources.
While a blood or stool test is more accurate, the online questionnaire can still suggest which vitamins and minerals you lack or need more based on your answers.
Including them in the formula helps close any deficit gap.
Takeaway:
While our best option is sourcing vitamins from food sources, Vous Vitamin is a way of getting your vitamins and minerals through a high-quality supplement.
My experience has been that my energy levels are rising, and I am sleeping better since adding Vous Vitamin to my routine.
I like that Vous Vitamin has a passionate focus on vitamins and minerals for daily use.
They are a quality option to boost vitamin intake daily.