The old-fashioned tradition of endorsing fashion by wearing animal skins and furs is rapidly being phased out by cruelty-free luxury fashion. Vegan leather is taking over the runways, and high-end designers are leading the way. Luxury vegan handbags are affordable, so you're paying for elegance rather than killing. The tote is the most versatile bag you will ever have. There are several uses for a good tote bag, a large bag that you can carry anywhere and fit anything into it, and every woman should have at least one in their collection.
Sure bags come with a purpose attached to them. Preferably, those bags are meant for that particular utility only. But, certain styles go for multiple purposes. The best example is the tote bags you can carry anywhere between sports events and parties. However, to purely follow the trend, it is better to switch over vegan leather tote bags. If you're going to a music night or playing mini-golf, those warm-weather activities don't encourage you to bring a big pack. The revival of the tote bag has been well-received on the runway, and for a good reason.
Fashion accessories in today's world have moved out of the closet and are no longer confined to designer clothing and shoes. Bags are also an essential part of our overall look. We must accept that bags are not limited to suitcases and side bags for holding essentials, and how can we avoid considering 'vegan leather tote bags' when everything is bagged?
Tote bags come in various shapes, sizes, patterns, and materials, making them a new-age style statement with their modern ideas and flourishing designs. Tote bags are a must-have for anyone, regardless of their reason, occasion, or need. Owing to their space and dimension, they are the handiest bag every woman should own.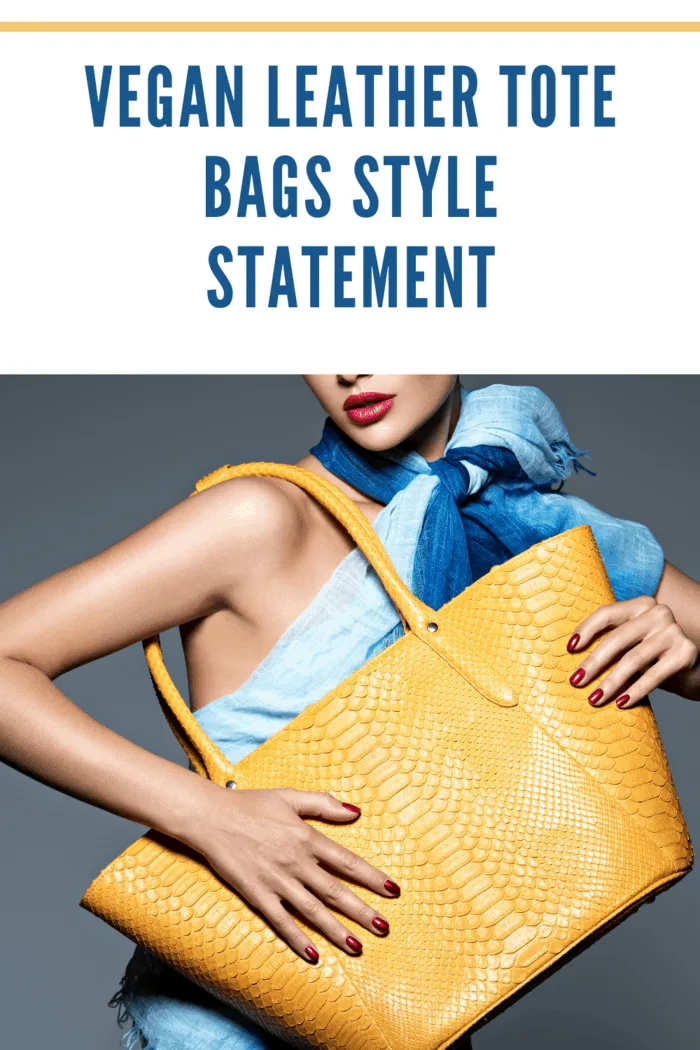 Let's look at some of the good reasons why you should own a tote bag:
Any Occasion's Bag
Many of us, especially women, prefer different bags for various occasions. Designer bags are not inexpensive, and how many can you fit into your wardrobe? The best option is to invest in a well-designed vegan leather tote bag. It's long-lasting, robust, and stylish enough for any occasion. Above everything, it is a bag that is 'cruelty-free. So, you have the plus of going without any guilt.
These bags are not only helpful but also stylish. They compliment your trendy looks and make for daily handbags, as they are available in various quality materials such as leather and canvas.
The Other Word for Versatility
A tote bag can be used for just about everything you can think of. Beach bags, work bags, office bags, school bags, uni-bags, gym bags, and shopping bags are all possibilities. Besides, they are long-lasting due to the durability of vegan leather tote bags. So, Would you like to have a bag for life?
Reusable and long-lasting
Tote bags have increased in popularity due to their versatility and long-lasting endurance. If properly cared for, these bags can last for years, mainly if they are made of good quality material used in vegan leather tote bags. Another benefit of buying a tote bag is that it can be reused repeatedly, regardless of its design or size. They can be used for several purposes since they were designed for nothing in particular.
These bags, designed for no particular reason, can be used for various things.
The Best Gift Choice
After every celebration, we all want to thank our guests by giving them a small gift. Regardless of this principle, choosing what to choose and how it can fit into the budget is challenging. Consider giving totes as party favors or presents the next time. Available in a variety of colors.
Choose from a wide range of shapes, sizes, fabrics, designs, and vegan leather tote bags to meet your specific needs.
The Safest and Most Stylish Method of Transporting Your Laptop
Tote laptop bags are the best if you want to show off your style at work. It can accommodate all of your accessories and laptop, in addition to being stylish and sturdy.
Mothers have everything about their children.
With vegan leather tote bags on the shoulder, moms won't have to worry about leaving something behind due to the bag's lack of room. Carry everything you need for your kid in one bag, from feeding bottles to diapers to extra clothes and towels. These bags are affordable, practical, cute, multi-functional, and environmentally friendly.
Dimensions are essential.
Tote bags have become a staple in every home with millions of uses. They are big and very spacious, allowing them to carry many valuable items for any occasion. It can hold everything you need for a day at work, at play, or a party, with plenty of space left over.
Variation is the key to success.
It comes in various patterns and styles and is made of multiple materials, including cotton, plastic, canvas, leather, PVC, and more. You can start choosing your vegan leather tote bags from scratch now that you have your own. You may have any color you wish, any size, and any specific message, graphic, or image you want to display.
Take care of the environment
We should all take care of the world in which we work. Canvas/vegan leather tote bags are environmentally friendly for various reasons: they are reusable, washed several times, and are easy to carry, fold, and store.
Both of these characteristics qualify it for replacement with plastic and non-biodegradable bags. You can keep a canvas tote bag on your person for as long as you like. You can use a canvas tote bag for as long as possible and still return on your climate investment.
Your best buddy is a tote bag. You can take it wherever you want. Vegan leather Tote bags are the perfect choice for those looking for an all-arounder bag that can easily change from a day bag to a travel bag.