🌙🦇 Calling all little vampires and vampire enthusiasts! 🦇🌙
Get ready for fang-tastic fun with FREE printable Vampirina activity sheets! Dive into the spook-tacular world of Disney Junior's Vampirina right from the comfort of your own home. These exciting activity sheets are perfect for kids who love coloring, puzzles, and creative play. Unleash your imagination and let the Vampirina magic begin!
Color Your Way into Vampirina's World: Bring Vampirina and her friends to life with vibrant colors! Choose from a collection of coloring sheets featuring your favorite characters from the show. Grab your crayons, markers, or colored pencils and add a touch of magic to each page. Let your creativity soar as you fill each image with delightful hues!
Puzzles and Brain Teasers: Challenge your problem-solving skills with Vampirina-themed puzzles and brain teasers. Help Vampirina find her way through mazes. Get ready for some thrilling challenges that will keep you entertained for hours!
Download and Print for FREE: Ready to dive into the world of Vampirina? Download your FREE printable activity sheets today! Simply print them out, gather your art supplies, and let the adventure unfold. Whether you're a fan of coloring, puzzles, crafts, or writing, these activity sheets are sure to bring hours of entertainment.
Join Vampirina and her friends on a journey filled with creativity, imagination, and educational fun! Get your FREE printable activity sheets now, and let the magic of Vampirina inspire your playtime at home. It's time to embrace the spooky and delightful world of Disney Junior's Vampirina!

About Vampirinia DVD
The Disney Junior's Vampirina DVD offers a delightful collection of adventure, humor, and heartwarming episodes. With a running time of 92 minutes, this DVD provides an engaging and entertaining viewing experience for young fans of the show.
The episodes featured on the DVD cover a range of exciting storylines. In "Going Batty," Vee experiences nervousness when she meets her new neighbors, highlighting the challenges of fitting in. "Scare B&B" introduces Vee's mom, Oxana, as she opens a bed and breakfast, leading to amusing encounters with vampire guests and human neighbors. In "The Sleepover," Vee invites her friends Bridget and Poppy for a memorable sleepover full of fun.
"Portrait of a Vampire" takes viewers on Vee's eventful first day at a human school, showcasing her efforts to navigate the unfamiliar environment. "Vee's Surprise Party" brings heartwarming moments as Vee's classmates organize a surprise birthday celebration for her. "Vee Goes Viral" explores the excitement of online fame as a web video featuring Vee and Poppy becomes a sensation on the internet.
"The Plant Predicament" presents Vee and Poppy with the challenge of undoing a curse placed on Edna's garden, highlighting problem-solving skills and teamwork. Lastly, in "Mummy Mayhem," Vee and her friends must convince a mummy named King Peppy that museum visitors are still interested in him, showcasing the importance of valuing history and cultural heritage.
These episodes capture the essence of Disney Junior's Vampirina, combining fun-filled adventures with valuable life lessons. The DVD provides an opportunity for young viewers to enjoy the show's enchanting characters and engaging stories whenever they want, fostering creativity, imagination, and the love of friendship.
With its charming animation, catchy music, and positive messages, the Disney Junior's Vampirina DVD offers a wonderful addition to any fan's collection, ensuring hours of entertainment and joy for young viewers.
The Popularity of Vampirina:
"Vampirina" has garnered immense popularity and a large viewership since its debut. The show has amassed nearly 28 million total views, indicating the widespread appeal it holds among its audience. This figure encompasses various platforms and channels where the show has been made available.
Linear TV, one of the traditional broadcasting mediums, has played a significant role in reaching the show's viewers. With 17 million total viewers through linear TV, "Vampirina" has captured the attention of a substantial audience base through scheduled airings on television networks. This demonstrates the show's ability to engage viewers and attract a dedicated following through traditional means of television broadcasting.
In addition to linear TV, the show has also gained significant traction through digital platforms, particularly YouTube. With a notable 10.4 million full-episode views on YouTube, "Vampirina" has established a strong online presence. This suggests that the show has resonated with viewers who prefer consuming content on-demand and showcases its popularity in the digital space.
The high number of full-episode views on YouTube indicates that viewers have actively sought out and engaged with the show's content, demonstrating their enthusiasm and interest. This digital viewership showcases the show's ability to reach a wider audience beyond traditional broadcast methods, tapping into the growing popularity of online video platforms.
Overall, the impressive viewership statistics highlight the success and appeal of "Vampirina" as a beloved children's show. The combination of strong linear TV viewership and substantial full-episode views on YouTube signifies the show's wide reach, indicating its popularity among millions of viewers who have embraced the magical world of Vampirina.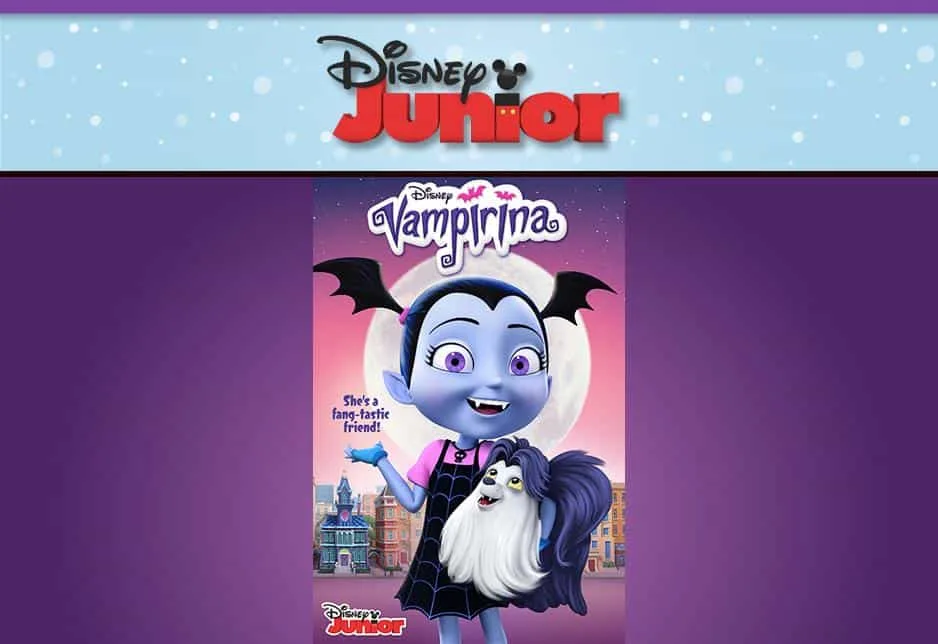 Photo credit: Disney Junior*
About the Vamprinia Series
Step into the enchanting Pennsylvania neighborhood with Disney Junior's "Vampirina," a captivating animated series that introduces viewers to the Hauntley family. Led by the voices of talented actors Lauren Graham, James Van Der Beek, and Isabella Crovetti, the Hauntleys are friendly vampires who have recently relocated from their Transylvanian home.
The heartwarming stories of "Vampirina" follow the spirited young vampire girl, Vampirina (affectionately known as "Vee"), as she embarks on the exhilarating and sometimes challenging journey of being the new kid in town. Settling into a human neighborhood, Vee must navigate the intricacies of making friends and attending a new school in the human world. Throughout her adventures, Vee learns valuable life lessons about acceptance, friendship, and the importance of embracing one's unique qualities.
The series draws inspiration from the beloved children's book series "Vampirina Ballerina" by Anne Marie Pace and LeUyen Pham. With creator/executive producer Chris Nee and co-executive producer Norton Virgien, both known for their work on the Peabody Award-winning series "Doc McStuffins," "Vampirina" is infused with creativity and storytelling excellence.
Guided by director Nicky Phelan, known for his work on the popular animated series "Octonauts," the show embraces music as a vital element. Broadway composers Michael Kooman and Christopher Dimond, known for their work on "The Noteworthy Life of Howard Barnes," lend their talent as the series' songwriters. Additionally, Layla Minoui, known for her work on "Castle," takes on the role of composer, creating a captivating musical backdrop for the show's adventures.
Each episode of "Vampirina" consists of two 11-minute stories, allowing for bite-sized, engaging narratives. The inclusion of an original song in each episode further enhances the show's enchanting atmosphere and adds to the overall entertainment value.
Produced by the esteemed Academy Award®-nominated animation studio Brown Bag Films in association with Disney Junior, "Vampirina" combines imaginative storytelling, rich visuals, and memorable characters. The result is a delightful series that captures the hearts of children and families alike, inviting them to celebrate the magic of being true to themselves and embracing what makes each individual unique.
Celebrate Disney's Vampirina with these fun FREE Printable Activities:
VAMP_activities