Welcome to the world of endless bouncing fun with the Little Tikes Pogo-It! If you're looking for a toy that combines excitement, physical activity, and boundless entertainment, then look no further. The Little Tikes Pogo-It is a revolutionary pogo stick designed to capture the imaginations of both kids and adults alike, providing hours of thrilling bouncing action that will keep you coming back for more.
Engineered with cutting-edge technology and built to meet the highest safety standards, the Pogo-It offers a unique and exhilarating experience for children and the young-at-heart. With its durable construction and ergonomic design, it ensures a smooth and stable bounce, allowing users to challenge themselves to reach new heights and achieve impressive tricks.
Say goodbye to boredom and hello to adventure as the Pogo-It encourages kids to explore their physical capabilities, improve balance, coordination, and agility while having an absolute blast. Whether it's a fun-filled outdoor activity or an exciting indoor playtime, the Little Tikes Pogo-It promises to deliver unforgettable moments of laughter and joy.
Join the countless happy bouncers and discover why the Little Tikes Pogo-It has become a favorite among families worldwide. So, buckle up, hold on tight, and get ready to soar to new heights with this gravity-defying, energy-releasing marvel!
Our Little Tikes Pogo-It Review
I received Little Tikes Pogo-It! in exchange for this post. All opinions and my kids' love for fun remain our own.
Unleash endless bouncing fun with Little Tikes Pogo-It! Hop, jump, and soar to new heights – the perfect active playtime for kids!
My kiddos are active. They both love being outside and they love when challenge meets play! Little Tikes has created a great activity they call Pogo-IT!
Pogo-IT! combines interactive gaming with sports.
Users will quickly discover two game modes with two levels of difficulty.
It's the perfect formula for hours of fun.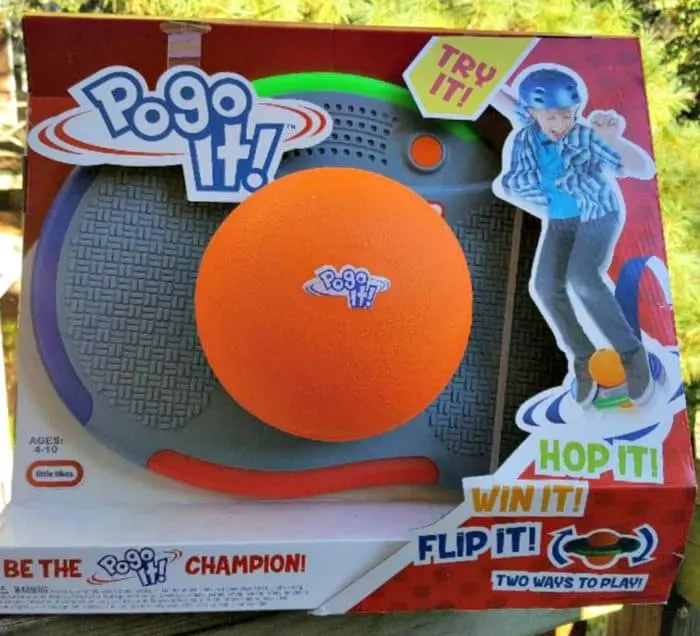 One of the things that I love is that Pogo-IT! is challenging.
It's not something that is overwhelming to figure out, but it is challenging enough that it keeps even my eleven-year-old interested.
William demonstrates both games. He is still working on perfecting it so he is on the beginner level.
Once he masters his jumping, he can flip the Pogo-IT! over for an advanced challenge.
Pogo-IT! Has 2 game modes:
Hop 'til You Drop – Kids Pogo IT anyway they want to keep the music playing. Once you stop, "Game Over."
Jump to the Beat – Kids listen to the command and jump in the direction given to score points.
Pogo-IT! a modern pogo stick, using a ball balance.
It is an electronic interactive game with lights, music, and sounds that keeps my kiddos hopping!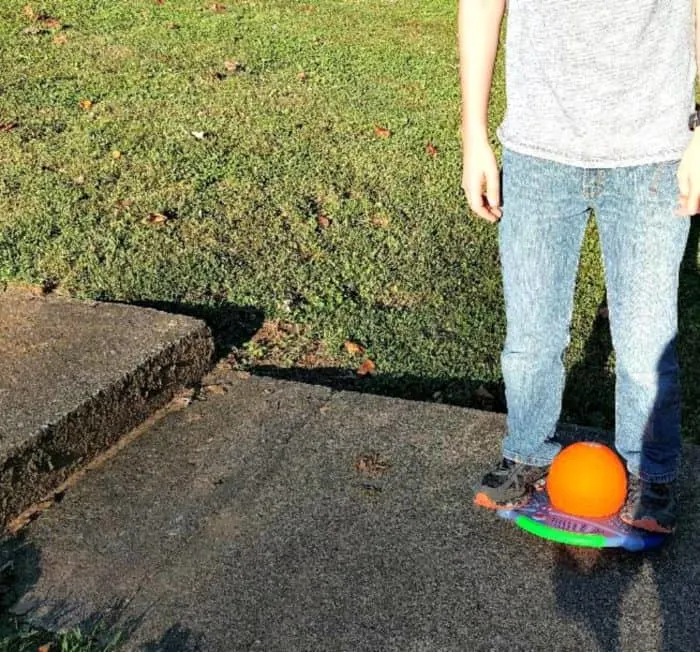 William is very active, but quickly discovered when trying to do Pogo-IT! in the advanced mode that he lacks balancing skills!
He is working on his endurance and strength confidence as well as the coordination to hold the ball between his feet and jump.
Pogo-IT! has motion-sensing technology that gets the kiddos balancing, jumping and moving to score points.
I really am impressed that William loves this toy so much. He enjoys practicing alone and he also thinks it's fun to challenge his friends and see who can score the highest score.
It's a great toy for both indoor and outdoor use.
The Pogo-IT! also includes a ball pump.
For proper safety, always encourage your child to wear a helmet.
Pogo-IT! Operates using three "AA" alkaline batteries (included).
As a parent, I really am impressed that Pogo-IT! continues to entertain the kiddos daily. They love hopping on it, even for just a few minutes. It keeps them engaged and is helping them develop some great coordination.
They have set goals to hop to 100 and be the first to be able to flip the Pogo-IT! over for the advanced challenge.
It's a fun toy, with a suggested retail of $39.99 that not only my children are enjoying, but my neighbor's children as well.
Add it to your holiday gift-giving, Pogo-IT! will be well-received.
Age Group and Why They'll Love Little Tikes Pogo-It!
The Little Tikes Pogo-It is generally loved by children in the age group of 5 to 10 years old.
There are several reasons why this age group is particularly fond of the Pogo-It:
Active Play: Children in this age range have boundless energy and a strong desire for active play. The Pogo-It provides an excellent outlet for their physical energy, allowing them to bounce and jump around, which is both fun and beneficial for their health and development.
Skill Development: At this age, kids are developing their balance, coordination, and motor skills. The Pogo-It challenges them to maintain balance while bouncing, helping them improve their physical abilities in a playful and enjoyable manner.
Sense of Achievement: Mastering the art of pogo jumping can be quite rewarding for children. As they learn to control the Pogo-It and perform tricks or achieve higher jumps, it boosts their self-confidence and gives them a sense of achievement.
Entertainment: The Pogo-It offers a unique form of entertainment that keeps children engaged and entertained for hours. Its combination of bouncing and physical activity makes it an exciting and captivating playtime option.
Safe Design: Little Tikes designs their products with safety in mind. The Pogo-It typically comes with features like non-slip footpads, comfortable handles, and a sturdy base to provide a safe bouncing experience for kids.
Imagination and Fun: The Pogo-It sparks children's imaginations and creativity as they invent games, challenges, and competitions with friends or family members. It encourages social interaction and cooperative play.
Screen-Free Play: With the prevalence of screens and digital devices, parents often seek screen-free play options for their kids. The Pogo-It offers a fantastic way to keep children active and entertained away from electronic gadgets.
In summary, the Little Tikes Pogo-It appeals to children in the 5 to 10 age group because it aligns perfectly with their developmental needs, provides a fun and challenging physical activity, and fosters a sense of accomplishment and enjoyment during playtime.